Steel Member Design software for Eurocode 3 (EN 1993-1-1:2005)
Among the many design standard SkyCiv offers, is Eurocode 3 (or EN 3) – Design of steel structures. With this software, you can design common steel shapes with the following features:
I-Shapes, HSS Shapes (RHS, SHS, CHS) and Channels
Ultimate Limit State and Serviceability checks based on Section classes 1,2,3 and 4
Design Resistance checks for tension, compression, shear, bending (major and minor axes)
Design Resistance checks for Combined forces, Buckling (compression and lateral-torsinal)
PDF Design Reporting (Custom logo on Enterprise)
View Capacity Results on Model (Integrated Version)
Import and Apply Multiple Load Combinations (Integrated Version) from EC0 and EC1
Fully verified with third party results
Version 1 – Integrated
This module is fully integrated with our powerful structural analysis software analysis that allows engineers to model, analyse and design with one model. With a single click, the software will pull your entire model and test each member against the criteria of the Standard to determine whether or not it passes/fails the requirements of these European Standards. Loads, members and design parameters will automatically be imported for you, you can also directly import the Load Combinations directly from EN 1990.
Click here for more general information on our Integrated Structural Design Software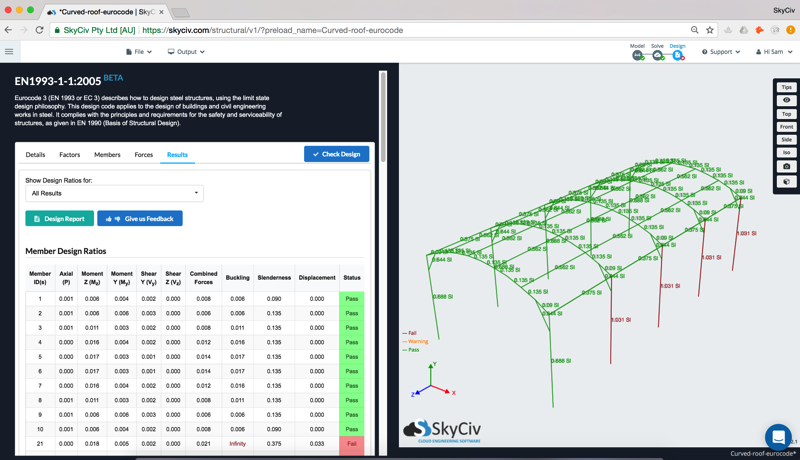 Version 2 – Standalone
The standalone software refers to the Free Eurocode 3, that allows engineers to design steel members based on Australian Standards and Sections.
Click here for more general information on our Free (Standalone) Structural Design Software