Steel Connection Design Software
For AISC 360: Integrated with S3D, Easy Modelling, Clear Results
Free 14-Day Trial
Features
Design Connections with AISC 360
SkyCiv Connection Design software offers prescriptive design calculations and checks as per the AISC 360-10 design code, for both ASD and LRFD. The software is completely cloud-based, so there's nothing to download or install, and is run right from within your browser. The SkyCiv steel connection design software has the following great features:
Range of connection types, including W-W and HSS-W standard connections
Full 3D rendering to show bolts, plates and sections
Prescriptive AISC 360 checks for Shear and Moment Calculations
Professional Drawings
Export file as CAD (STEP) 3D model
Clear summary of design results with green and red pass/fail results
Detailed documentation with videos and tutorials on how to use the software.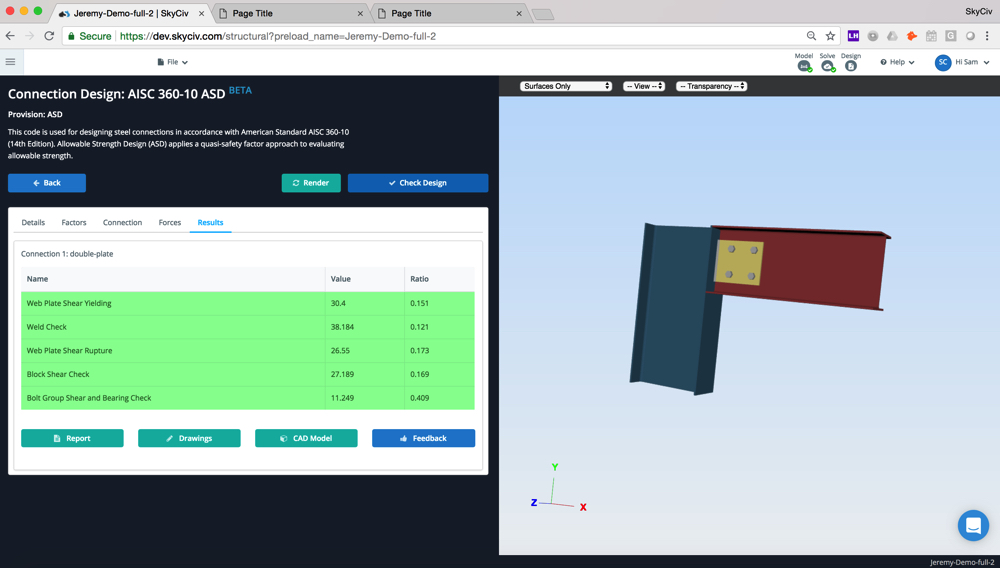 Full Calculation Reporting
SkyCiv Connection Design reports in the form of a summary report and a comprehensive calculations report. No more guesswork into what the software is calculating, these detailed professional reports show the step by step calculations including:
Powerful Graphics
Review your 3D model so you can see the various parts of the model in 3D space. The Connection Design module will also generate a full CAD file for you to export or send off to the draftsperson for final drawings. Don't have CAD? You can produce drawings directly from within the SkyCiv Connection Design module!
Generate full CAD files (STEP) with bolt, plate and member connection assemblies
Produce clear drawings directly from the module
Clear and easy 2D references for user input
Full 3D rendering display with wireframe and viewing settings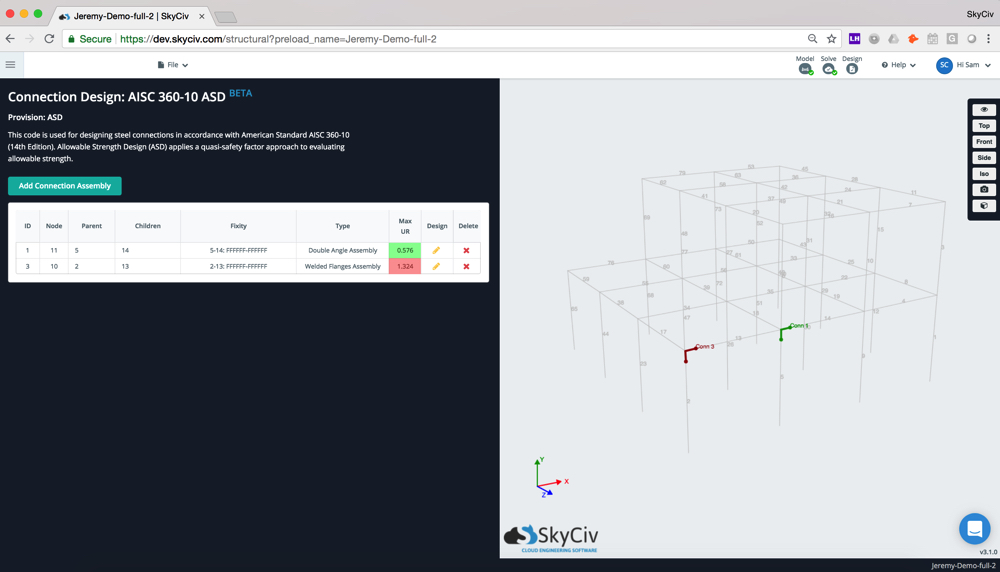 Integrated with SkyCiv Structural 3D
All your connections forces and member properties are automatically imported into the SkyCiv Connection module - so you can view your model and connections at the same time.
Connections display on the graphical interface
Forces automatically imported from structural analysis model
Supports load combinations from ASCE 7-10, AS 1170, EN1 and CSA
Changes to your analysis model are auto-adjusted within the design module
Class and group steel connections together, to complete one design for multiple connections
Review all Connection Designs in 3D model with green/red/yellow result summaries
100% Online
SkyCiv software is all on the cloud, which means you can get instant access simply through a web browser. There is nothing to download, install or maintain. Simply login to your SkyCiv Account and visit the software directly. Having the software 100% online has a range of benefits over traditional software:
Instant access - there's nothing to download, no installation and no license keys
Updates are automatically rolled out to the user
Access your files and software from anywhere at anytime
Fully compatable on PC, MAC, tablets and mobile devices
Reduces the clutter on your computer
No IT requirements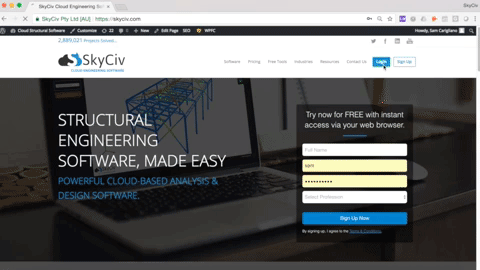 Can't find what you're looking for? Try our Documentation on our Connection Design module.