SkyCiv Foundation Design Software
Foundation Design software for footings, piles,
combined footings and more, as per ACI 318, AS 3600
Free 14-Day Trial
Features of SkyCiv Foundation Design
Easy to use, powerful and 100% online
Powerful Soil Analysis
In both our Isolated and Pile foundations, users can add multiple layers of soil
Analysis of soil layers and loads, with analytical diagrams
Isolated/Pad footings calculate effective soil capacity ratios as per ACI and AS design code requirements
Full soil pressure calculations in reporting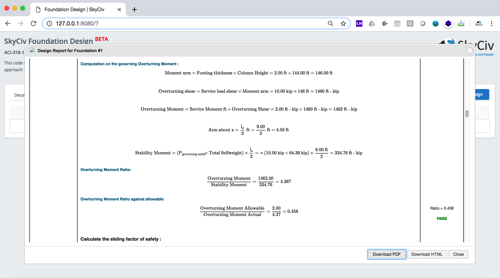 Full Calculation Reports
Structural engineers should have access to all the information of their foundation designs. This includes the design results and step by step calculations made by the software. SkyCiv Concrete Design reports show the full step-by-step calculations, structural engineers can review:
References to relevant chapters, checks and assumptions for all calculations for ACI 318 and AS 3600
Custom Company logo and model setup information
Detailed calculations of soil analysis
Relevant assumptions and failure criteria
Clear pass/fail summary results
100% Online
SkyCiv software is all on the cloud, which means you can get instant access simply through a web browser. There is nothing to download, install or maintain. Simply login to your SkyCiv Account and visit the software directly. Having the software 100% online has a range of benefits over traditional software:
Instant access - there's nothing to download, no installation and no license keys
Updates are automatically rolled out to the user
Access your files and software from anywhere at anytime
Fully compatable on PC, MAC, tablets and mobile devices
Reduces the clutter on your computer
No IT requirements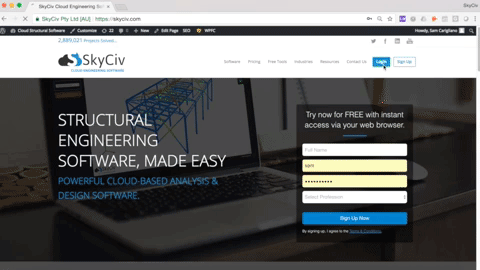 Pile Design Software
The SkyCiv Foundation Design Software is fully capable software for pile design as well as isolated footings. Pile design checks include the following
Full Bending Moment and Shear Force Analytial Diagrams
Minimum and Maximum reinforcement limit checks
End bearing capacity checks
Shear, Axial and Flexure calculations
Lateral Load Ratio
All checks come with full calculation reporting
Multiple load cases and load combinations
Can't find what you're looking for? Try our Documentation on Reinforced Concrete.