Model your project and get results from Steel, Concrete, Connections and Foundation modules, all synthesized in one report.
3D Structural Analysis, 3D Renderer, Section Libraries, Plate/Cable/Buckling Analysis at your fingertips, integrated with multiple design codes.
Get the answers you need, when you need them. SkyCiv offers responsive support through live chat and video chat with our structural engineers.
What's Included in a Professional Account
Structural analysis and design made easy
Analysis Software
Model, analyse and design your models quickly and easily.
SkyCiv Beam

SkyCiv Structural 3D

SkyCiv Mobile App

SkyCiv Section Builder

SkyCiv RC Design
Design Software
Integrated with core software, streamline your workflow for efficiency.
Steel/Wood/CF Member Design

Connection Design

Concrete Design

Foundation Design
Account Features
Present yourself with professionalism and get the best engineering support.
Removed Watermark

Unlimited Files

Private Files

Custom Logo

Engineering Support
Discover the key benefits of SkyCiv
Everything you need in structural engineering, all in one platform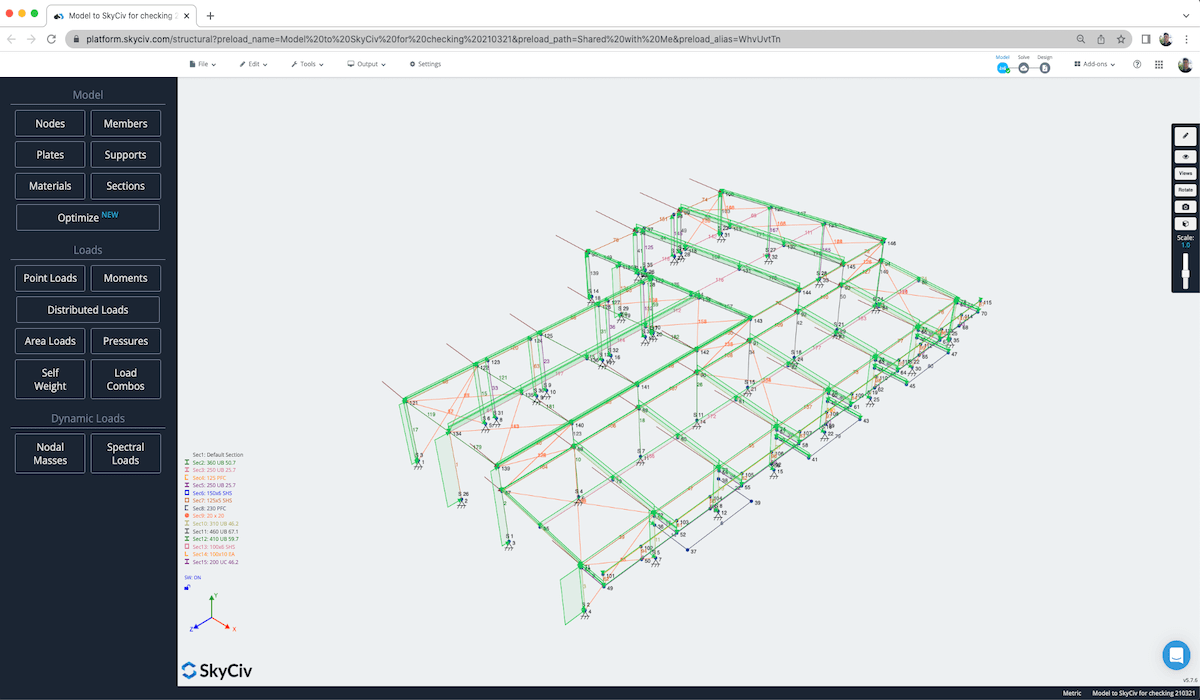 SkyCiv is faster and more user-friendly than most traditional software. We offer a range of powerful modeling capabilities that synthesize the process of modeling and designing structures, including grids, snapping, repeat-mirroring and more. Register today and see for yourself: with no downloads or installation necessary, you can get started in less than 60 seconds.
SkyCiv Structural Engineering Software is 100% on the cloud, helping you save thousands of dollars in expensive installation and ongoing maintenance. You can access it from anywhere, on any devices. Get started in less than 60 seconds to try it for yourself.
The SkyCiv Professional Account offers significant value. In addition to providing access to our powerful structural analysis programs, all steel and concrete design standards (such as AISC, Eurocode, CSA, AS, ACI, and NDS) are integrated into our software for your convenience. We also provide hand calculations of all designs and offer a complementary PDF report with your company logo on it. Prepare to impress your clients with the professionalism and clarity of your structural analysis.
Your subscription includes fast and premium support by our SkyCiv engineers, who work around the clock assisting users with modeling and answering customer questions. Don't know where to start? We have detailed documentation containing a variety of videos, articles and tutorials to guide you along your journey. If you still have questions, please do not hesitate to contact us.
Frequently asked questions
You have questions, we have answers.
What software is included in the Professional Account?
The Professional Account gives you full access to all SkyCiv Cloud Engineering Software. This means that SkyCiv's Analysis Software - including 2D structural analysis software (Beam Software, Truss Software, Frame Software and Shaft Software) and SkyCiv's 3D structural analysis software (Structural 3D). SkyCiv Professional Account also includes all Design Software including Connection Design, RC design, Member Design and Foundation Design for American, Australia, Canadian and European standards.
With all of our high-tech software at your fingertips, you can tackle any structure that comes your way!
Where are my files stored?
All the company files are private, encrypted on our server and backed up daily. You are protected and safe. Your files are stored on SkyCiv's secure servers which you can access at anytime. Please contact us if you have any further questions concerning your file management or security.
Does my subscription include any support?
Your Professional Account includes fast and premium support by our SkyCiv engineers, who work around the clock assisting users with modeling and answering customer questions. Still need help? Further tutorials and training are available on SkyCiv Youtube Channel.