SkyCiv Beam
SkyCiv's Beam Software is focused on giving users a fast and accurate analysis of beam structures. Get a simplified analysis of your beam member, including reactions, shear force, bending moment, deflection, and stresses in a matter of seconds. SkyCiv Beam is fully integrated with our steel (ASIC, AS, CSA, EN, IN, NZ), concrete member design check software (ACI, AS, CSA, BS, and EN) and even Timber (NDS, AS) for quick design checks with full reporting.
SkyCiv Beam Analysis Software is completely cloud-based - accessed directly through any web browser such as Chrome, Firefox, or Safari, allowing users to access their software and files wherever they need, with no need to install or update the program. Cloud Software is a cost-effective solution with no further costs such as maintenance or updates.
Discover key features of SkyCiv Beam
A full-featured online structural analysis software, including beams, plates and cables
Full hand calculations
SkyCiv Beam Software has a feature never seen before in other products - it shows the full working out of its solution. In a clean and organised manner, SkyCiv Beam shows the full working out hand solutions for:
The reaction forces.
The shear force diagrams by method of cuts/sections.
The bending moment diagrams by method of cuts/sections.
Moment Distribution Method for Indeterminate Beams
3D renderer and color contour results
SkyCiv Beam Analysis Software shows an in-depth color contoured 3D renderer to ensure the dimensions of your beam look correct.
Review actual dimensions of sections and member length to confirm correct input and dimensions
Colored contours and result scale for easy interpretation
Easily locate the critical stress concentrations to ensure the safety of your beam.
Toggle between bending stress, shear stress, deflection, rotation, and other results.
Deflect beam animations in real-scale and exaggerated scale to review support types
Section library and unlimited sections
SkyCiv Beam Software is fully integrated with SkyCiv Section Builder - our powerful section analysis software:
Save and Load sections from our library of Australia, European, American, and UK standard sections
Select from 10+ template shapes including I-beam, HSS, Channel, etc...
Your section isn't there? Simply add a custom section.
Perform operations such as rotate, mirror, and translate.
Adding a section will also give the results for the moment of inertia, centroid, and further section properties.
Preset materials mean that you can select your material from a drop-down list for fast entry!
Beam stress solutions
Access results for absolute maximum transverse shear stress, absolute maximum normal bending stresses, and combined stresses.
Evaluate the different stresses along the beam, including torsion and axial stress or the locations of stresses on the beam section.
Compare combined stress results using the graphical results to access results along the beam span.
Get a taste of our beam stress calculator with our Free Beam Calculator.
In depth reporting
SkyCiv Beam Analysis Software unlocks the power of professional PDF and CSV reporting. Includes a clean title page with the following content:
Reactions at Supports
Bending Moment Diagrams (BMD)
Shear Force Diagrams (SFD)
Deflection, Rotation Results, and Stress Analysis
Integrated design checks and optimization
Integrated design checks for steel, timber, cold-formed and concrete beams
Automatically imports load and load combinations for accurate calculations
Detailed design calculations show step by step designs for full transparency
Run out Optimizer to determine the lightest working sections
Steel Member Design for AISC 360, AS 4100, CSA S-16, BS-5950, EN3, IS-800, NZS3404, plus more
Wood Design as per NDS, AS 1720
Cold Formed Steel for AISI and AS4600
Reinforced Concrete Member Design as per ACI-318, AS 3600, EN2, BS, CSA and more...
More benefits from SkyCiv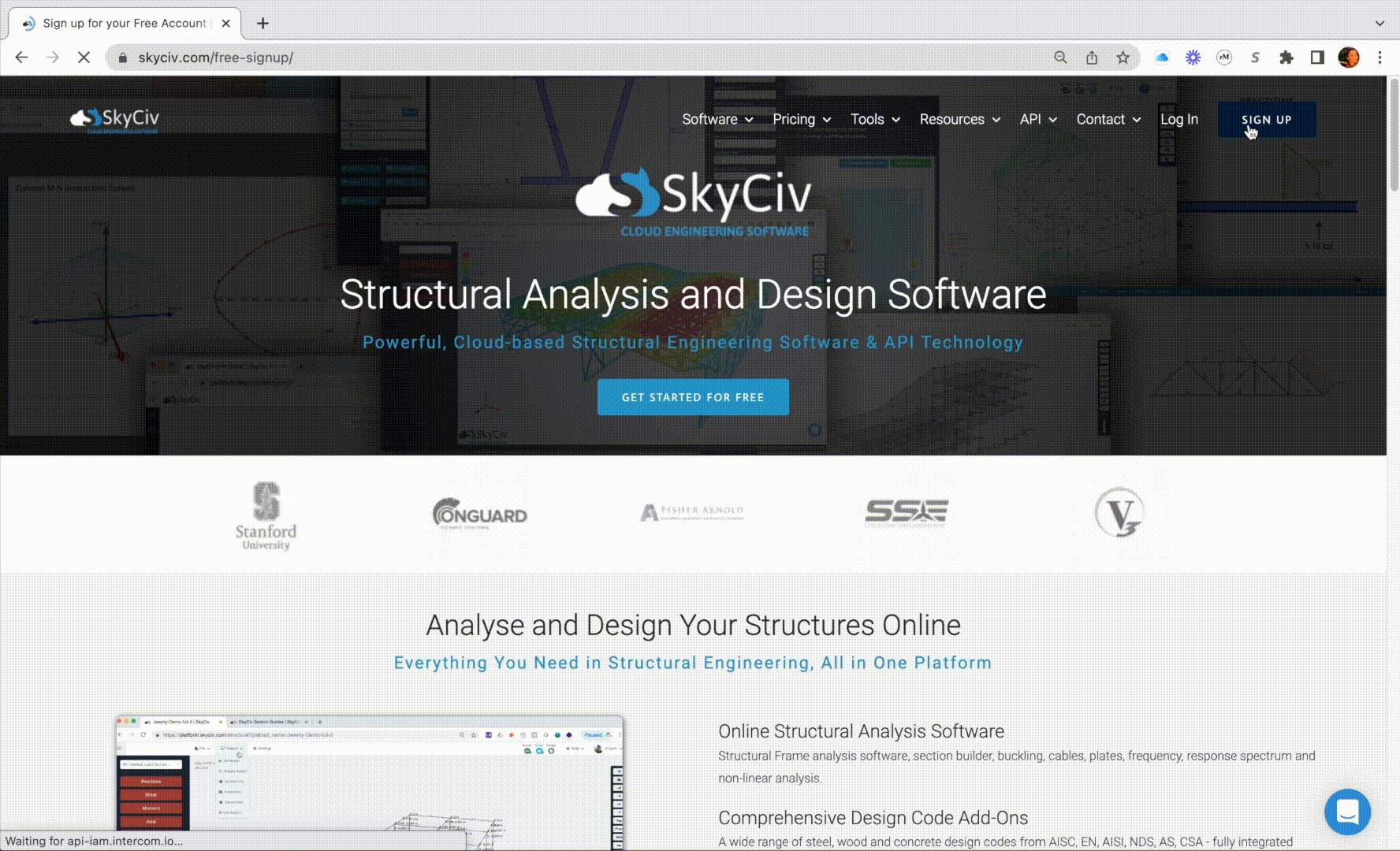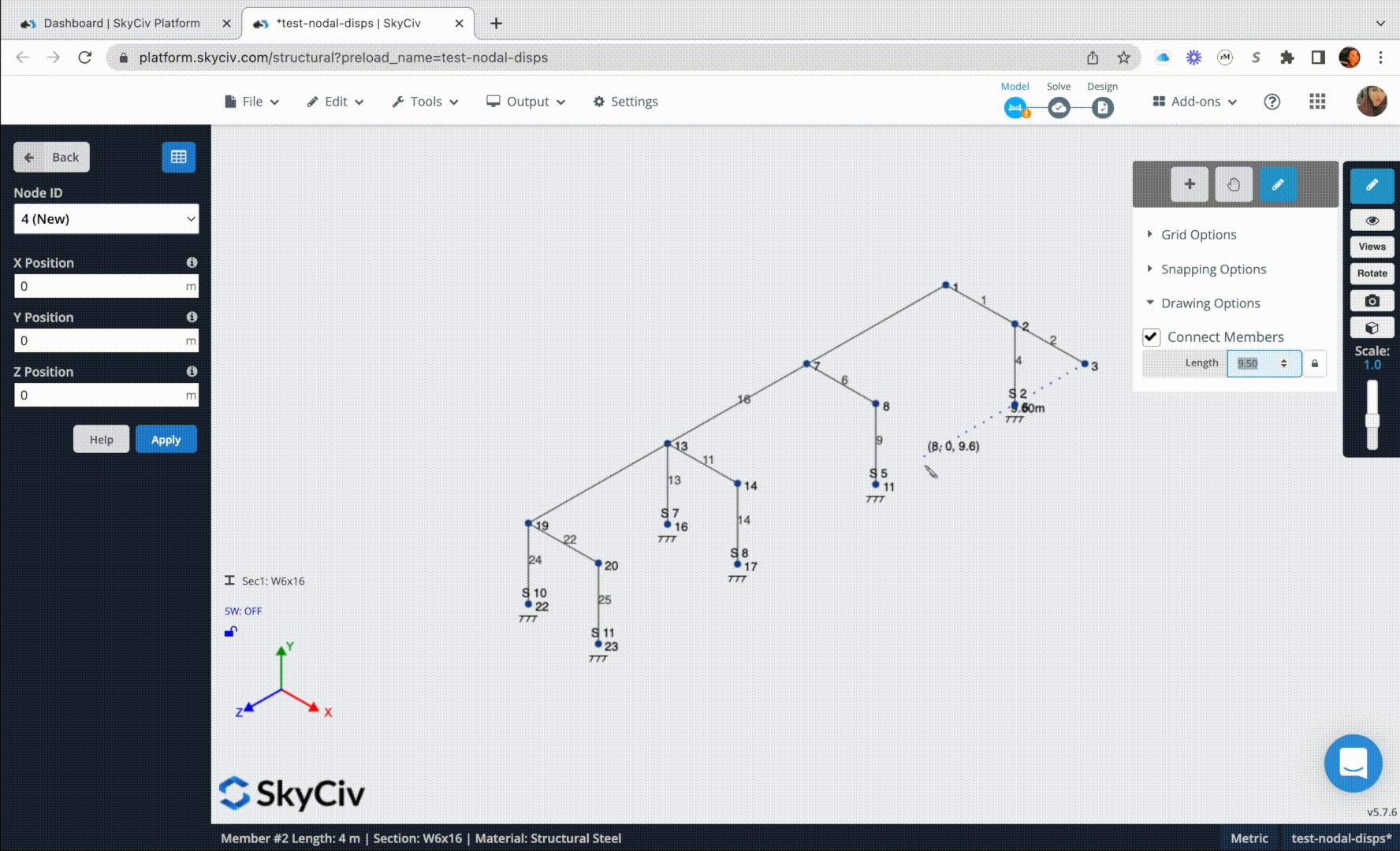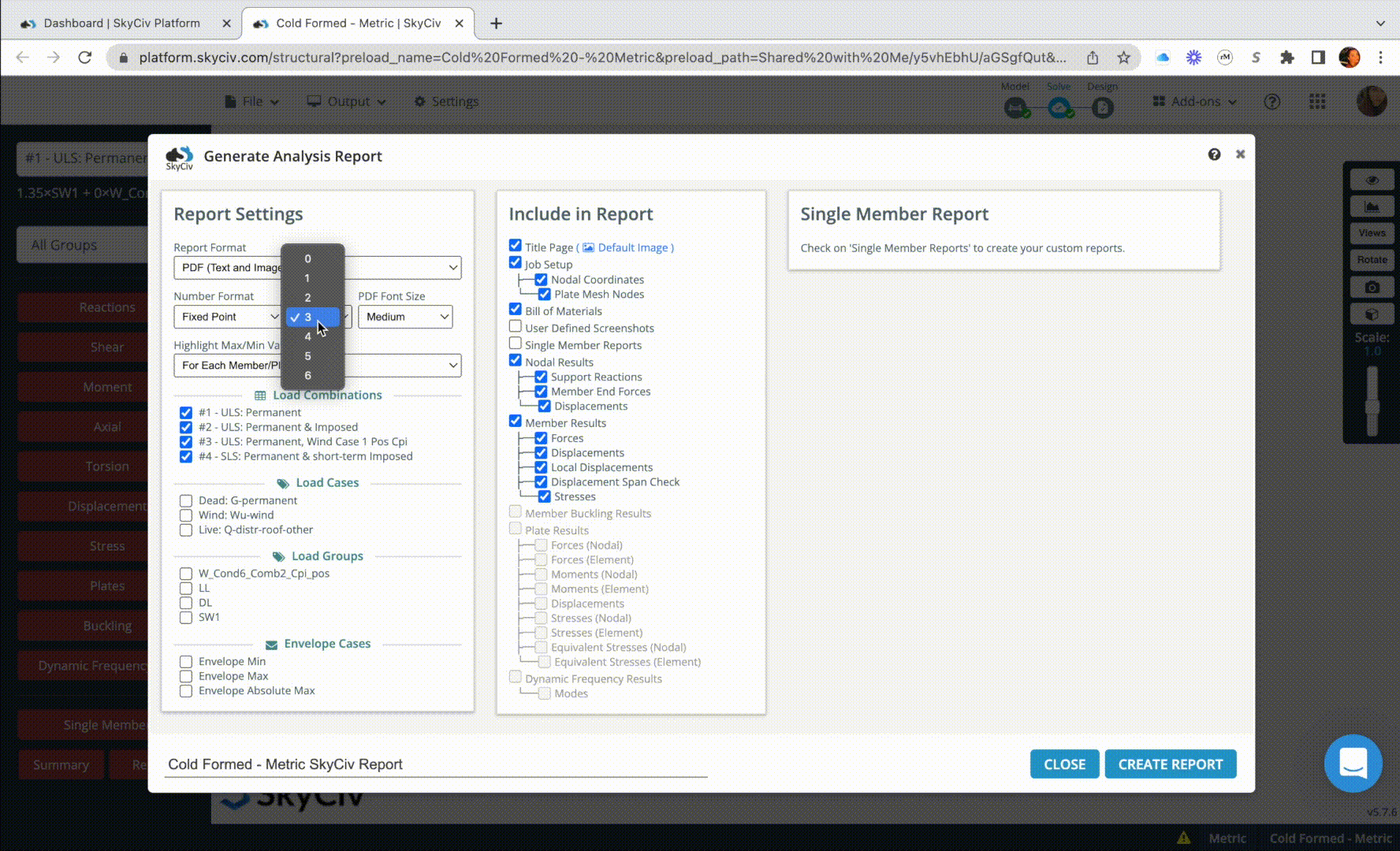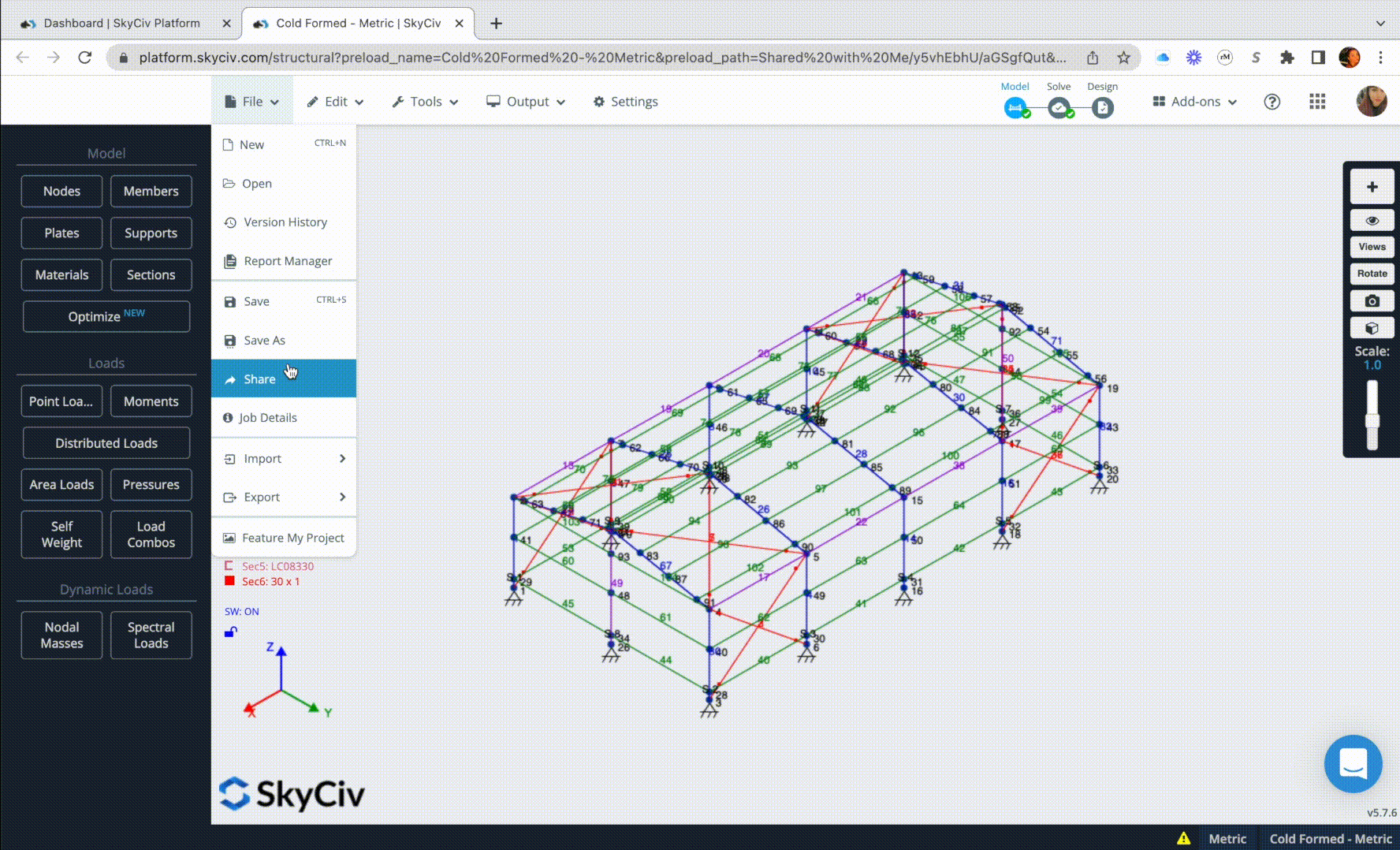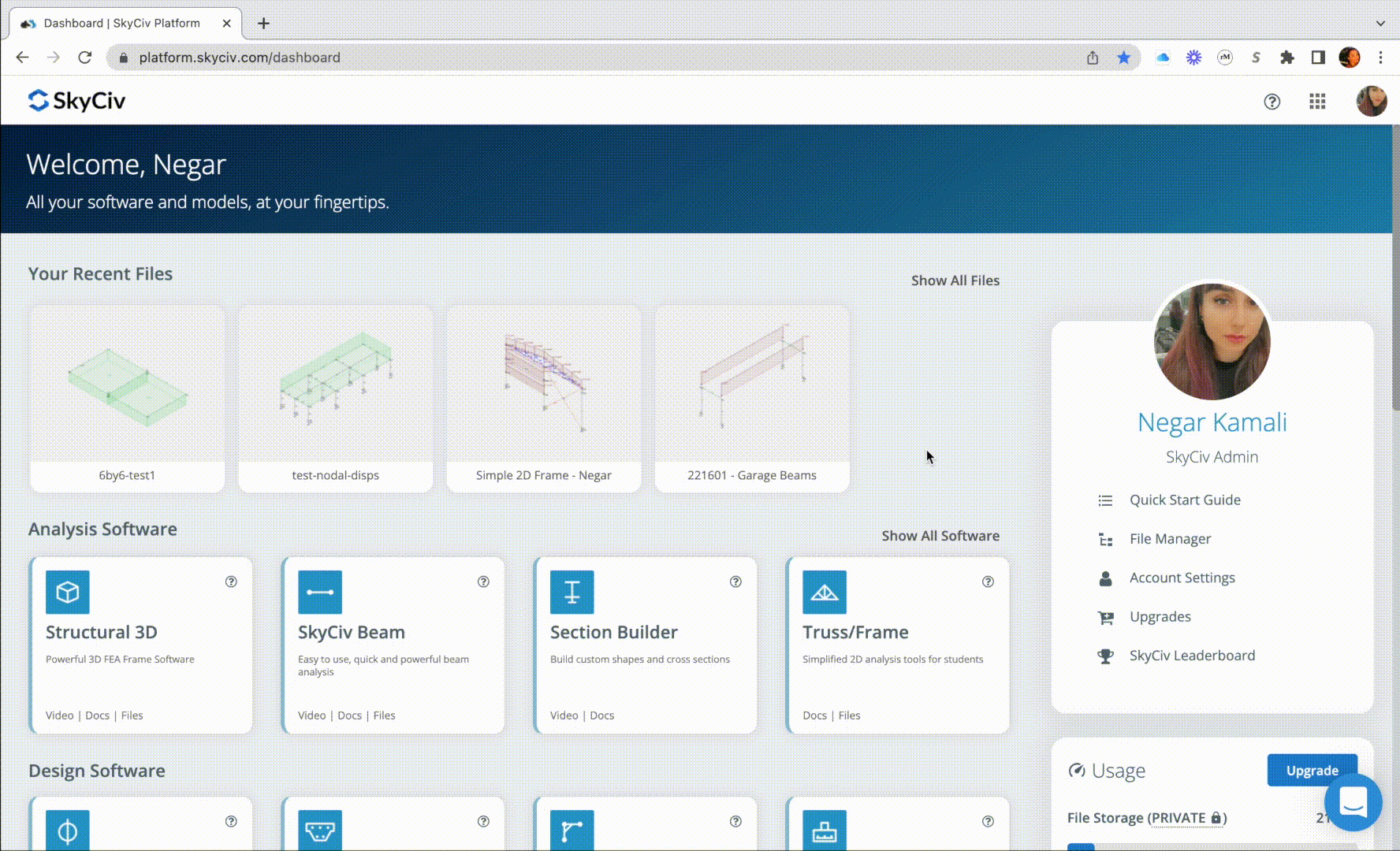 SkyCiv structural design software is 100% cloud, giving you instant access through your web browsers. Simply log into your SkyCiv account and visit the software directly. You can now access your files from anywhere and at any time.
---
SkyCiv software is built with a number of great modeling, editing, and reviewing features that help you achieve a much faster modeling workflow. These range from the pen tool, bulk editing, camera roll, and more.
Learn about SkyCiv modeling features →
---
Clear step by step calculation reports help the engineer understand exactly what the software is doing - no more blackboxes!
Learn about reporting →
---
Share and collaborate in real-time with your team using our file sharing and permission control functionalities. They also allow the SkyCiv Support team to view your models so support can never be easier.
Learn about file sharing →
---
---
"The ease of use and the presentation of the results are both awesome.
I have had ongoing interaction with the support team and
everyone is excellent!"
It is used for various civil and mechanical engineering courses and the students
love it. We are happy with the continuous updates to SkyCiv as well,
highly recommended.
"It was easily the most intuitive package available to learn; it is particularly easy to build the 3D model and define nodes, members, supports, materials, sections, then apply loads & combinations."
Included in Structural 3D