Mechanical Engineering
This broad engineering discipline applies the principles of engineering, physics, and materials science for the design, analysis, manufacturing, and maintenance of mechanical systems. It is the branch of engineering that involves the design, production, and operation of machinery. Mechanical engineers have a solid undertanding of mechanics, kinematics, thermodynamics, materials science, electricity and structural analysis.

It's on the design and structural analysis part of a project when
an easy-to-use software
come very handy in ensuring structural integrity. Helping you perform design, stress, vibration and fatigue analysis of structures in a quick and affordable way. Mechanical Engineers often rely on CAD and Simulation to analyze these structures; however there are far quicker techniques for certain type of structures. Structural Analysis software would let you analyze a frame or member-based structure in a matter of minutes; not hours!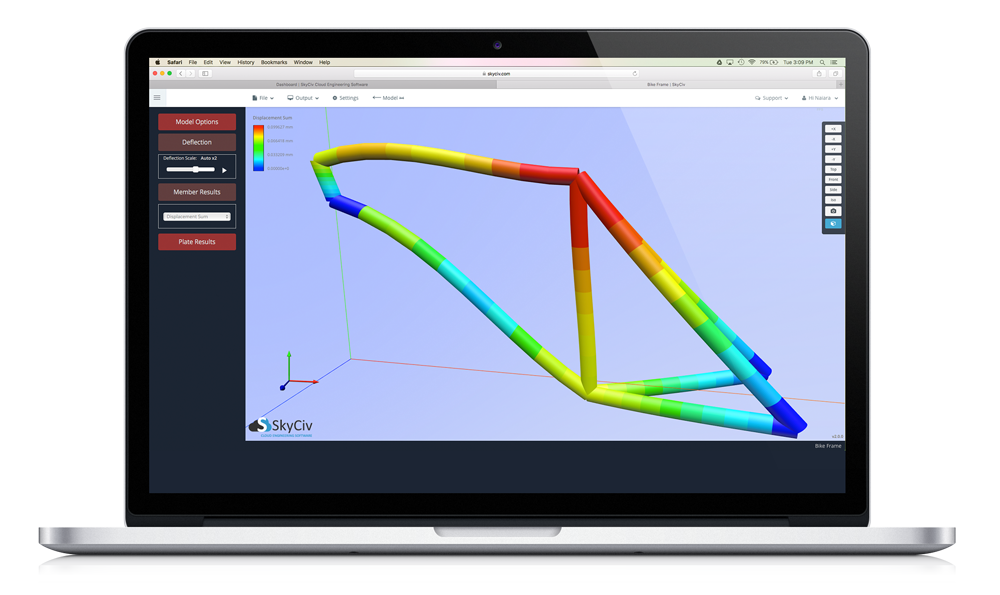 If you work in a multi-disciplinary team contributing to application and development of methods for probabilistic design to mechanical structures and systems, you know how important is to have access to the lastest version of a file. A shared folder with your team members can save you time and FTP headaches. On a detailed job with pressure and deadlines, every sencond counts!
How SkyCiv can help
SkyCiv is a cloud based software, which means you can access your project from any device, anytime, anywhere. You don't have to download or update the program, simply access your files and software from any Chrome, Firefox, Safair or IE web browser. From quick checks to complex projects, with our 2D and 3D structural software you can model and analyse beams, shafts, truss, frames and any structure. Our user friendly interface allows you to get your results quick and easy, with Reactions, Axial, Bending Moment, Deflection, Shear Force and Stress available in minutes!

Why you will love it
Quick Shaft
Single Member Report
Custom Section Builder
Quick Shaft Design
Design and analyse complex shafts in a matter of seconds. Easily apply and analyse critical stress concentrations to ensure the safety of your shaft. Results presented in a clean report-like format with reactions at bearings, BMD, SFD, Stresses and Deflection calculations.
Single Member Report
Export single member analysis reports in an easy and professional format to pass on to your client or fellow engineer. Include your own screenshots and focus on your key members. Full structure results as well as isolating members for full analysis.
Custom Section Builder
Define custom shapes, assign custom materials to your shapes and perform complex section calculations in a matter of seconds with SkyCiv's Section Builder.