Powerful, Easy-to-use, On the Cloud.
Structural Analysis Software, instantly from your web browser.
Analysis and Design in Your Browser
SkyCiv offers a range of Cloud Structural engineering software in both Analysis and Design. Our powerful, yet easy-to-use software allows engineers to work quickly and efficiently, with no obstacles in getting started. Simply register and gain instant access to the following:
Powerful Structural Analysis Software
Section Builder, with US, UK, Canadian and Australian Libraries
Integrated Design Check Software such as AISC, EN, AS, CSA...
Multiple Load Combinations from Libraries
Powerful 3D Rendering and Custom PDF Reporting
Linear, Plates, Buckling, P-Delta and Cable Analysis
Free 14-Day Trial
No Installation Needed.
Access Immediately From Your Web Browser.
SkyCiv is run 100% online. This means you'll never have to download, install or maintain your software. It is fully functional on Mac, PC, and even mobile tablets! No more license keys, no more version issues and no more updates - just clean, easy and powerful software. Get started on your design in just 30 seconds.
Get Started Now
Surprisingly Powerful Software
Did you know SkyCiv can handle plate elements, cables, buckling, p-delta and multiple load combinations for up to 20,000 members. On top of this design software from AISC, NDS, ACI, Eurocode, Australian and Canadian standards that are all fully built-in to the SkyCiv Structural Analysis Software. Cloud structural analysis software, with serious power.
Get Started Now
Easy to Use, Like You've Never Seen Before
Structural analysis and design software can be clunky, slow and difficult to use. SkyCiv has redesigned the workflow and user interface with a purpose: to be fast and easy to use. The software is extremey intuitive and easy to learn. We're dedicated to making modelling easier, and it shows - With easier input and a cleaner interface, you can model 5x faster than some of our competitors.
Get Started Now
Professional and Fast Customer Support
SkyCiv is built in the cloud so you can share your files with our support team in real time. Our chat and real time model repairs, means you can get the help you need within a matter of hours, not days. Turn your projects around faster, with SkyCiv's quick and helpful support. View our documentation, which has a variety of tutorials, videos and articles to learn how to use our software.
Get Started Now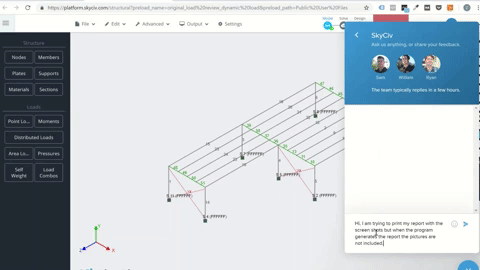 "The ease of use and the presentation of the results are both awesome. I have had ongoing interaction with the support team and everyone is excellent!"
Mitch Frumkin, CEO of Kipcon
Featured Projects
Structural Analysis Made Easy
Fast, Easy and All-in-One.

No Installations. No Lock-ins.
Save thousands of dollars in expensive installation and ongoing maintenance. Flexible pricing, pay for what you need.

Easy Modelling
Speed up your modelling with easy-to-use features. Model your structure faster and easier.

Collaborate and Share
Share and collaborate on models with your team in real-time, easily control user permissions and access, and more.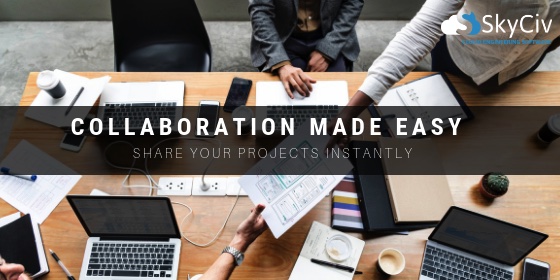 0 Comments
Vertical members that are part of a building frame are subjected to combined axial loads and bending moments. These forces...
Read More →
0 Comments
As a structural engineer, the ability to model fast is crucial to your work efficiency. Therefore it's very important that...
Read More →
0 Comments
Security Technology is ever evolving to become safer and more secure for users to work online. SkyCiv uses cloud technology,...
Read More →