Design your structural members to code, quickly and easily
Finalize the design of your structure in minutes! SkyCiv supports multiple materials, including common timber, cold-formed, and hot-rolled steel member design. With this one-click functionality, you can test all the members in your structure within seconds.
Review design results through detailed hand calculations with code references, all exportable as PDF, perfect for use as project deliverables or closer inspection.
Full Capabilities of SkyCiv Member Design Module
General Features

Integrated with SkyCiv Beam
Integrated with SkyCiv Structural 3D
Available as Standalone (manually enter in loads, materials and sections)
Optimize for lightest possible section
Save and Load Design input
Summary PDF reports
Detailed PDF calculation reports
Available to run via API
Control and adjust inputs for K factors, restraints and ratio limits
Filter passing/failing results or by particular setions/groups
Easy traffic light result summary
Hot-Rolled Steel Member Design

General

Axial Calculations
Flexural Strength (bi-axial)
Shear Checks
Combined Checks
Slenderness Checks
Displacement Checks

Supported Design Codes:

AISC 360-16 (ASD & LRFD)
AISC 360-10 (ASD & LRFD)
Eurocode 3 (EN 1993-1-1:2005)
BS 5950-1:2000
AS 4100-1998
NZS 3404-1997
CSA S16-14
IS 800-2007 (LSM and WSM)
Timber Member Design

Design Checks

Design in Axial

Design in Bending (bi-axial)

Design in Shear (bi-axial)

Combined Bending/Axial

Slenderness Checks

Displacement Checks

NDS® Standards 2018; (ASD and LRFD)

Circular and Rectangular Shapes
Library of common Wood Sections and Materials

AS 1720 2010 Timber Design

Includes detailed reporting
Library of common LVL, GluLam and Un/seasoned Australian timber sections and common materials
Strength and Serviceability Load Combinations
Cold-Formed Steel Member Design

General

Direct Strength Method calculations (coming soon)
Supports Z and Channel Sections (both lipped and unlipped)
Bending Checks
Flexural Buckling
Flexural Torsional Buckling
Distorsional Buckling (Bending and Compression)
Shear Strength
Lateral Torsional Buckling
Combined (Bending + Axial)
Combined (Bending + Shear)

AISI S1000-12 (ASD & LRFD)

Includes detailed reporting
Database of sections
Also includes Hat Sections

AS/NZ 4600

Includes detailed reporting
Database of common sections
More benefits from SkyCiv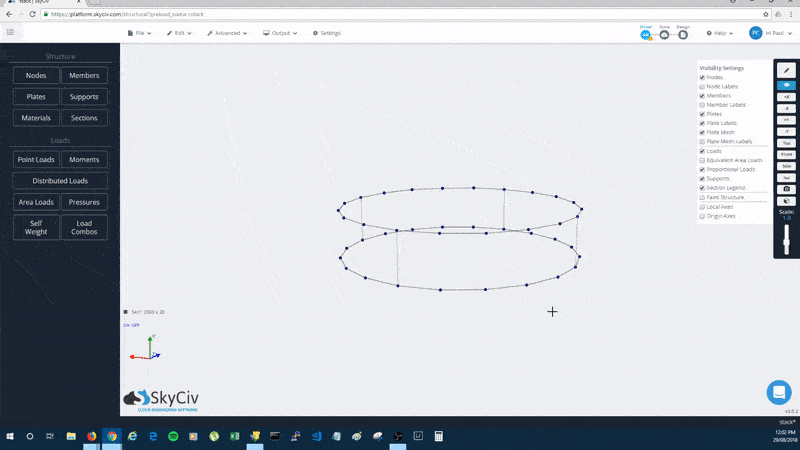 100% cloud, no installations
SkyCiv structural design software is 100% cloud, giving you instant access through your web browsers. Simply log into your SkyCiv account and visit the software directly. You can now access your files from anywhere and at any time.
SkyCiv software is built with a number of great modeling, editing, and reviewing features that help you achieve a much faster modeling workflow. These range from the pen tool, bulk editing, camera roll, and more.
Learn about SkyCiv modeling features →
SkyCiv software allows you to tailor your own analysis reports in PDF and CSV formats, with full step-by-step calculations made by the software.
Learn about reporting →
Easy collaboration & share
Share and collaborate in real-time with your team using our file sharing and permission control functionalities. They also allow the SkyCiv Support team to view your models so support can never be easier.
Learn about file sharing →
Flexible pricing, no lock-in contracts required
"The ease of use and the presentation of the results are both awesome. I have had ongoing interaction with the support team and everyone is excellent!"
It is used for various civil and mechanical engineering courses and the students love it. We are happy with the continuous updates to SkyCiv as well, highly recommended.
"It was easily the most intuitive package available to learn; it is particularly easy to build the 3D model and define nodes, members, supports, materials, sections, then apply loads & combinations."