SkyCiv Structural Analysis Software
Powerful Structural Analysis and Design Software.
Instant Access, directly from your browser.
View Pricing
Structural 3D | Online Structural Engineering
SkyCiv Structural 3D is our most powerful structural analysis software on the cloud. This 3D frame analysis software allows you to model, analyse and design a wide range of structures.
The 100% cloud-based engineering Software allows users to access their programs and files from a web browser, from anywhere, anytime! No need to install or update.
Different from traditional software that are clunky and difficult to use, SkyCiv is by far the most intuitive and easy-to-use structural engineering software for civil and structural engineers.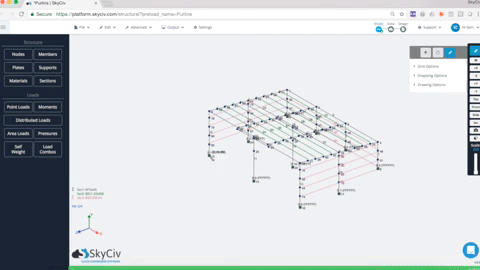 Easy Modelling Functionality
Speed up your modelling in SkyCiv's structural analysis software, with these
easy to use features
that allow you to model your structure much faster and easier.
Enter nodes, members and plates using mouse click functions
Run Repair Model to quickly locate and repair issues with your model
Use the pen tool to draw and snap to global axes
Use the SkyCiv Datasheet (much like a spreadsheet) to enter data in quickly
Mass edit and change by simply multi selecting elements
Inbuilt modelling operations such as repeat/mirror and curve members
Learn More
Powerful Reporting
SkyCiv S3D allows you to custom build your own analysis reports in PDF format, as well as output full calculation reports from within our design modules.
Isolate single members
Include custom saved screenshots
Show full calculations of design modules, so you can review the assumptions, references and failure criteria of your designs
Design summary reports showing green/red highlights for pass/fail
Include your company logo on reports, marketing your company
Full Calculation Reporting for design modules (AISC, ACI, AS, CSA and EN)
Collaborate and Share
Collaborate like Google Drive, with simplicity and ease. Share and collaborate on models with your team using the following simple sharing features:
Share files easily with other members of your team
SkyCiv Support team can see your models in real-time, so support has never been easier.
Control permissions and access for other users
Revision control allows you to see all the changes made to your model, and revery back to previous saves
SkyCiv also maintains backups and archives, so if you lose a file contact us and we can recover it.
Plates, Cables and Buckling
SkyCiv is powerful structural analysis software - supporting a wide range of elements.
Plate analysis - including deflection, shear/bending forces as well as a range of stress results. Includes a full meshing tool with multiple mesh types, cutours, internal node detection that can be easily meshed and unmeshed.
Supports mindlin quadrilateral shell elements suitable for thick/thin plate analysis
Run cable analysis with accurate P-detla (non-linear) analysis
Prestress cables and adjust cable lengths
Full buckling analysis capabilities to ensure safety against buckling
Buckling Analysis displays buckling shape of your model in both accurate (longer solver time) and simplified
Frequency and response spectrum analysis
View Full Documentation
Benefits
Faster, Easier and All-in-One.

No Installations. No Lock-ins.
Save thousands of dollars in expensive installation and ongoing maintenance. Flexible pricing, pay for what you need.

Easy Modelling
Speed up your modelling with easy-to-use features. Model your structure faster and easier.

Collaborate and Share
Share and collaborate on models with your team in real-time, easily control user permissions and access, and more.
Get Started Today