Residential Design, made Easy.
Design software for structural engineers and architects.
SkyCiv Structural Analysis and Design software is focused on being fast, easy and accurate. This supports the residential and home industry, as being able to turn designs around quickly is critical to meeting your client's needs.
SkyCiv helps by supporting all necessary analysis and design needs. This includes all aspects of home design, including beams, columns, plates, foundations, wind/snow loads, retaining walls and much more..
Integrations with Revit and other software also helps engineers work faster and easier, saving users having to rebuild models that already exist.
Discover What's Possible with SkyCiv
Features that will accelerate your residential structure's design
Fully Customizable and Integrated Section Properties
Use shapes from a variety of databases, or create your own custom ones from a combination of shapes. Import complex DXF drawings of custom sections for analysis as well. The Section Builder will find all the section's properties using a FEA of the section. Every section can be used for 3D modeling and analysis through the Structural 3D integration.
Full Featured Modeling Tools and FEA Analysis
Engineers become proficient in SkyCiv Structural 3D in as little as a few hours, not weeks. The streamlined user interface gives you all the modeling power without congestion. Take advantage of the intuitive tools that make generating any type of residential wood or cold-formed steel structure a breeze.
With SkyCiv's FEA solver, run your structural model using the following analysis methods: Linear Static Analysis, Buckling Analysis, P-Delta Analysis, Dynamic Frequency, Response Spectrum.
Integrated Design Module with Exportable and Detailed Design Reports
When your structural model is complete, import the analytical results into the Member Design module to run the design checks in accordance with the relevant code. E.g., NDS 2018, AISI S100-12, etc.
The design module will present the results clearly and effectively, while offering individual member hand calculations. These reports depict hand-calc walkthroughs with code references, which serve great as deliverables on your project or for backchecking -- eliminate that blackbox!
3rd-Party File Import Support
Get a headstart on your structural steel model using the various supported 3rd-party file types such as Revit (.RVT), .DWG, .DXF, .CSV, and others in development!
With correctly formatted 3rd-party files, the majority of the modeling of your 3D steel structure can be completed, including material properties and section properties.
More benefits from SkyCiv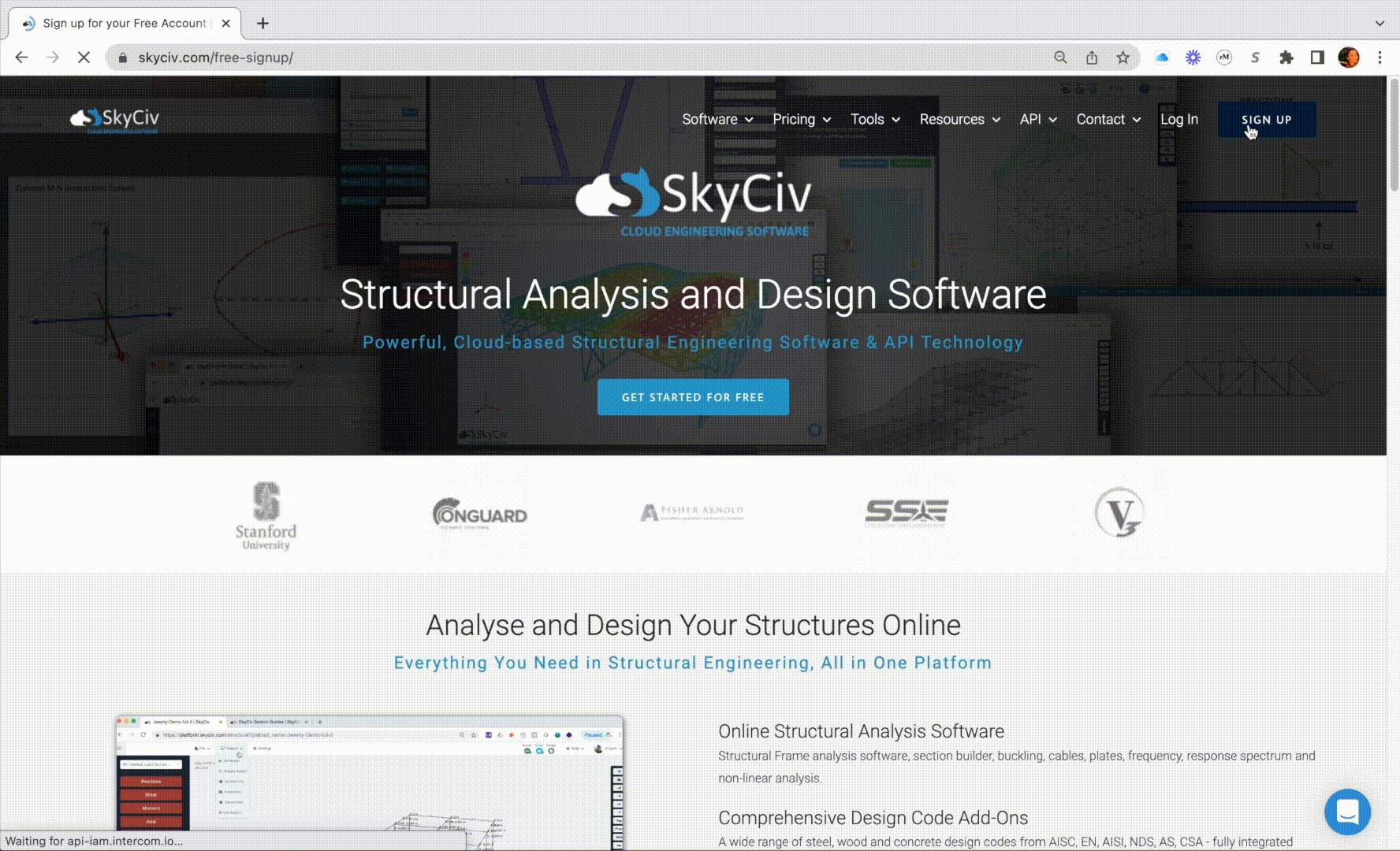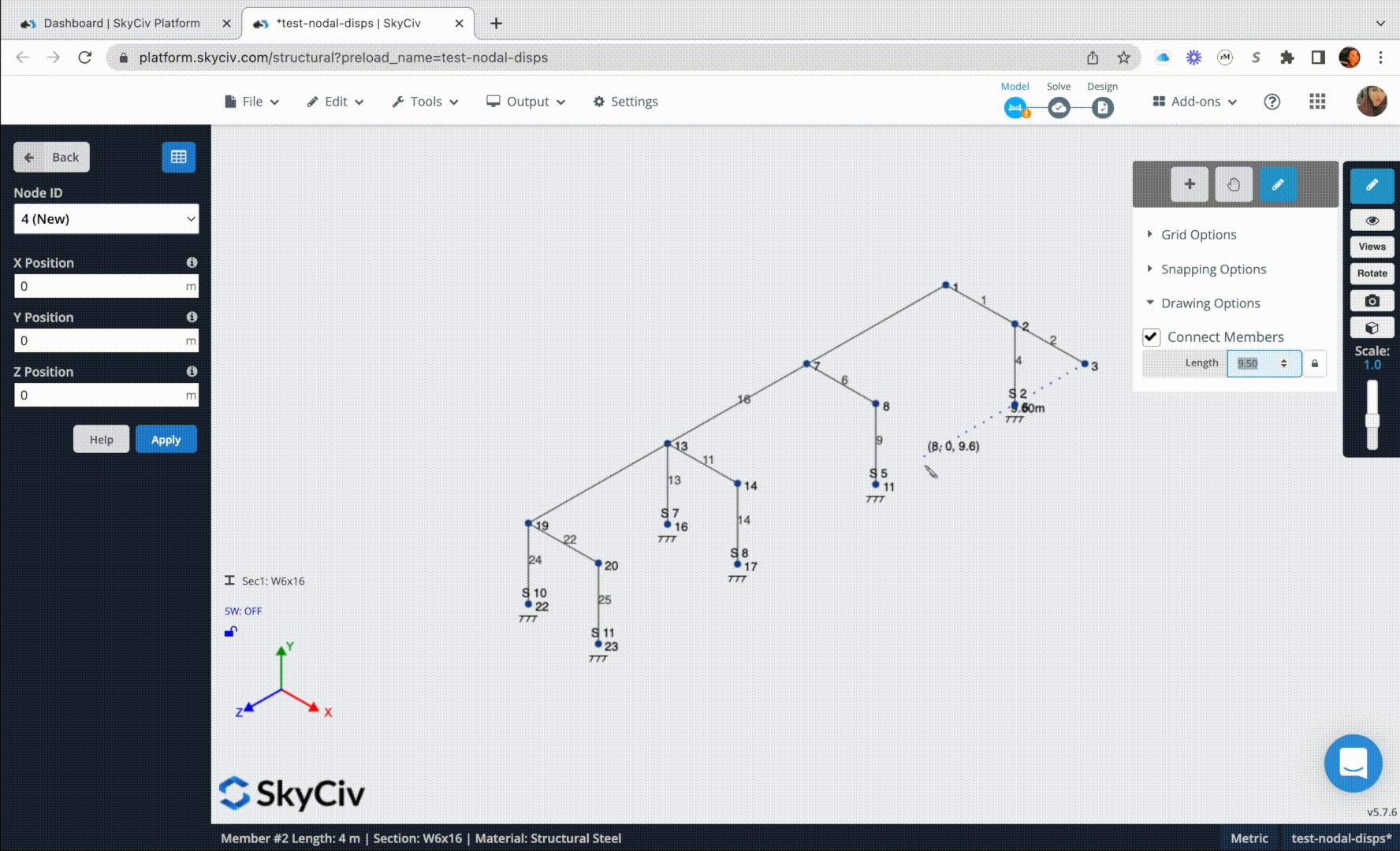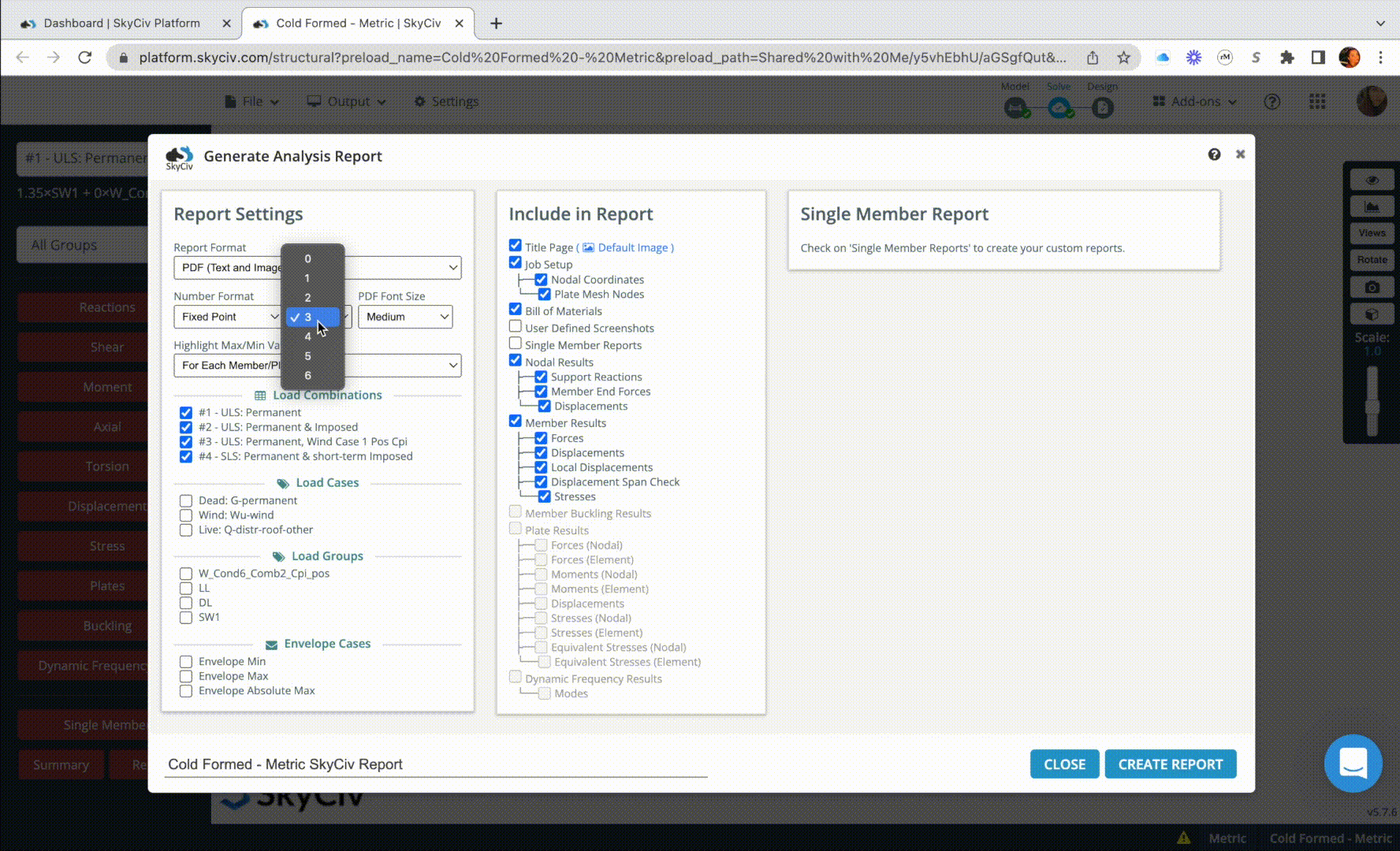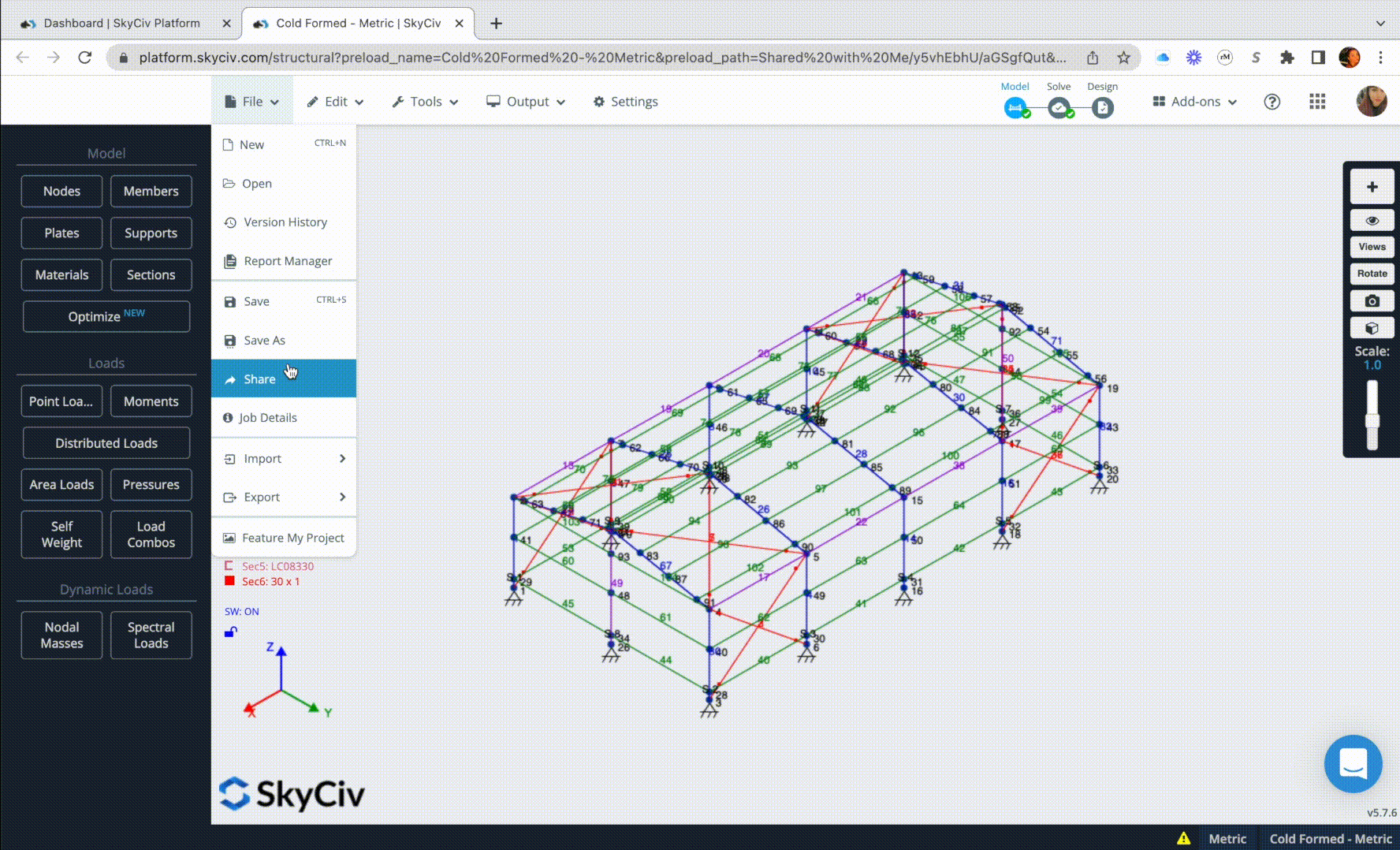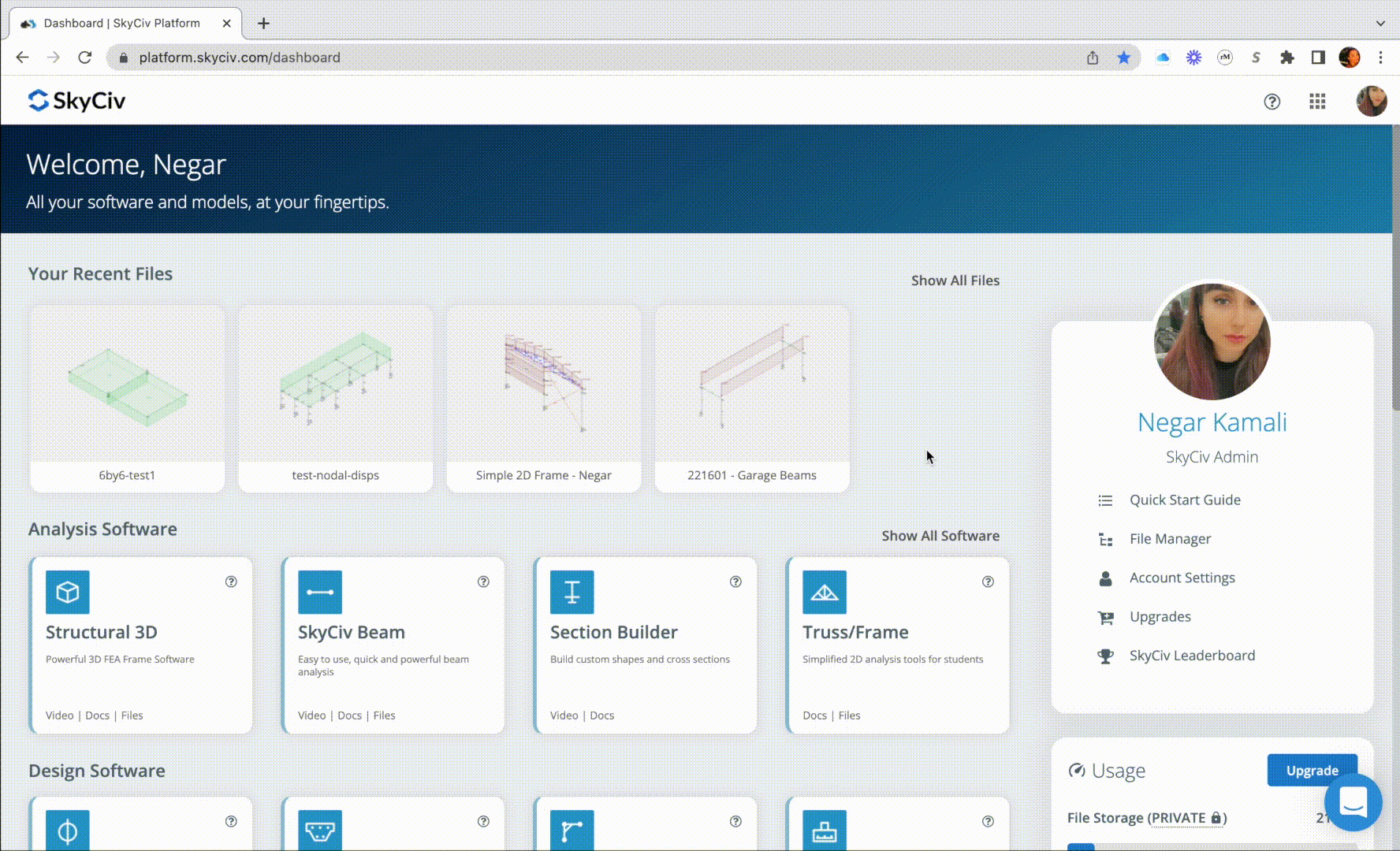 SkyCiv structural design software is 100% cloud, giving you instant access through your web browsers. Simply log into your SkyCiv account and visit the software directly. You can now access your files from anywhere and at any time.
---
SkyCiv software is built with a number of great modeling, editing, and reviewing features that help you achieve a much faster modeling workflow. These range from the pen tool, bulk editing, camera roll, and more.
Learn about SkyCiv modeling features →
---
Clear step by step calculation reports help the engineer understand exactly what the software is doing - no more blackboxes!
Learn about reporting →
---
Share and collaborate in real-time with your team using our file sharing and permission control functionalities. They also allow the SkyCiv Support team to view your models so support can never be easier.
Learn about file sharing →
---
---
Join 10,000+ Professional Engineers Worldwide!
Fast, Easy and All-in-One.