Learning new software can often be a long and uncomfortable process, particularly when you have deadlines and client needs to think about. But did you know SkyCiv takes a fraction of the time to learn compared to other software? We surveyed a number of our users and compared the results to other products in the industry, and the results were astounding.
Not to spoil the contents of this article, but the weighted average time it takes to learn SkyCiv Structural 3D was less than 2 weeks. 
When SkyCiv was started, one of the value propositions that was important was to build an intuitive UI – an interface that was simple for new users. This stemmed from personal experiences of trying to learn clunky, old structural analysis software throughout our time at University. We felt things could be better, which set the foundation of our product values here at SkyCiv. It's truly inspiring on a personal level to see our users share the experience we envisioned so long ago.
So without further ado, let's look at the onboarding experience, and how long SkyCiv takes to learn…
How long does it take to learn SkyCiv vs Traditional Software?
The SkyCiv team takes pride in the clean and user-friendly interface. Everything is clearly labeled and defined, so it's not only easy to use but fast to learn. In fact, a one-hour demo can get you pretty far along the learning curve. Looking at a recent survey of 129 of our professional users, 62% of our users responded that the average time to learn SkyCiv S3D, was less than a week:
In a recent study of more than 400 structural engineers, the time taken to learn new structural engineering software was 4-6 months! Using a weighted average of the respondents in our survey, the average is about 8.2 days!
So, in one clean infographic, our survey findings were that SkyCiv can be up to 17 times faster to learn than traditional software!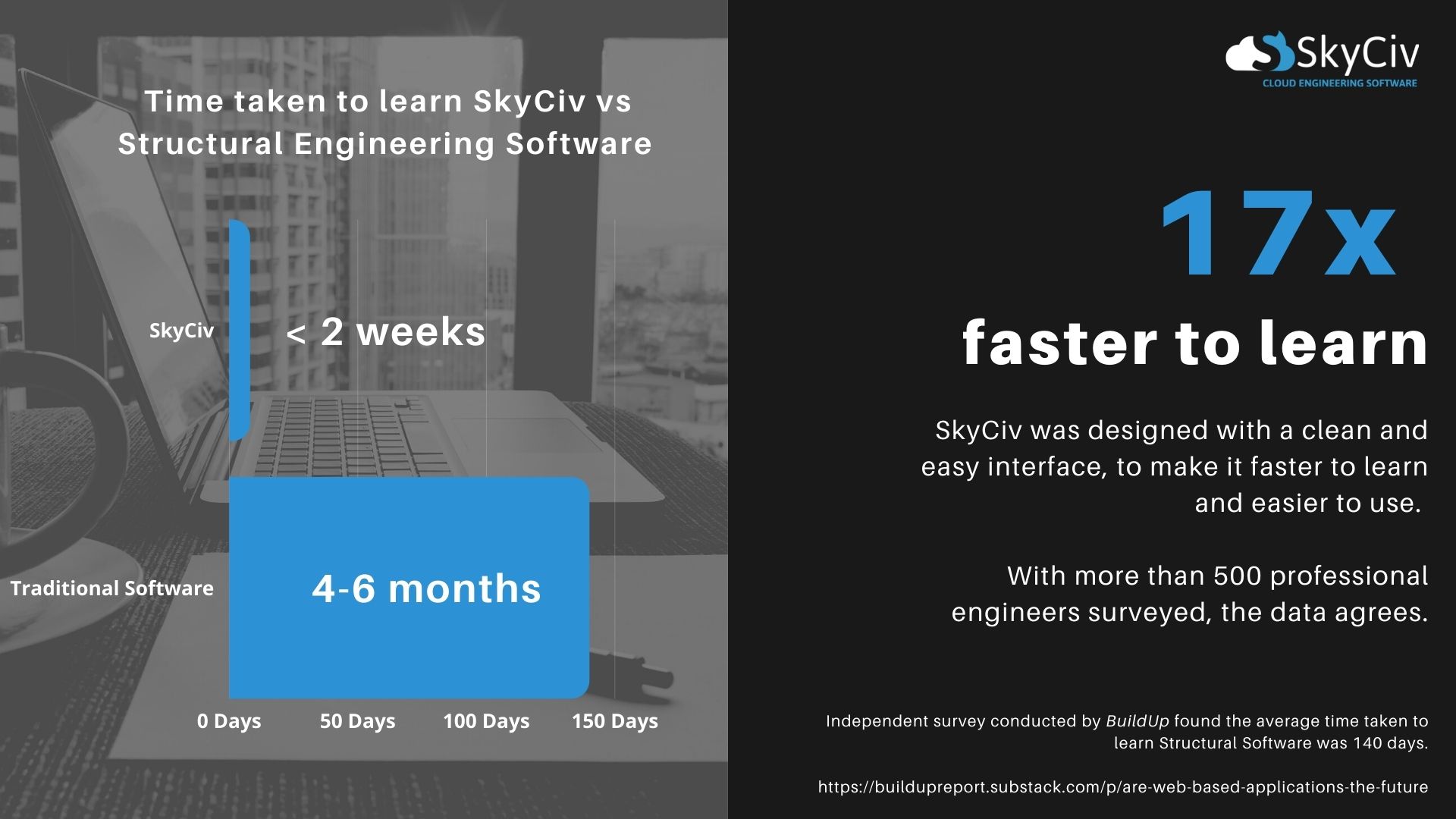 How is it so easy to learn?
The recipe is pretty easy. Make it easy for people to find their way around the software, then if they need help, give them the assistance they need instantly and on-demand. If all else fails, give users exceptional and real-time customer support. Here's a list of how we do this in action:
Help when you need it
We pride ourselves on our quick, responsive, and helpful support. With a range of support mediums, we're able to give users the answer to their questions as soon as possible, using communication that suits them. Here is a summary of the full range of support that we offer our Professional Users at SkyCiv:
As engineers, we hate not having the answers to our questions when we need them. We're most likely on a tight deadline, so it's important that any design blockages due to software are released quickly and conveniently. We have it in all other products in our life, why should our structural analysis package be any different?
Considering SkyCiv?
Here are some great links and resources to show just how easy it is to learn:
Or see for yourself, by starting your 14 Day Trial today!
Sam Carigliano
CEO and Co-Founder of SkyCiv
BEng (Civil), BCom
LinkedIn