A guide to calculating wind speed and wind pressures for Australia and New Zealand
Calculating the wind speeds can be a complex process in AS/NZS 1170 for site locations in Australia and New Zealand. That's why SkyCiv has developed an online wind load tool to help calculate the design wind speed and pressures via our interactive Google Map. Users can also click and drag the marker to move the site location:
Calculating Wind Speeds
Basic Wind Speed
The software will calculate the basic wind speed based (AS1170.0)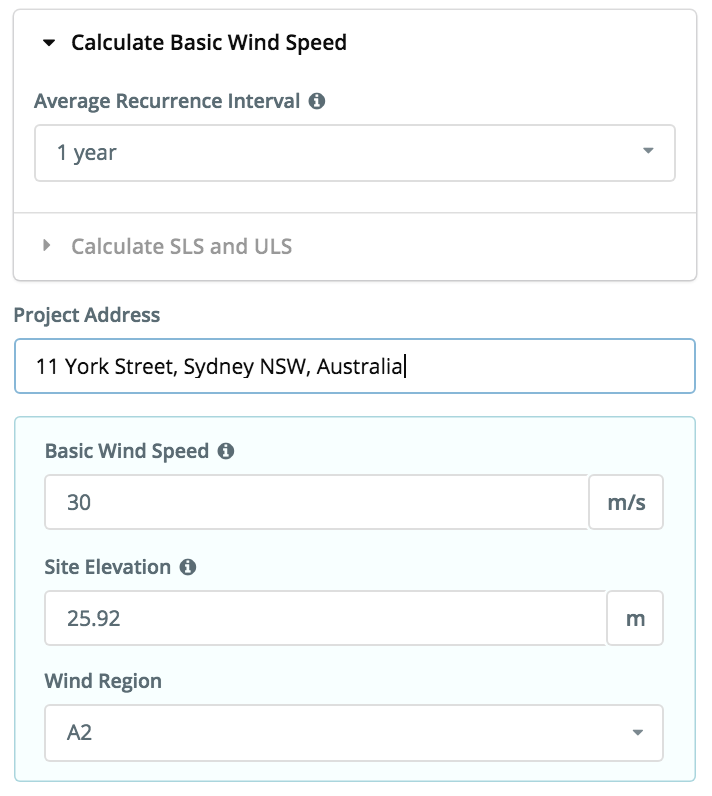 Average Recurrence Interval – how often this wind speed is expected to occur. It can also be calculated as the inverse of the annual probability of exceedance. For instance, 1 year is a very high expectancy of recurrence so this wind load will occur a lot. A higher ARI will result in a higher basic wind speed. This is because you are designing for more extreme events.
Serviceability and Ultimate Limit State Wind Speeds
Users can also pull the Serviceability Limit State (SLS) and Ultimate Limit State (ULS) wind speeds for both Australia and New Zealand.  It still uses the ARI, however these can be calculated via the following input. Simply click the accordion and enter in the following input:
Country – Australia or New Zealand
Design Working Life – how long the structure is intended to be used. For instance, is the structure used for construction purposes (e.g. scaffolding) or is the design working life longer term, for say buildings and bridges. The longer the design working life, the higher the basic wind speed (to account for significance). Here, the SLS only increases up to DWL of less than 25 years.
Importance Level – The importance level is governed the type of structure and it's potential impact. Click the (i) for more information about which importance level is correct for your structure
Site Location – the address where the site is located
Here is an example of the software calculating the SLS and ULS wind speeds for 11 York Street Sydney (by default the basic wind speed will choose the largest of the two):
Wind Pressures
The software goes a step further, calculating the wind pressures to be applied to your structure as per AS/NZS 1170.2. Once you have your basic wind speed, you can enter in some simple building dimensions to calculate the design wind forces to be applied to your building or structure. The following structures are currently supported in SkyCiv:
Open Buildings
Closed Buildings
Gable Roofs
Hip Roofs
Monoslope Roofs
Multiple levels and elevations
Enter in more information such as pitch angle, roof height, building width and building length to get the wind pressures:
All of our input come with easy references to the design code. Simply click the [icon icon=info-sign] icon or the [icon icon=share] to open up clear instructions on what each parameter means. For instance, if we click the Action Combination Case, a popup will display explaining each option and allow you to select which is most applicable: 
Output
The software will then product the following wind pressure calculations (in Pa) for main walls and cladding
Wind Pressure values and locations for Windward, Leeward, Side wall and Roof
Cladding and Components: