SkyCiv's File Manager allows you to organize and work with all your various saved files. In the top left corner, select the SkyCiv software you saved your file in and navigate to the location of your file.
Main File Manager
The File Manager has the following functionality for easy file management:
Create new folders and subfolders
Search to find your models quickly
Drag and Drop to move files and folders
Select multiple files using Ctrl/Shift Keys
Rename and Delete Files
Restore Previous Versions of Models
Share files and folders with SkyCiv User's
Search Options
When searching your SkyCiv files you can choose from two options to help you quickly find the file or files you need. When searching using the This Folder option you will only search for files in the current folder (files that match the search term in other folders will be ignored). When searching using the All Folders option the search option will return all files that match your search term no matter what folder they are located in. The search functionality only shows files from the current software directory selected on the left-hand side in both cases. 
Sharing Files
Since SkyCiv is cloud-based, you can easily share files with other SkyCiv users. Simply right-click the model and click Share with SkyCiv User. You have two options, you can either send the user a copy of the model (so they can modify it without it affecting your own model) or share it with them in real-time (by default). After clicking Share with SkyCiv User the following popup will show: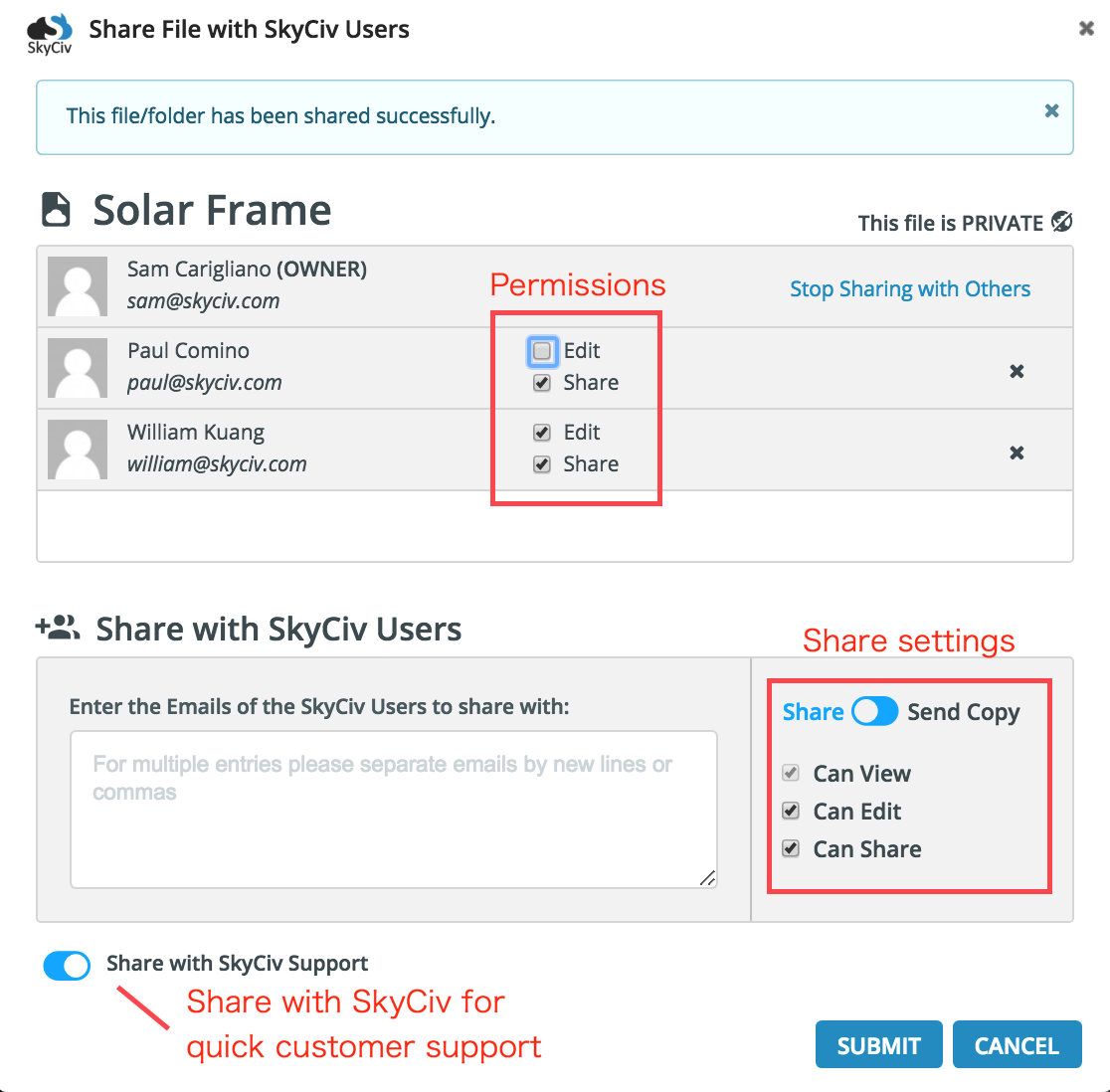 Files that have been shared with you will automatically appear in the user's Shared with Me folder. They will also receive a notification via email to let them know a model has been shared with them.
Click here to learn more about sharing files.
Revision Control
All your revisions and previous saves are stored within one model, so you can review and even roll back previous revisions at any time. This is another benefit of SkyCiv's cloud storage – all members of a team have a single source of truth with all users able to review and keep up to date with any changes to your model. Revision control can be reviewed from the File Manager or within the model itself:
Click here to learn more about revision control.
Other Settings
Users have control over some file management settings under Account-Settings -> Software settings. From here they can toggle on autosaving – where your model saves itself every 1 minute. This is designed so that the user does not need to think about saving their file to protect their progress against computer/browser crashes. Users can also control what appears in their file manager (for instance Public User Folder) and the view in which the file manager is displayed (tiled view or list view).
Where are my files stored?
Your files are stored on SkyCiv's secure server in Chicago, USA which is both SOC1 and SOC2 compliant. Enterprise Accounts can integrate the file storage system with their own FTPs and servers.
Are my files secure?
SkyCiv stores our users' files on our secure servers, which can only be accessed by the user and SkyCiv Developers. SkyCiv also has systems in place to protect your information from being accessed by anyone who is not logged in under your account.
Are my files backed up?
SkyCiv stores our users' files on our secure servers, hidden away from public access. These files are backed up every day in the event any information is lost, corrupted, or if you accidentally delete a file you need. Simply email us at supp[email protected] and we can locate and recover your model for you.
Can I download my files?
Yes, you can download your files under File – Export, which will allow you to store the data as either CSV or original SkyCiv data (JSON).
Can I autosave my files?
Yes – SkyCiv offers the ability to automatically save your model (every minute) as you work. This is more aligned with the cloud which ensures your work is always being protected so you don't lose any of your progress. To turn this on, visit Account Settings -> Software Settings