SkyCiv is able to handle a large variety of materials including concrete, steel, wood and more and are available in both imperial and metric unit systems. These materials can be assigned to members and plates to model the structure you need. SkyCiv provides a number of pre-configured materials including: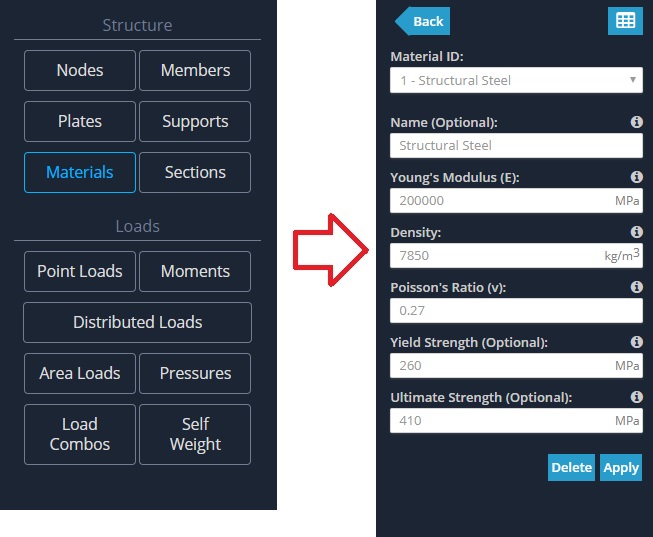 Structural Steel
Aluminum
Carbon Fibre Reinforced Plastic
Concrete
Concrete (High Strength)
Oakwood
Glass
The properties of the pre-configured materials can be changed. Note that doing so will change the material properties of all members and plates assigned with that material ID. Alternatively, users can import more accurate and specific materials from our material library (see below).
Each material is specified by the following properties, and are required for certain results:
Young's Modulus
Density
Poisson's Ratio
Yield Strength (Optional but required for design calculations)
Ultimate Strength (Optional but required for design calculations)
Loading from Database
SkyCiv has thousands of materials in our Material Database. Including common materials from the US, Australia, British, Canadian and European libraries. To import from a library, start by opening the Material option on the left and clicking the red Database button at the top of the input form. From here, a popup will show with a dropdown for you to locate the material you're after. Once you select a material, a confirmation box will show with the material properties for you to review before you submit: