An ASCE 7 10 wind load calculation example
Introduction
SkyCiv Wind Speed software is a 100% cloud based program, used to calculate the wind speeds and pressures by location. There are a number of versions of the software to account for free/paid users and also has an API for added functionality. In this guide we will take a look at an ASCE 7 10 wind load calculation example to calculate the wind speeds and pressures for a gable roof, enclosed building.
Wind Speeds
Calculating the wind speeds and wind pressures are an important aspect of design for any structure. Users can get the wind speed by location at anytime from the SkyCiv free wind speed map:
For ASCE 7-10 wind loads, SkyCiv has digitilized the map as per the paperback standard. This means, you can simply enter in the site location and the software will automatically pull the wind speeds based on this input. There is a limit to how many times the wind speed can be calculated on the free tool.
The software will use our internal interpolator to calculate values between the contours, to ensure accurate wind speeds are used in your designs.
Wind Pressures
The software goes a step further, calculating the wind pressures required to meet ASCE 7-10 standards. Once you have your design wind speed, you can enter in some simple building dimensions to calculate the design wind forces  as per ASCE 7-10. Currently, the following can be calculated:
Open Buildings
Enclosed Buildings
Partially Enclosed Buildings
Gable Roofs
Hip Roofs
Mono slope Roofs
Multiple levels and elevations
Example input for a gable roof (enclosed building)
Pressure Results:
Wind Along L and B (windward, leeward, side wall and roof)
All pressures are tabulated based on the project level and elevations entered in the previous step. In this example, the design pressures are displayed in psf in the following table:
Roof and Wall Components and Cladding
Results for cladding have been provided with a graphical guide to clearly show the locations and magnitudes of pressures to be applied as per ASCE 7 10 wind design requirements. The below table is an example of these calculation results, showing the cases, pressures and locations of the wind forces.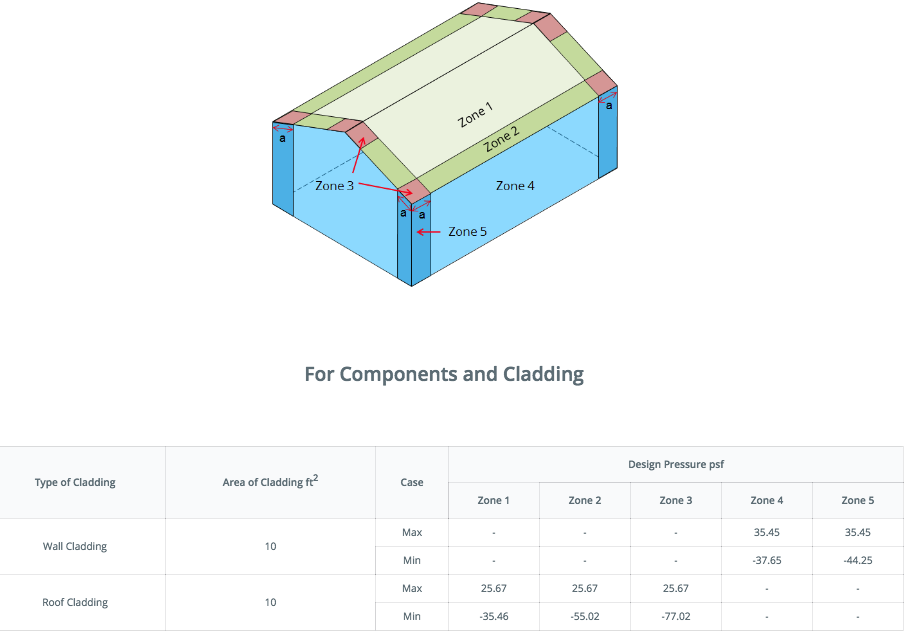 Try our Free Wind Load Calculator