Getting started with powerful, easy to use Reinforced Concrete design software
How to get started
To get access to SkyCiv Reinforced Concrete Design software, you will need a SkyCiv Free account. You will be able to access the software with some limitations – with a SkyCiv Professional Account, you will have access to all the functionality available in the entire platform. Our software is accessed 100% through a web browser, so there is nothing to download, install or maintain – simply signup for an account and get instant access!
Concrete Design Software:
Beam and Column Design as per ACI, AS, EN, CSA, and BS:
This software is available as Standalone or integrated with our analysis software (SkyCiv Beam and SkyCiv Structural 3D) – all three are available in the SkyCiv platform after registering for an account. SkyCiv Beam/Column design software currently supports the following design codes:
ACI 318-19
Eurocode 2
AS 3600-2018
CSA A23.3-14
BS 8110-1997
The software is offered in 3 versions, including:
Standalone (no analysis software – manually input forces)
SkyCiv Beam (beam analysis software with Reinforced Member Design)
SkyCiv Structural 3D (powerful 3D analysis software with Reinforced Member Design)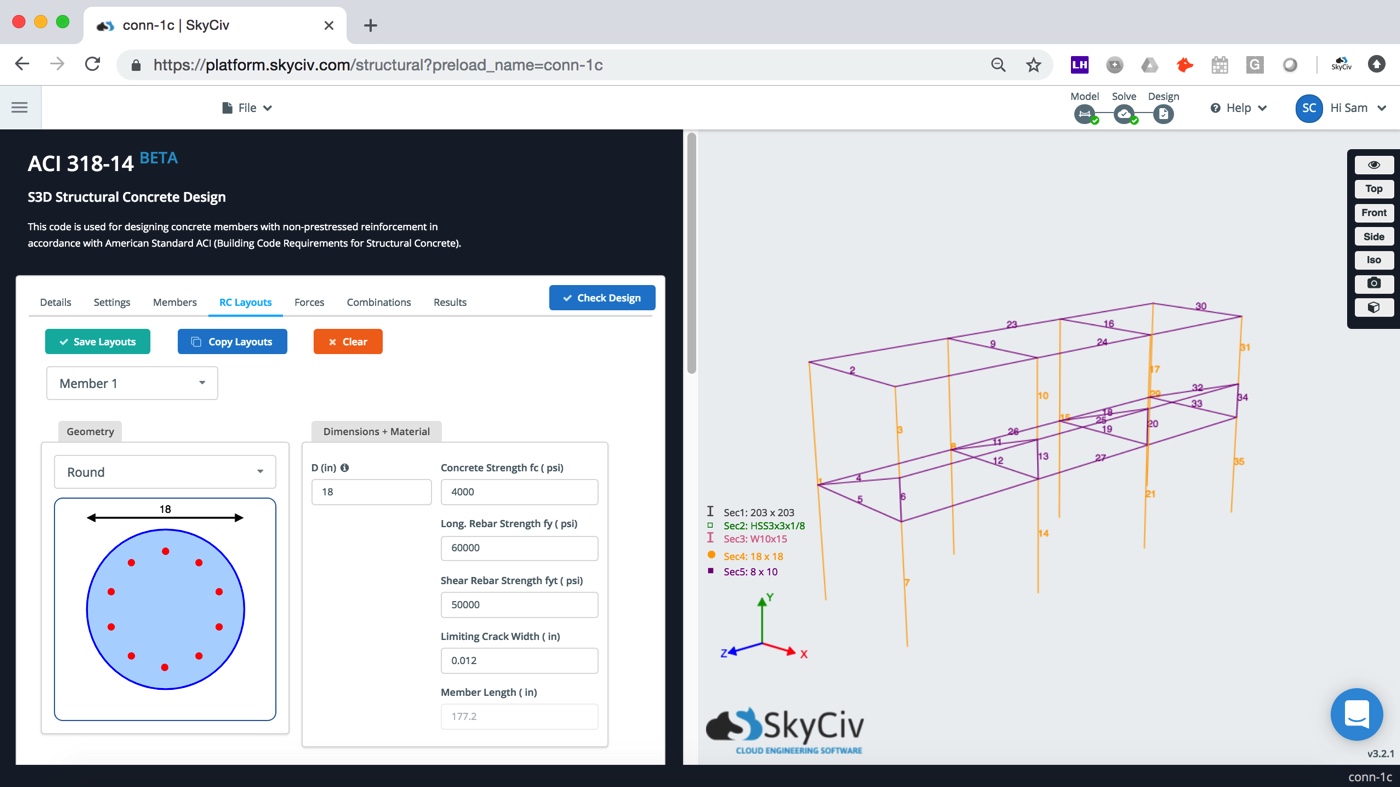 Screenshot of ACI 318 Design Software in the Structural 3D software (point 3 above)
General Cross Section Design
Design custom and standard concrete cross-sections with reinforcement. This software is built on top of the SkyCiv Section Builder – so you start by adding your concrete shape, then reinforcement, loads and solve to review the moment capacity and M-N curves.  This powerful FEA software is the first of its kind and is 100% cloud-based. The software can be accessed after logging in, under SkyCiv Section Builder.