Overview
The purpose of this test case is to validate some of the analysis of an asymmetric structure, specifically:
Deflection
Forces/Moments
Linear Analysis
The Structural 3D results were compared against a third party analysis software.
Model Setup
The structure is a 49-node, 52-member frame structure supported by fixed supports. The building is made of 305×127 UB 42 steel arch and is supported by 356×368 UC 202 steel columns.
Evaluation points: 10
Solve Type: Linear Analysis (14 iterations)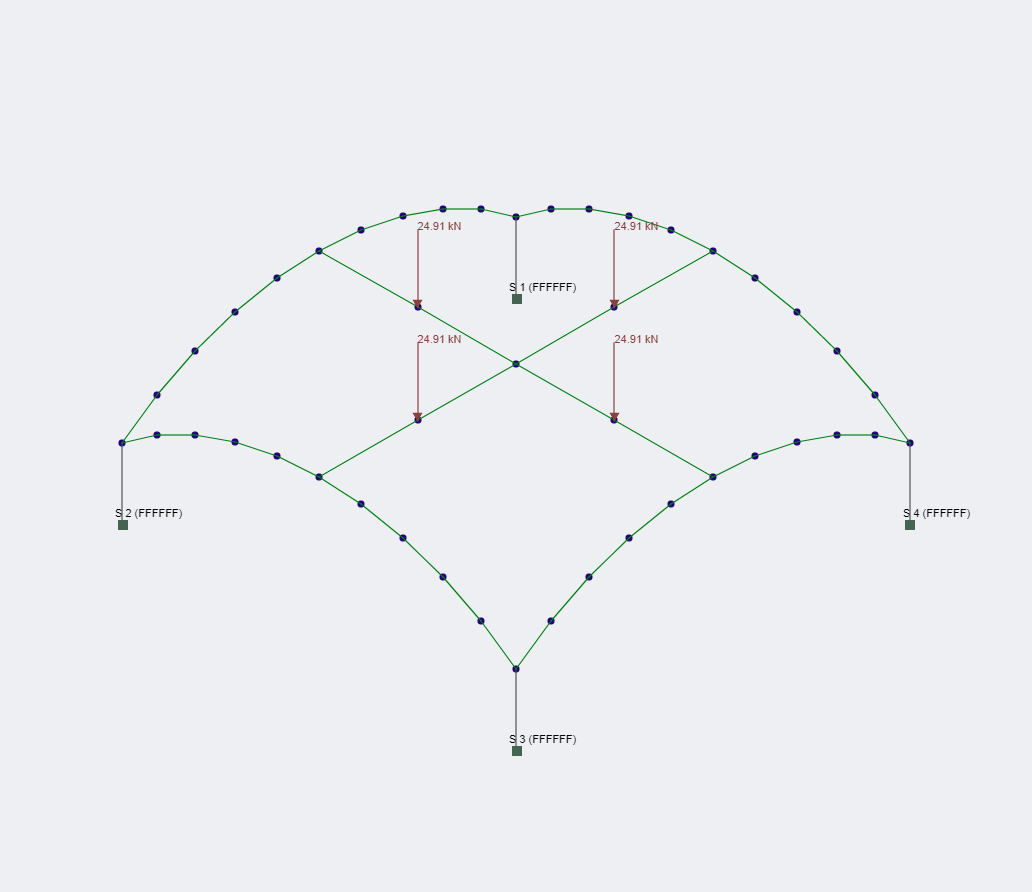 Analysis Results
| Result | Location | SkyCiv | Third Party | Difference |
| --- | --- | --- | --- | --- |
| Moment Z | Member 51, Start Node | 204.78915 kN-m | 204.78872 kN-m | 0.00021% |
| Moment Y | Member 2, End Node | -33.98632 kN-m | -33.98787 kN-m | 0.00456% |
| Shear Y | Member 6, Start Node | 3.74895 kN | 3.74886 kN | 0.00240% |
| Shear Z | Member 4, End Node | 31.93491 kN | 31.93446 kN | 0.00141% |
| Axial | Member 17, End Node | 43.02390 kN | 43.02456 kN | 0.00153% |
| Reaction Y | Node 4 | 52.89638 kN | 52.89639 kN | -0.00002% |
| Deflection X | Node 7 | 10.98589 mm | 10.97963 mm | -0.05701% |
| Deflection Y | Node 45 | -1186.38078 mm | -1185.79801 mm | 0.04915% |
| Rotation Z | Node 13 | -0.12906 mm | -0.12899 mm | 0.00054% |
| Rotation X | Node 22 | -0.13152 rad | -0.13146 | 0.04564% |
Result Screenshots
Showing moments about the major axis through linear analysis