Powerful Structural Analysis Software
SkyCiv Structural 3D offers analysis on virtually any structure, including Plates!
Input 3D structures or import .dxf files and also solve for 3D results
Multiple Solver types including: Linear, P-Delta (non-linear), Buckling Analysis, Cable Analysis
Import Multiple Load Combinations from US, UK, European, Canadian and Australian libraries
Design Checks (AISC, EN, AS etc..)
Fully Integrated with Design Check Software including
AISC 360
and
Eurocode 3
:
Moment, Axial, Bending, Shear Capacity and Ratios
Combined, Slenderness and Deflection Capacity and Ratios
PDF Design Reporting (Custom logo on Enterprise)
View Capacity Results on Model (Integrated Version)
Import and Apply Multiple Load Combinations (Integrated Version)
Canadian (CSA), British Standards coming soon...
3D Rendering of your Structure with Color Contours!
Visualise your structure with our powerful 3D Renderer. See how the structure will look (and deflect) in real life! Use in your reports or inspect the geometry of the structure with this bonus feature! Rotate around and see your 3D model from every angle for the full structural analysis experience. Also view all results among the members using the color contours.
Custom Reporting
View and Export your Structural Analysis text file to focus on specific results and include custom screenshots of the results you wish to display. View our
Sample Structural Analysis Report
and
Sample Design Report
.
Deflection (as seen in above image) - including X, Y, Z and Sum translations and X, Y and Z Rotations.
Bending Moment Diagrams (BMD) and Shear Force Diagrams (SFD)
Include Screenshots from your Screenshot Camera Roll
Single Member Reports
Axial Forces
Torsion
Axial Forces
Stress Analysis
Section Library and Unlimited Sections
SkyCiv Structural 3D is fully integrated with
SkyCiv Section Builder
- our powerful section analysis software:
Save and Load sections from our library of Australia, European, American and UK standard sections
Select from 10+ template shapes including I-beam, HSS, Channel etc...
Cold Rolled shapes such as AISI libraries
Your section isn't there? Simply add a custom section
Perform operations such as: rotate, mirror and translate.
Adding a section will also give the results of moment of inertia, centroids and further section properties.
Preset materials means you can select your material from a drop down list for fast entry!
Plate and Cable Analysis
SkyCiv Structural 3D also offers a range of different elements to analyze. Including:
Plates
- including deflection, shear/bending forces as well as a range of Stress Analysis Results. Includes a full meshing tool with multiple mesh types and controls.
Cables
- SkyCiv's powerful non-linear analysis solver lets you model and analyze catenary cables.
100% Cloud Based
Cloud Software is easier to deal with:
Save thousands of dollars in expensive installation and ongoing maintenence costs
Access your files from any computer, anywhere, anytime!
Instant access from the time you pay
Does not slow down your computer or require Gigabytes of disk space - it's all held online.
Automatic access to latest updates - no installation/upgrading necessary!
FULL 3D STRUCTURAL ANALYSIS SOFTWARE
SkyCiv Structural 3D
Buy Now! No Lock-in. No Cancellation Fees.
Unlimited Members and Loads
Unlimited Supports and Support Types
Unlimited Member Sections
AISC, EN, AS, CSA Design Checks
Connection Fixities
Plate Analysis
Catenary Cable Analysis
Buckling Analysis
Non-linear + P-Delta Analysis
Import Load Combinations
3D Rendering
Rotate/Twist Members
Free Body Diagram + Reactions
Shear Force Diagram
Bending Moment Diagram
Deflection
Stress Analysis
Internal Axial Forces
Torsion Diagram
PDF Analysis Reports
Cloud Based Structural 3D Analysis Software
SkyCiv Structural 3D is a full 3D structural analysis and design software that allows you to analyse shear, bending, deflection, stress and much more. Build your model and analyse your structure faster than ever!
SkyCiv Engineering Software is completely cloud based. This allows users to access their programs and files from a web browser, from anywhere, anytime! No need to install or update the program. This is a cost effective solution with no further costs such as maintenance or updates.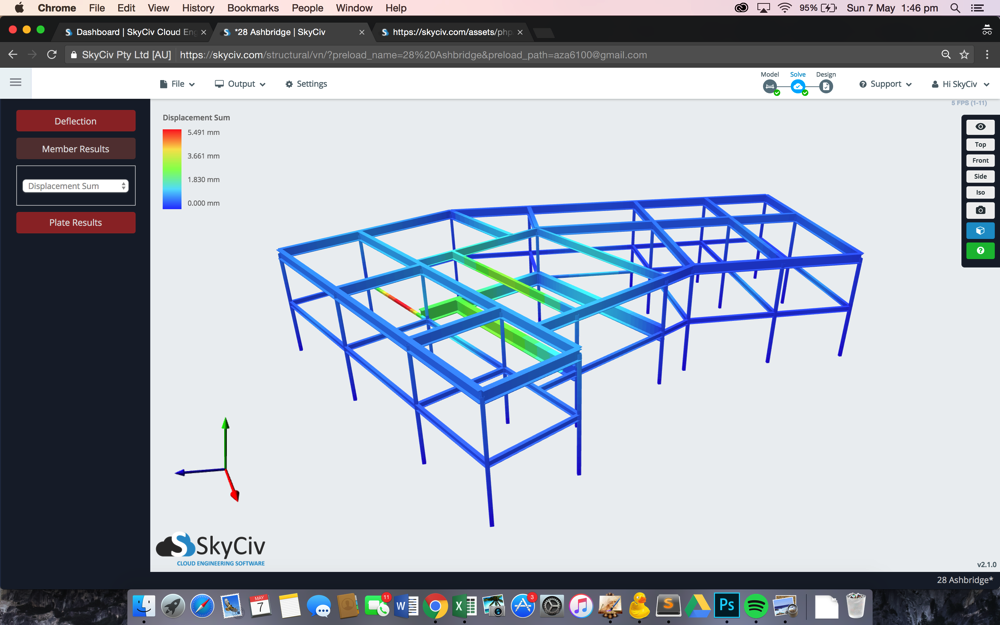 Promotional Video
SkyCiv Structural 3D Full Demo
SkyCiv uses third party software review sites to ensure quality and relevant feedback and testimonials. Feel free to read through them or if you're a SkyCiv user - review us yourself!

You are being re-directed to our pricing page. Click here if you are not automatically re-directed...