Eurocode 3 Design Software
SkyCiv offers design check software for Eurocode 3 - Design of Steel Structures. The software is available in two versions; Standalone (free) and Integrated. The EC3 structural design software offers a range of powerful features to help you design for the members of your steel structures. Inludes the following:
I-Shapes, HSS Shapes (RHS, SHS, CHS) and Channels
Ultimate Limit State and Serviceability checks based on Section classes 1,2,3 and 4
Design Resistance checks for tension, compression, shear, bending (major and minor axes)
Design Resistance checks for Combined forces, Buckling (compression and lateral-torsinal)
PDF Design Reporting (Custom logo on Enterprise)
View Capacity Results on Model (Integrated Version)
Import and Apply Multiple Load Combinations (Integrated Version) from EC0 and EC1
Fully verified with third party results
Free 14-Day Trial
SkyCiv offers a comprehensive 14-Day trial of our full suite of software. This includes powerful 3D Structural Analysis Software and Eurocode Design checks, all integrated in our Structural 3D softwae. Try at:
Pick the Version for You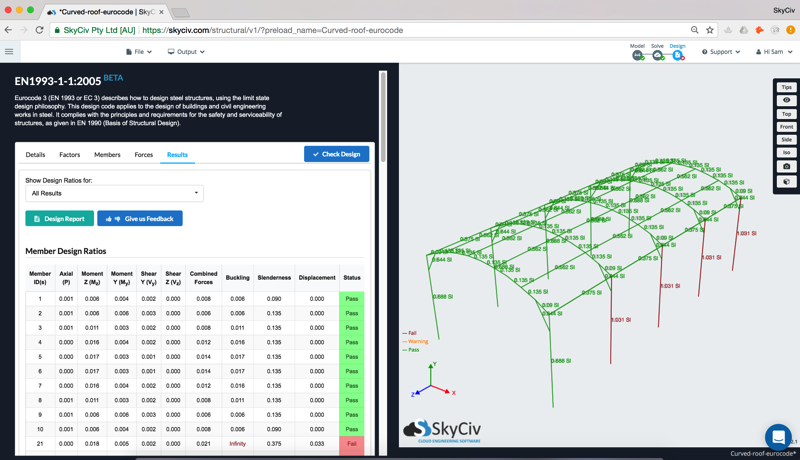 Integrated Version
Get Access Now
Sample Report
The integrated version of SkyCiv's Eurocode 3 Design Software allows engineers to model, analyze and design steel structures in one easy interface. Once modelled, the materials, sections and member properties are automatically imported into the Eurocode 3 Design Module so that you can check your design with a single click!
Standalone Version
Get Access Now
Sample Report
SkyCiv's standalone Eurocode 3 structural design software allows users to manually input members, loads, materials and sections to produce a clean, professional PDF report of their designs. Even after your trial, this software is completely free and also comes with a number of other free structural analysis software to help you get the job done.