SkyCiv is not the ordinary type of structural analysis software you would see in the market. It's powerful, on the cloud, and easy to use. There are many things that make SkyCiv different from all the other alternatives, are you ready to get started?
On the Cloud
Traditionally, engineers have to download and install the software to their computers, this limits the software usage to only one device, this means you have to carry the bulky laptop home or to a job site where the program is needed. What's even worse, having these large files open can cause the rest of your computer to struggle and lag, without a doubt, this is a nightmare for your productivity.
With SkyCiv in the cloud, those worries are all weeded out:
Access Anywhere
Unlike traditional analysis software, you can access the full software without needing to download or install. And with a SkyCiv account, you can access the software to design and analyse, at anytime, anywhere (even on Mac!), no more restriction to one single device. This is one of the biggest benefits of using cloud software.
Real-time Collaboration
What's even more exciting, is that it allows you to share your files and collaborate with your team in real time. Now you and your team can work on a single source of truth, no USBs, no software compatibility issues, and you always work from the most up-to-date model.
Faster Computer
Cloud software takes none of your computer space meanwhile capable of all the complicated calculations and solutions traditional software do.
Powerful Software
SkyCiv has a wide range of powerful yet easy-to-use software in both structural analysis and design . Increase your efficiency with built-in design checks, custom reporting, and hand calculations (for section properties, trusses and beams).The software are all integrated with each other to enable seamless functionality.
Structural 3D
SkyCiv Structural 3D offers analysis on virtually any structure, including plates! With the 3D Renderer, you can rotate around and see how your 3D model looks from every angle. It's also fully integrated with our design modules for member design, reinforced-concrete design and connection design, including AISC 360 and Eurocode 3.
Section Builder
SkyCiv Section Builder is a comprehensive section property analysis software that allows you to analyse geometric, bending, shear, and torsion properties. Build your sections out of multiple shapes from templates, or define your own via points, line paths, or a DXF import from CAD! Model and analyse your sections faster than ever.
Integrated Design Modules
SkyCiv Design Modules can be loaded from within our very own powerful Structural Analysis Software, so that you can complete your workflow within a single program. Work faster, without having to manually input your loads and members. We have:
Beam
SkyCiv Beam Software is a simple and extremely fast horizontal beam analysis tool. It can handle complex loading scenarios and solve for reaction forces, shear, moment, stress and deflection. Hand calculations are available for statically determinate beams. Additionally design calculations are fully integrated into the software so that engineers can save a lot of time performing a simple beam analysis!
Custom Reporting
SkyCiv prides itself on delivering clean, concise and professional structural analysis reports that are easy to generate and easy to read. Check out some of the sample reports: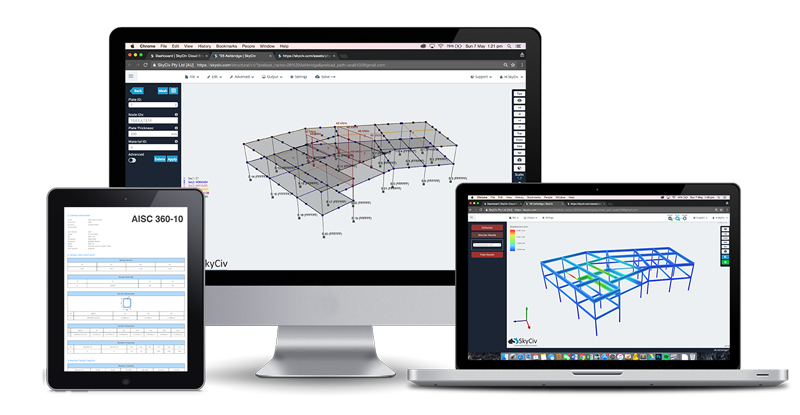 Easy to Use
SkyCiv users love the ease of use with our structural analysis software, compared to other software they've used. This has allowed them to improve work efficiency by:
Accessing the software instantly no matter where and when;
Loading integrated design checks and hand calculations;
Automatically generating custom analysis reports that are ready for professional usage;
And more
Instant Set Up
Because SkyCiv structural software is completely cloud-based, getting started for the first time is so easy that it takes less than 30 seconds! This obviously saves both time and money in getting started.
Intuitive Interface
Unlike other traditional software that are cluttered with many complexities, SkyCiv is incredibly intuitive. The interface is clean, easy to navigate, and pleasant! This significantly reduces the training required for engineers, who are already smart enough to figure things out for themselves when getting started.
To make it even faster and easier for engineers to model structures, we also introduced the grids, snapping and mouse functions.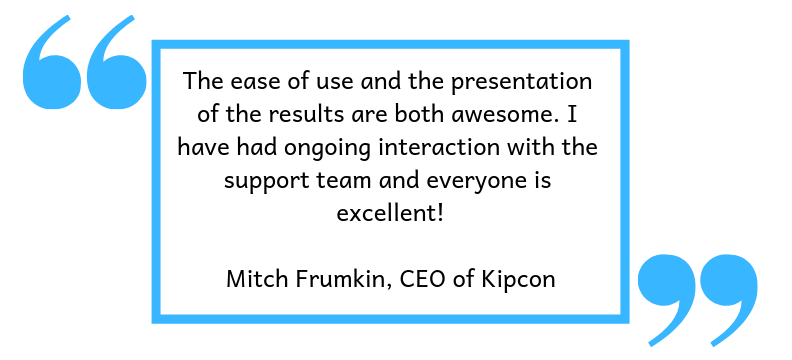 Professional Support
Whilst being intuitive and easy-to-use, we also provide extensive support to help our users in getting started and using our software.
Documentation
In our Documentation section, you can find helpful tips, quick summaries, tutorials, and videos to get you started with all of SkyCiv's software. This can be accessed using the Support menu or the "Help" buttons embedded in the software which open the relevant section of the documentation immediately.
Demos
For users who prefer a personal touch, a SkyCiv Engineer will showcase all the powerful features of our structural analysis software in a live demo, and answer all the questions you have to help you get started. If you prefer to watch demos on your own time, we've also recorded a lot of training demos and webinars here.
Live support
With 100% response rate and 3-hour average response time (depending on the time zone), our live support is provided by real engineers, ready to help with your software and structural-modelling questions.
Flexible Pricing
Comparing to other structural design and analysis software worldwide, SkyCiv is the most affordable and cost efficient with no lifelong license commitment, no update fees, no extra setup fees, you only pay for what you need, choose a plan that suits you by paying monthly or yearly. Up to you!
Continuous Innovation
At SkyCiv, we are committed to building better software for engineers, constantly testing and improving our features. We continuously introduce new products that can benefit engineers' workflow and increase efficiency. We dare to challenge the status quo and how things are done "traditionally".
We have a "Feature Request" section under "Help" in our platform, allowing users to voice out their needs. With such close communication with our everyday users, we strive to bring out new features and improvements that make SkyCiv the best structural design and analysis software.
Getting Started
If you want to get a head-start with SkyCiv and enjoy all the powerful features and benefits, Book A Demo Today to see the full SkyCiv structural analysis and design in action. Alternatively, you can also sign up to our free account and get a taste of what we are made of!