Have you ever used a Google Document? The program streamlines collaboration, giving a group the ability to work together seamlessly on a single file. This functionality is now available on SkyCiv's
cloud structural analysis software
, with all files updated in real time!
Sharing Files
SkyCiv now allows live sharing. This means that your models can be shared at anytime, with anyone who has a SkyCiv account. You and your team can collaborate on a single source of truth with confidence, knowing you're accessing the most up to date file.
"You and your team can collaborate on a single source of truth, all in real time! No USBs, no software compatibility issues, FTPs or version controls."
Collaborate on the cloud with ease! Work on shared files on the dashboard by right clicking on the model and selecting
Share with SkyCiv User
: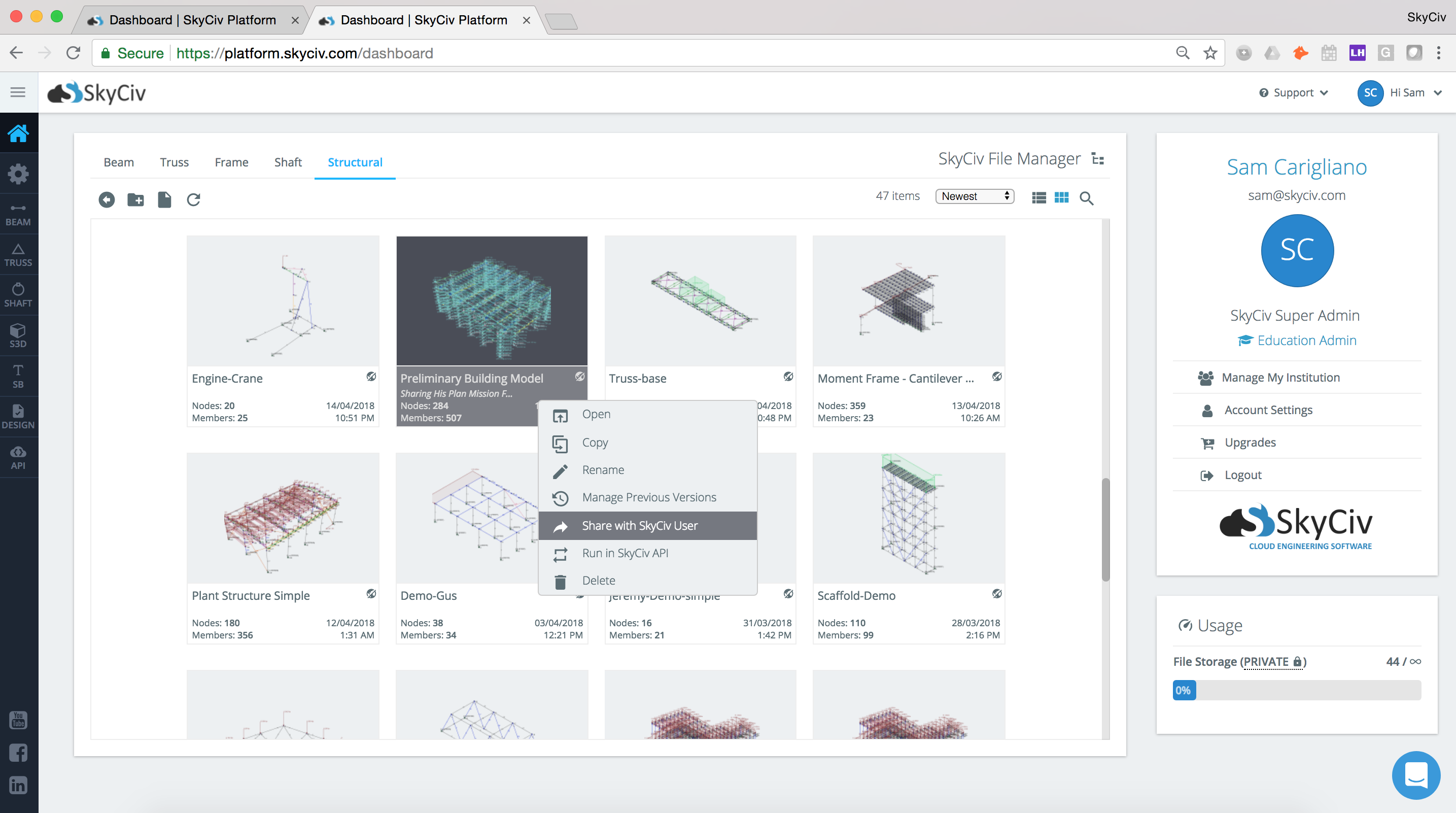 From here, you can invite other SkyCiv users by simply entering the email addresses of the users you wish to share the model with. You can control their permissions, such as ability to share, edit or view only:
Revision Control
You can also roll back changes made to your files. At every save, we keep a copy of the revisions made. This allows you to revert to an earlier version of the model if you've made a mistake. Restore previous versions by right clicking on your file and hitting
Manage Previous Versions
. A popup will open showing you all previous saves:
Live Support
The ability to share and collaborate makes it even easier for our support team to assist you. Forget worrying about emailing us your file: click "Share with SkyCiv Support" to give us access to your live file. We offer constant, complimentary support to our professional users. Our SkyCiv engineers are always available to help customers meet their deadlines!
This is just one of the simple ways that SkyCiv's cloud structural engineering software can help you work smarter and faster. Learn more at
www.skyciv.com
.
Haven't tried SkyCiv? Get started for free today!
Sam Carigliano
CEO and Co-Founder of SkyCiv
BEng (Civil), BCom
LinkedIn