AISC 360-10 & AISC 360-16 Steel Design Software
SkyCiv Engineering offers steel design and analysis software for AISC 360-10 and AISC 360-16 specifications, allowing you to design, analyse and test your steel structures. It's also fully integrated with SkyCiv Structural Design and Analysis Software, you can directly load design codes inside of the program, and directly load design codes from the platform.
This AISC 360 steel design software comes with two versions: Standalone (free) and Integrated (built-in with Structural 3D). Available features:
W-Shapes, HSS Shapes (RHS, SHS, CHS), Channels and Angles
Bending, Shear, Axial Checks - Capacity and Ratios
Combined, Slenderness and Deflection Capacity and Ratios
Summary + Full AISC 360 Design Calculation Reporting
View Capacity Results on Model (Integrated Version)
Import and Apply Multiple Load Combinations (Integrated Version)
Fully verified with third party results
View full documentation for our AISC 360 Design Software
Review an example walk-through of how to design a moment connection frame using AISC 360-10
Discover key features of SkyCiv Steel Structural Design
Optimize and Select the Lightest AISC 360 Design
The SkyCiv Design module, also lets you calculate the lightest section that passes the AISC design requirements. With a single click, you can test all the sections of the library to find the most efficient design to reduce material use and save your clients money. Have some design limitations? The Optimizer allows you to filter sections by depth, width and even names, to find the exact section suitable for your needs.
Single Click AISC 360 Design, integrated with SkyCiv Structural 3D
Still using AISC steel design spreadsheets? To make the job easier, SkyCiv has powerful Structural Analysis software that is completely integrated with AISC 360 for ASD and LRFD. Build your model, import ASCE load combinations, run the analysis and with a click of a button run an AISC 360 design check. Work quickly and easily by having your analysis and design completely integrated in one workflow.
AISC Connection and Base Plate Design
Design your Shear, Moment and Base Plate connections as per AISC 360, with fast and intuitive software. The software includes AISC section libraries, load combinations and full documented reporting to show the clear step-by step calculations. Design your AISC frames, down to the supports with SkyCiv today.
Full Calculation Reporting
See all the calculations with SkyCiv's clear step-by-step PDF reporting. No more guessing what the software is doing, have all the AISC 360 calculations, assumptions and design criteria clearly labeled so that you have full transparency in what you're designing. Click here for an Example Report for AISC 360 Steel Design
Capabilities
AISC 360 Steel Design Tools for Members and Connections
SkyCiv design software for AISC 360, will design your steel columns and other steel members as per AISC 360-10 and 16 for both ASD and LRFD provisions.
Fully integrated with our structural analysis software to provide a seamless workflow for the engineer

Import AISC sections and materials automatically from our library

Apply loads and load combinations directly from ASCE 7-10

Handles library and custom-built W, HSS, channels and angles

Also includes international steel design standards, including Eurocode, CSA and AS
Steel Connection Design
Full 3D rendering and CAD exporting

Full calculation reports

AISC 360 Base Plate Design

Integrated with Structural 3D, or use as Standalone

Moment, Shear connections, including HSS

Export drawings as DWG
Detailed Reporting
SkyCiv steel design software has open, full-calculation reporting to ensure the engineer has all the information they need to design their structures. Our professional reporting includes the following:
Step-by-step calculations

ASIC code references

Criteria and assumptions

Clean and Professional - with your company logo

Export as PDF

Two versions: comprehensive and summarized
More benefits from SkyCiv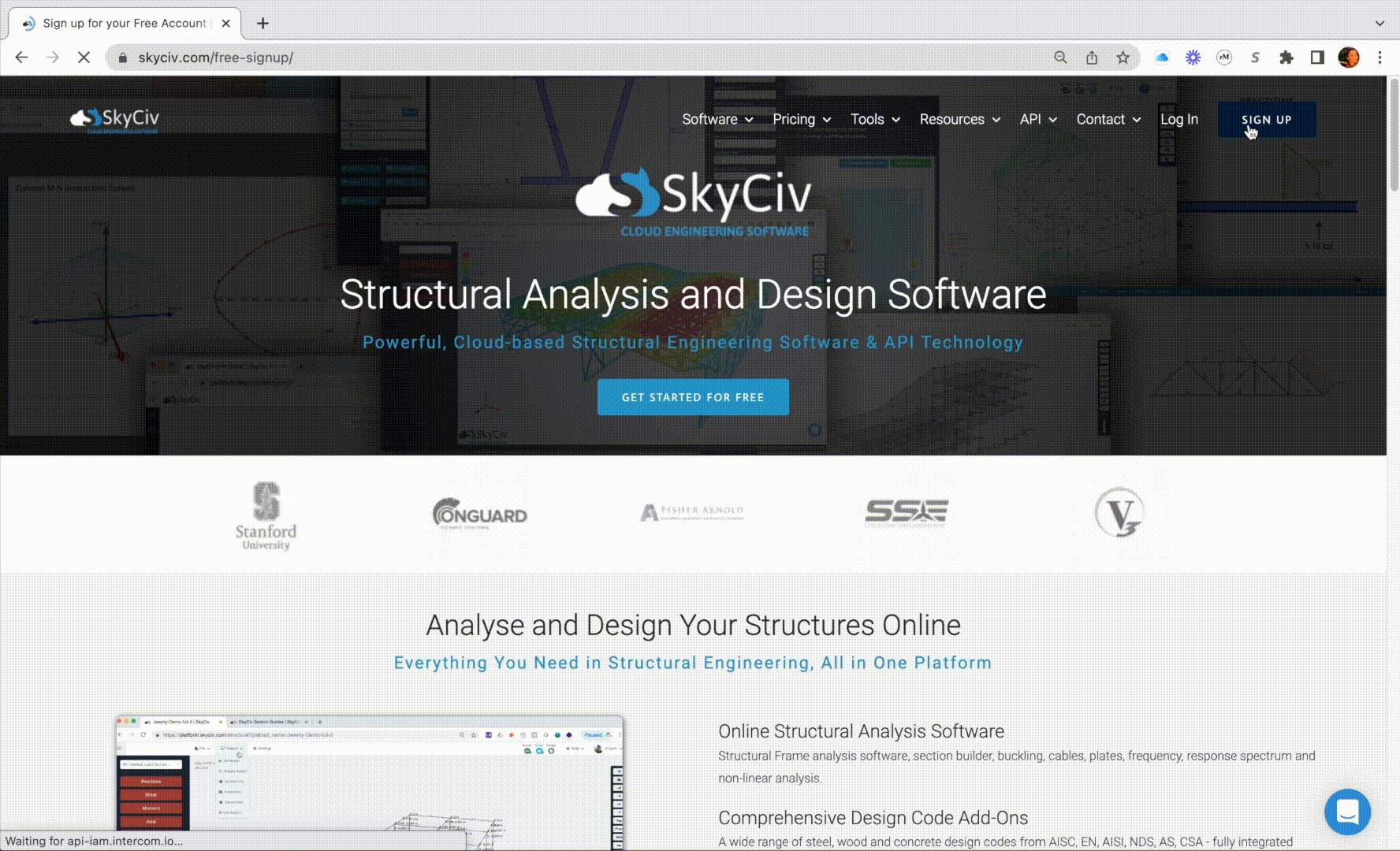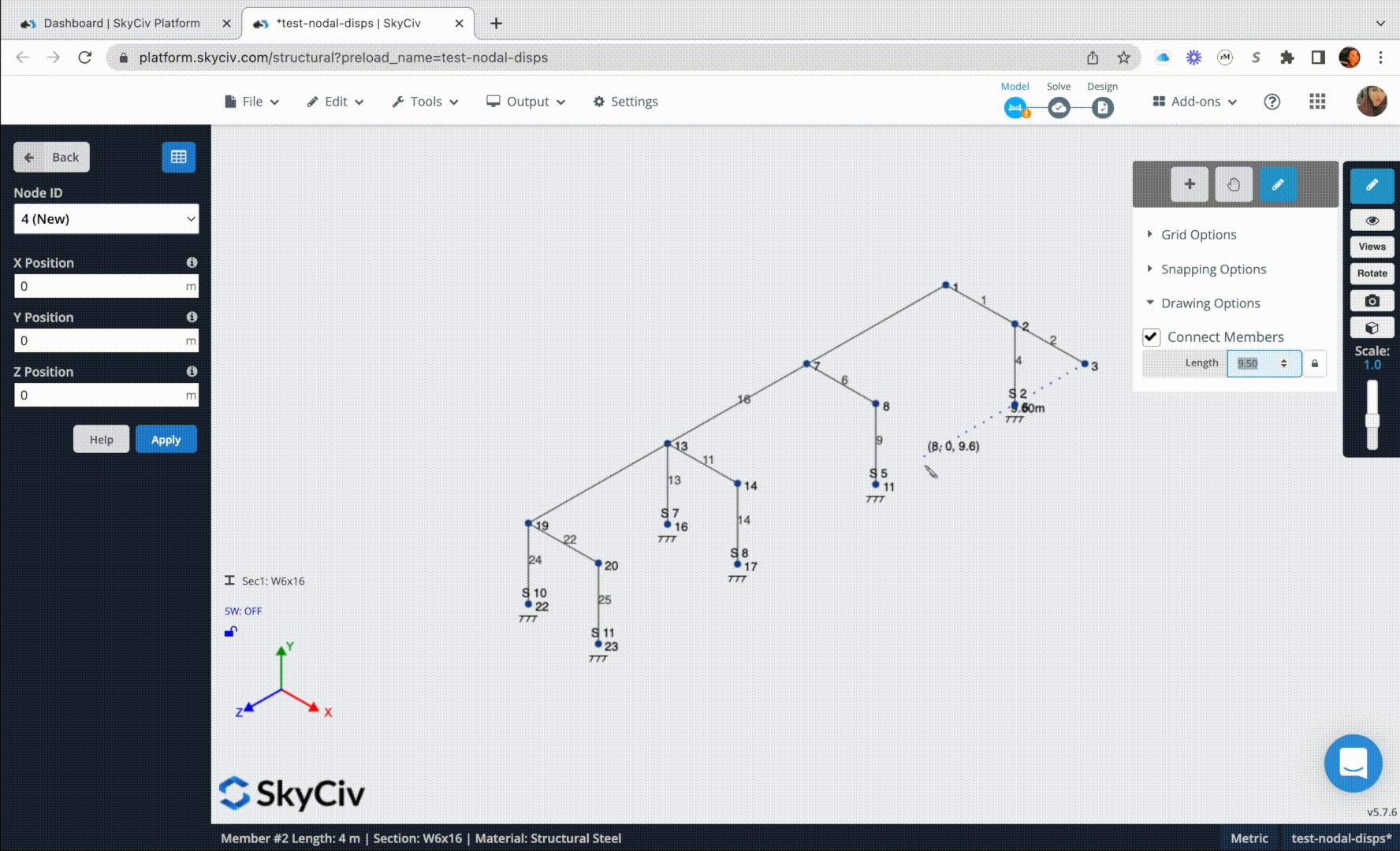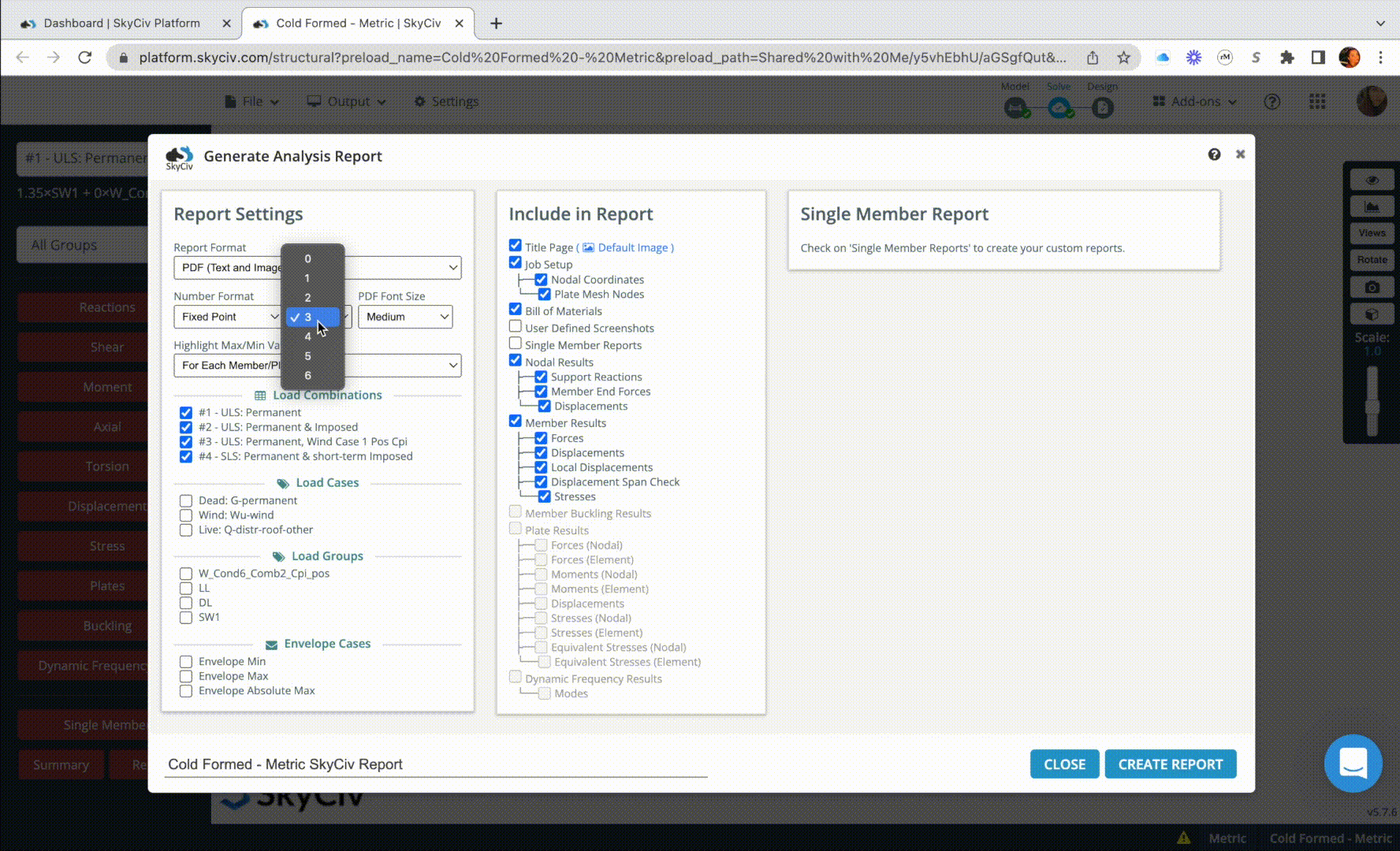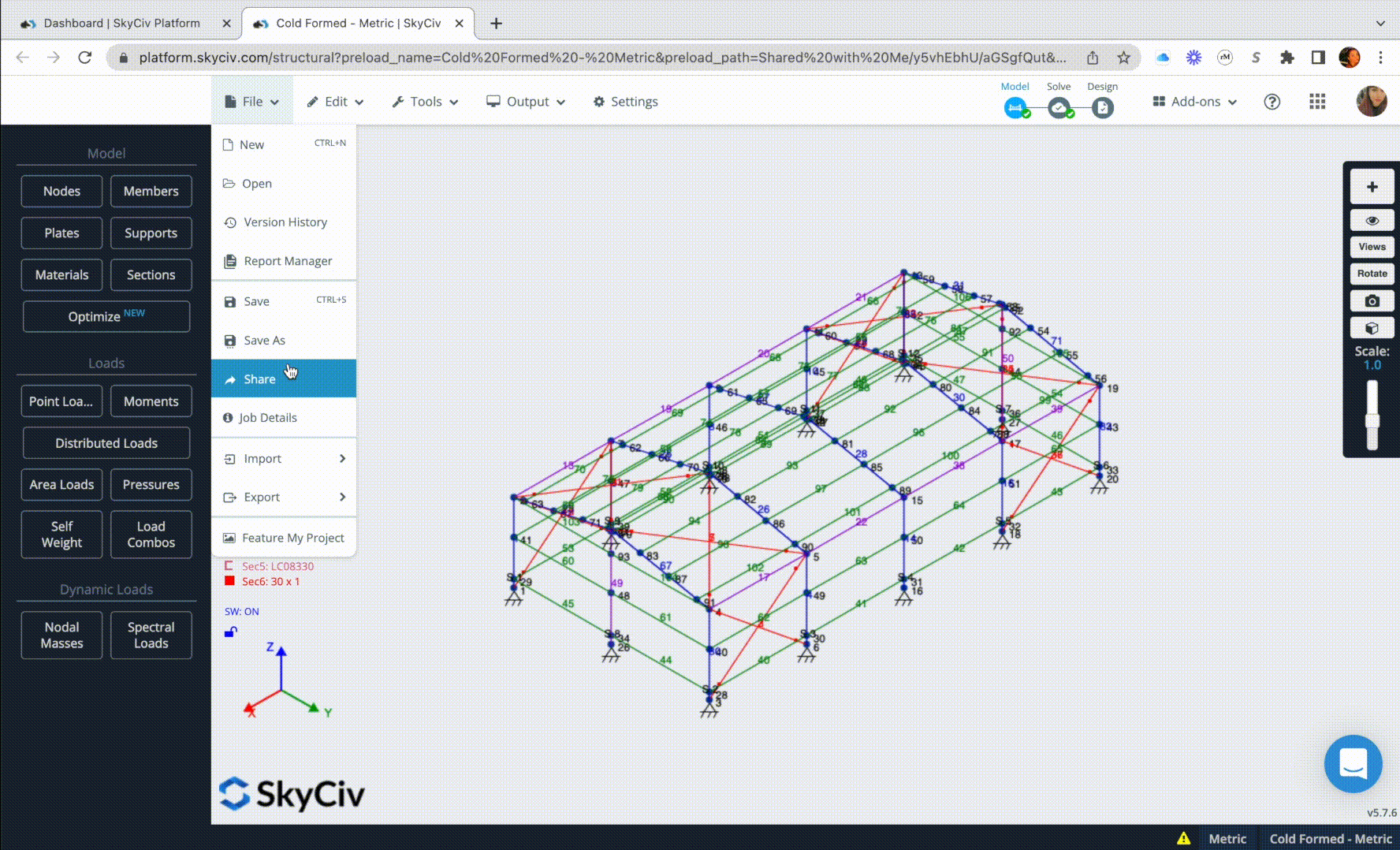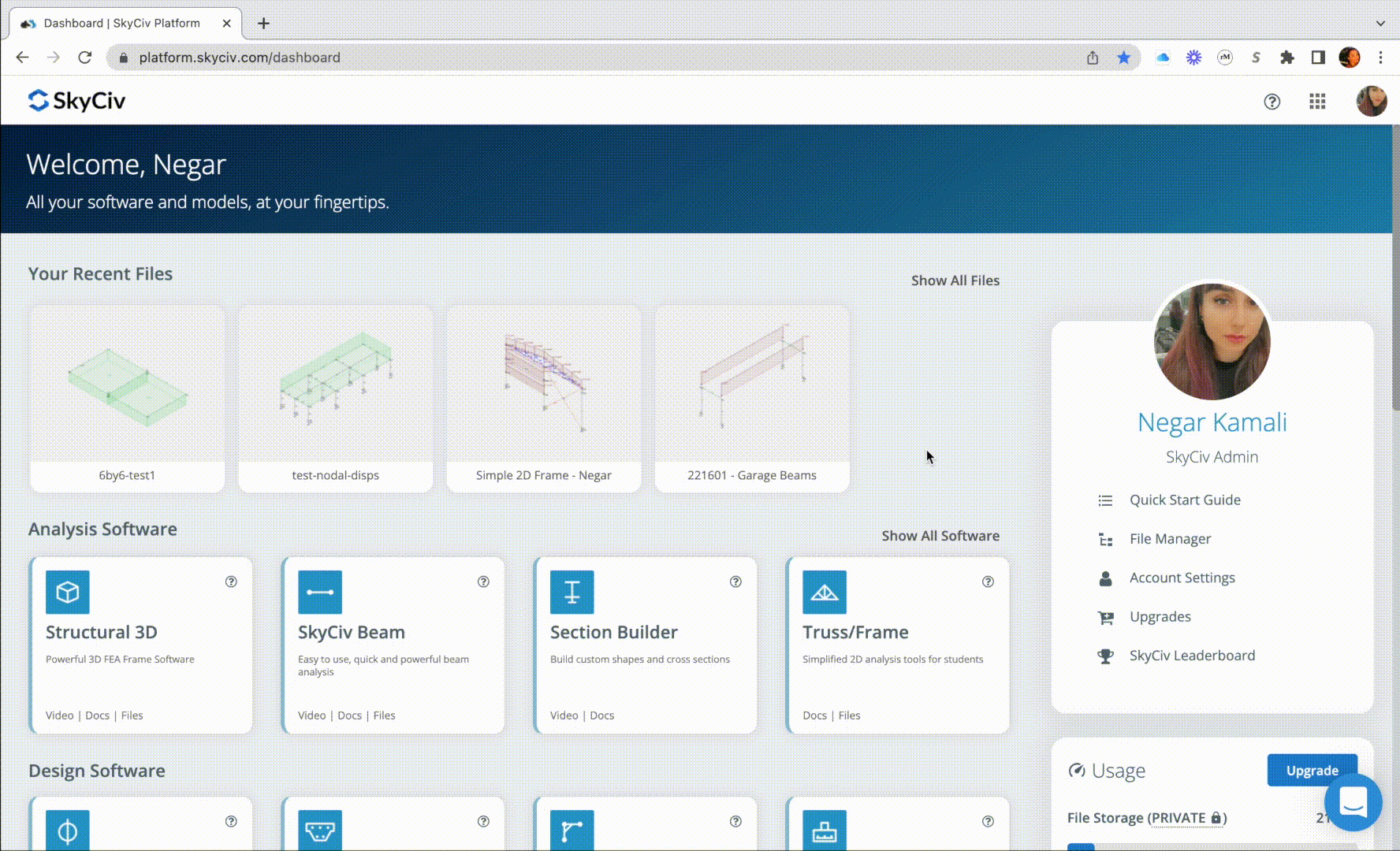 SkyCiv structural design software is 100% cloud, giving you instant access through your web browsers. Simply log into your SkyCiv account and visit the software directly. You can now access your files from anywhere and at any time.
---
SkyCiv software is built with a number of great modeling, editing, and reviewing features that help you achieve a much faster modeling workflow. These range from the pen tool, bulk editing, camera roll, and more.
Learn about SkyCiv modeling features →
---
Clear step by step calculation reports help the engineer understand exactly what the software is doing - no more blackboxes!
Learn about reporting →
---
Share and collaborate in real-time with your team using our file sharing and permission control functionalities. They also allow the SkyCiv Support team to view your models so support can never be easier.
Learn about file sharing →
---
---
Included in Structural 3D