Discover key features of SkyCiv Truss and Frame
Full hand calculations
SkyCiv 2D Truss also comes with full hand calculation features - which clearly show the step-by-step calculations for both the method of joints and the method of sections. This interactive learning module helps students follow the hand calculations of how to solve a truss:
Step 1: Model your truss in S3D.
Step 2: Click "Solve" to transition to the results section.
Step 3: Click the "Truss Hand Calcs" button highlighted in the image.
Step 4: A pop up will come up with the hand calculations.
Unlimited Loading Scenarios
Design and setup your 2D Truss Analysis with SkyCiv Truss or SkyCiv Frame Software:
Add up to 10,000 Members
Add Unlimited Supports with full control over their restraint codes (i.e. use any support type you like)
Add Unlimited Point Loads
Add Unlimited Distributed Loads
Add Unlimited Moments
SkyCiv 2D Truss
Simplified 2D truss analysis software
The SkyCiv Truss Software can add 10,000 members, supports, and loads compared to the Free Truss Calculator which is limited
Fixities are set as pin connections (FFFFRR) for proper truss behavior
Add as many supports and loads as you like, SkyCiv Truss can solve in
The reactions at each support are solved and displayed in the Free Body Diagram (FBD)
Clean internal axial force results in a fast and neat diagram for use in your assignments or to check your results!
SkyCiv 2D Frame
Simplified 2D frame analysis software
The SkyCiv Frame Software can add 10,000 members, supports, and loads compared to the Free Tool which is limited software
Fixities are set as fixed frames (FFFFFF)
Results for: Reactions at supports, bending moment, shear and axial forces
For all other results, users can use SkyCiv Structural 3D which comes with all subscriptions
Add cross-section properties using SkyCiv Section Builder
Fast and neat diagrams will be produced for use in your assignments or to check your results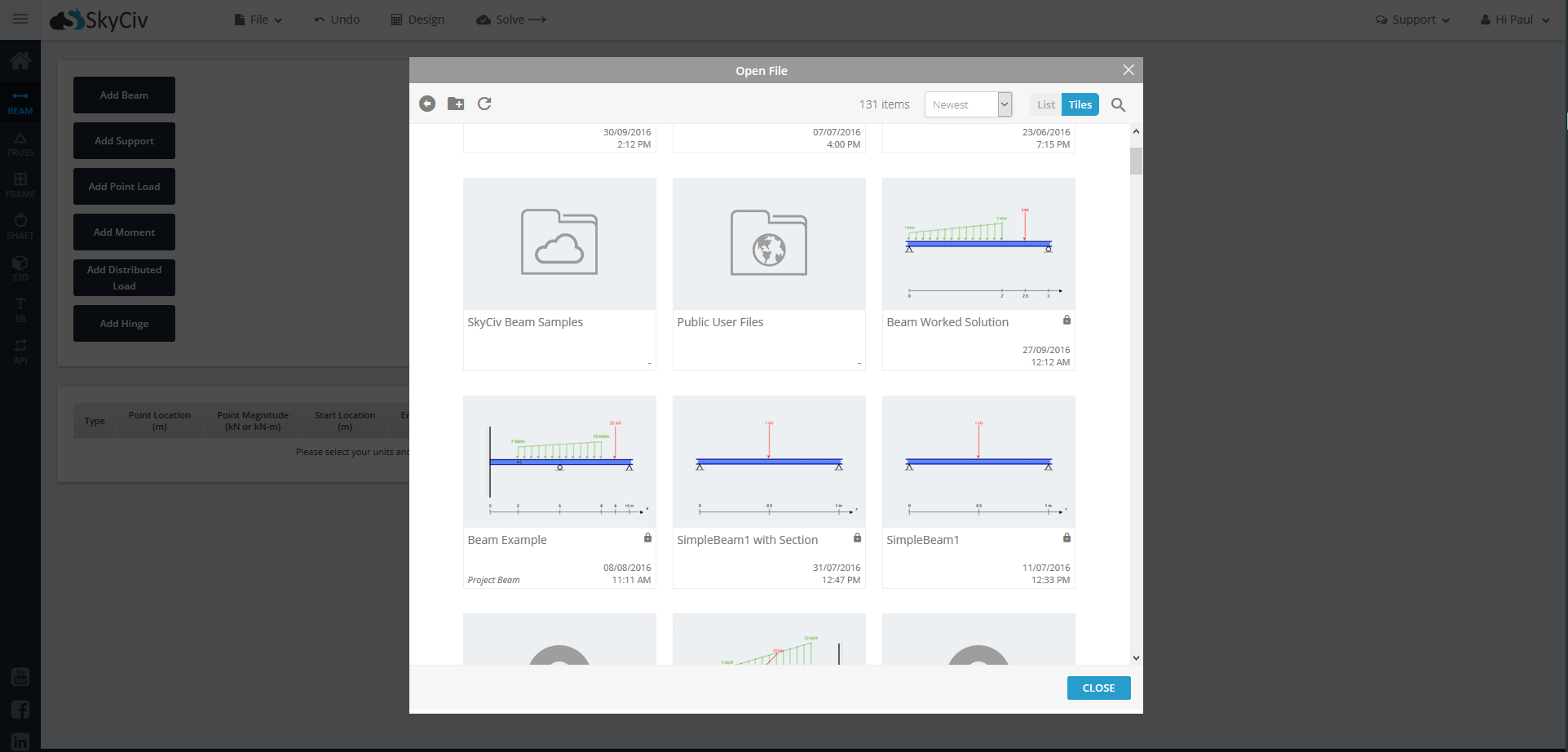 Save, load and share your files
Truss systems and frames can often take a long time to set up. Continually entering the same structure every time you want to test it is a pain. That's why the SkyCiv Truss and Frame software allows you to save and load from your cloud storage.
Since our software is on the cloud, you can also share and collaborate on models with your team in real-time. Work as a team, or across multiple devices, with SkyCiv's cloud truss and frame analysis software.
More benefits from SkyCiv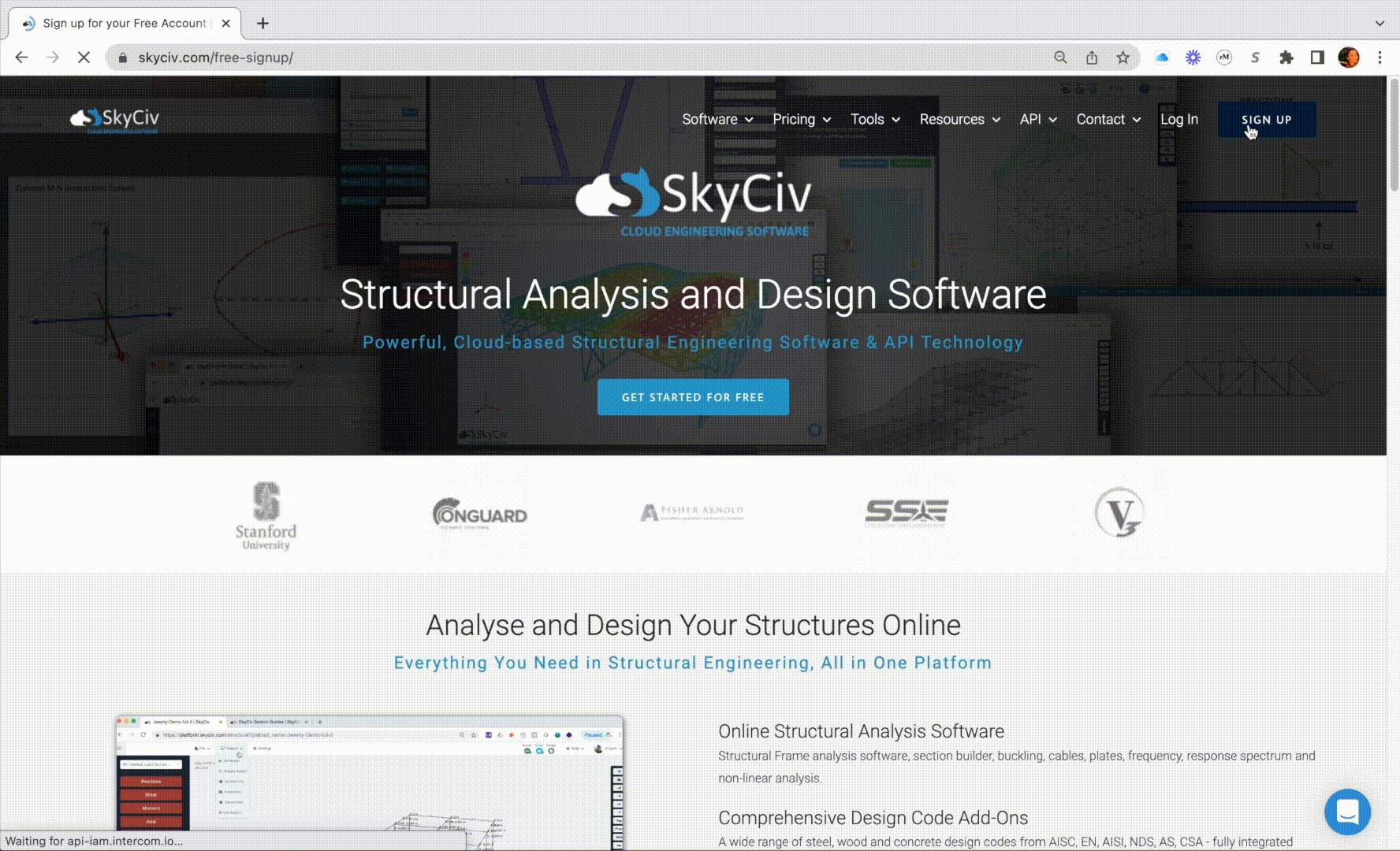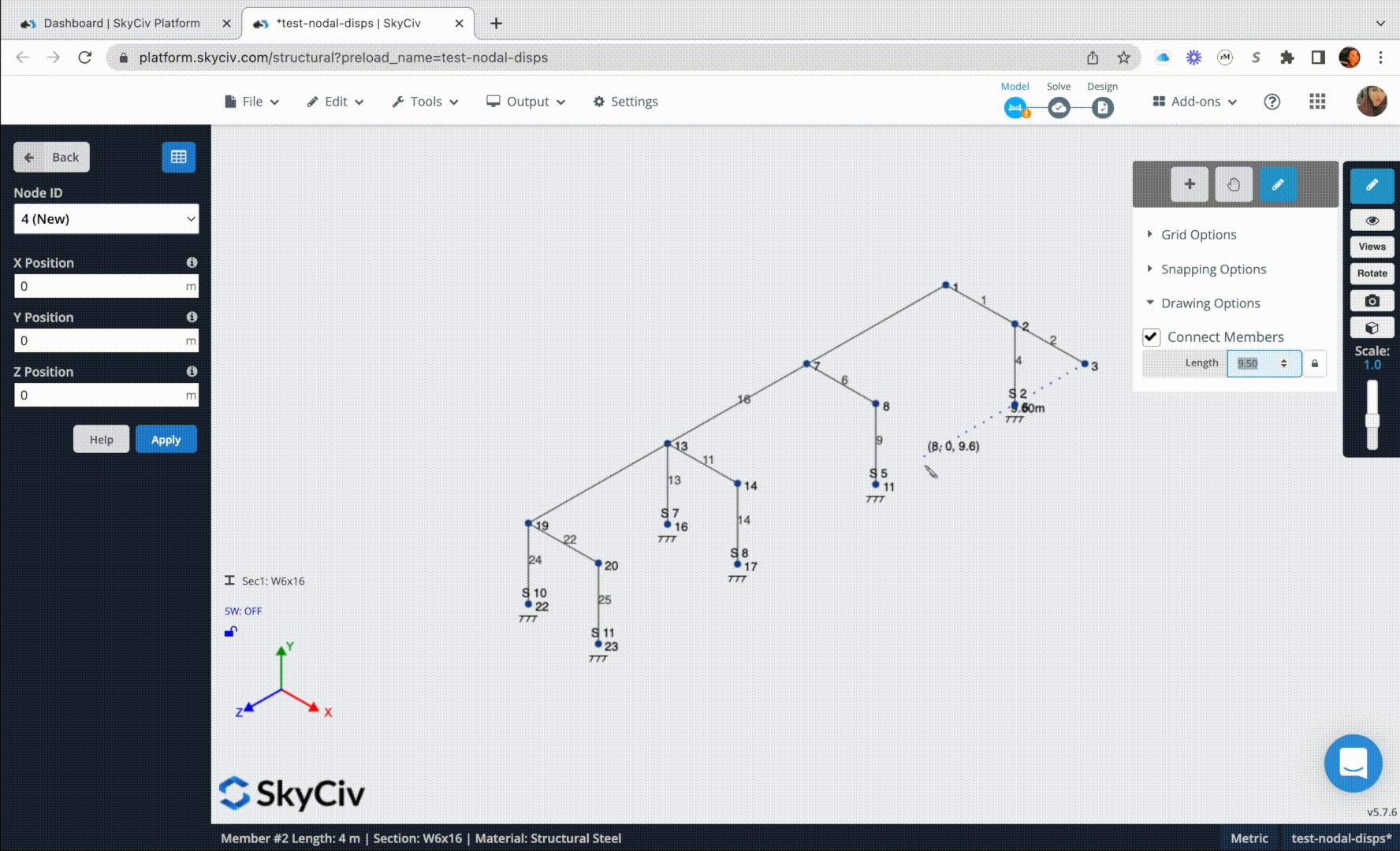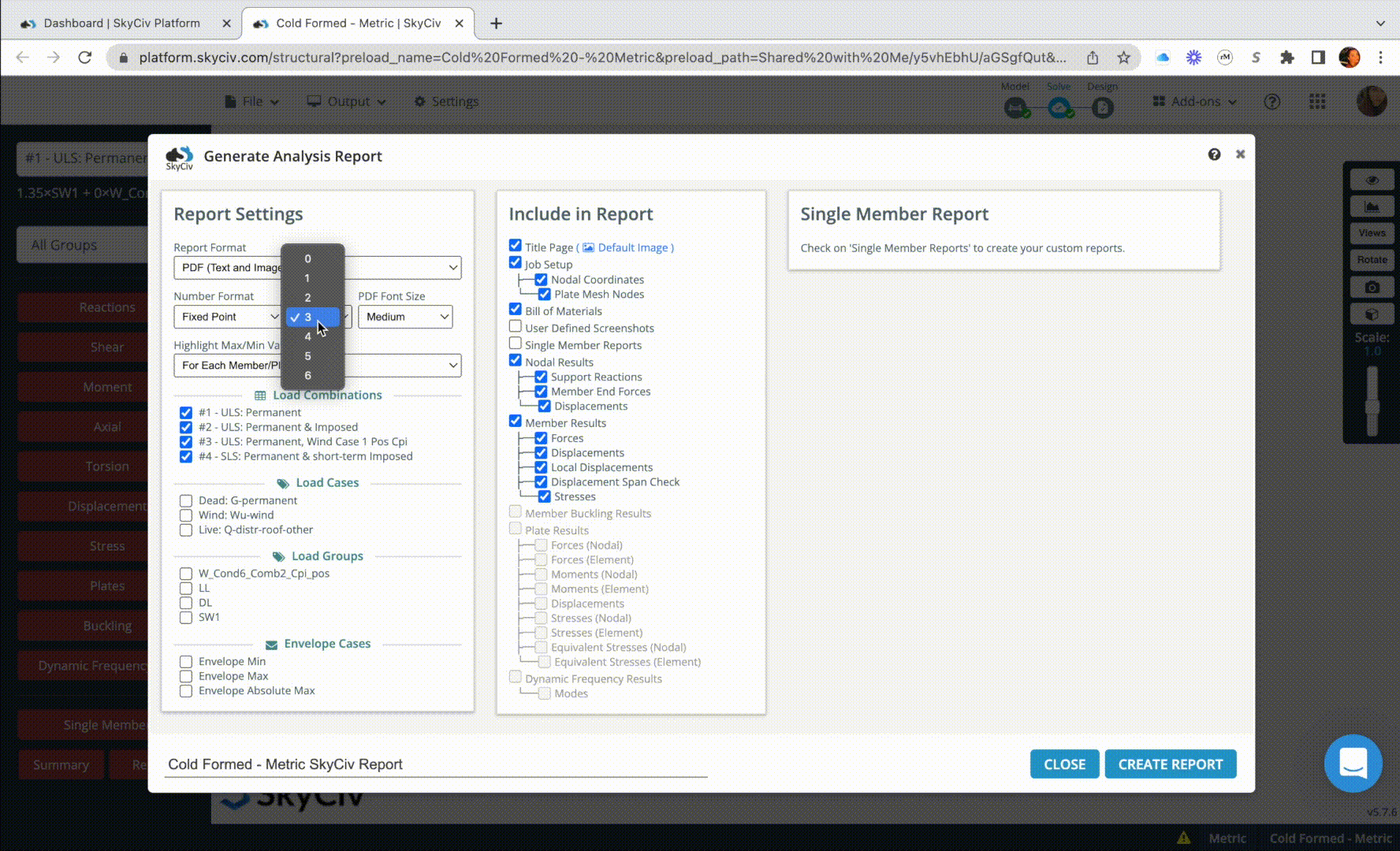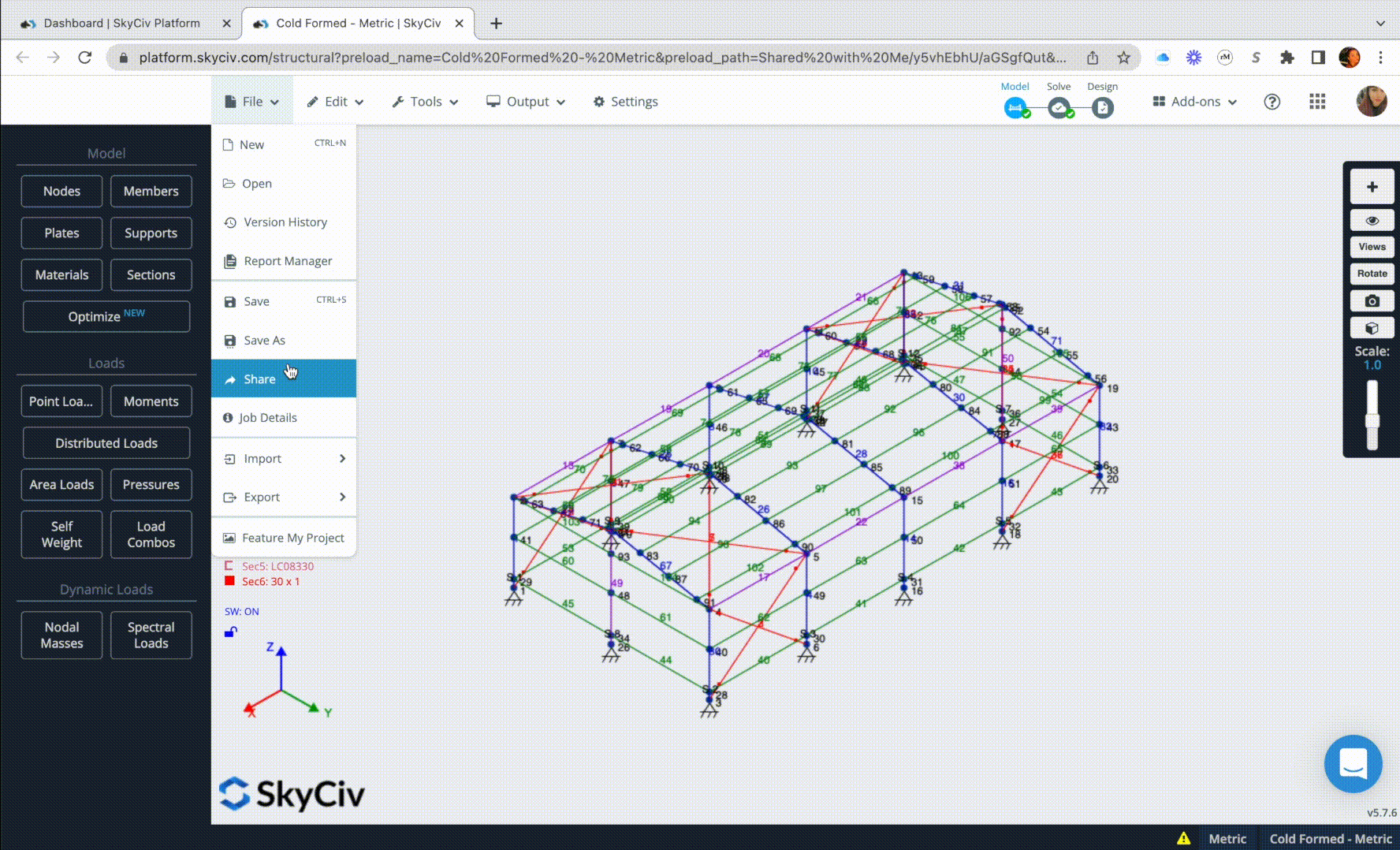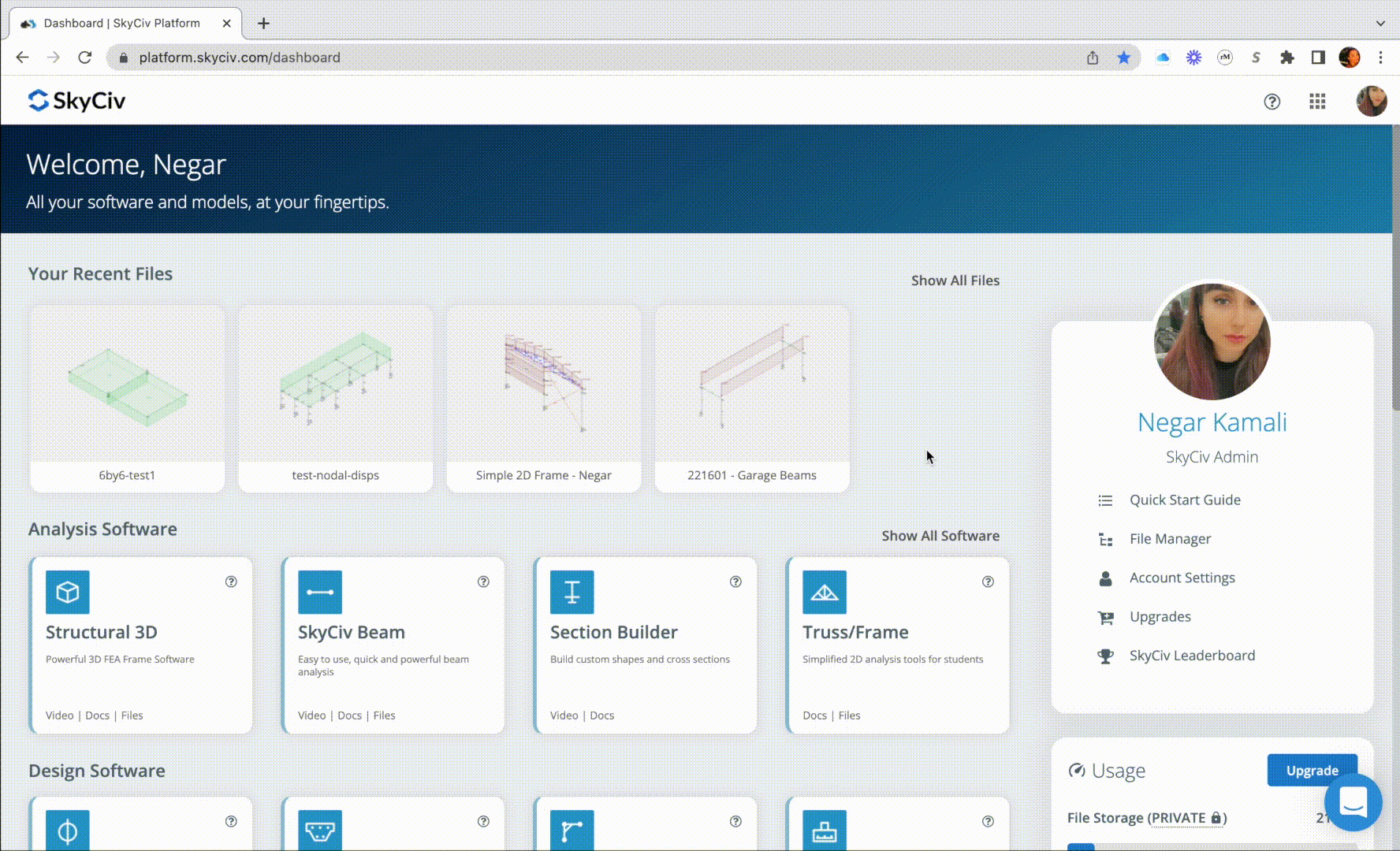 SkyCiv structural design software is 100% cloud, giving you instant access through your web browsers. Simply log into your SkyCiv account and visit the software directly. You can now access your files from anywhere and at any time.
---
SkyCiv software is built with a number of great modeling, editing, and reviewing features that help you achieve a much faster modeling workflow. These range from the pen tool, bulk editing, camera roll, and more.
Learn about SkyCiv modeling features →
---
Clear step by step calculation reports help the engineer understand exactly what the software is doing - no more blackboxes!
Learn about reporting →
---
Share and collaborate in real-time with your team using our file sharing and permission control functionalities. They also allow the SkyCiv Support team to view your models so support can never be easier.
Learn about file sharing →
---
---
"The ease of use and the presentation of the results are both awesome.
I have had ongoing interaction with the support team and
everyone is excellent!"
It is used for various civil and mechanical engineering courses and the students
love it. We are happy with the continuous updates to SkyCiv as well,
highly recommended.
"It was easily the most intuitive package available to learn; it is particularly easy to build the 3D model and define nodes, members, supports, materials, sections, then apply loads & combinations."
Included in Structural 3D