SkyCiv Releases Eurocode 3: Design of Steel Structures
Following the much anticipated Beta release of the AISC 360 design module, SkyCiv has released its second most voted design module; Eurocode 3 - Design of Steel Structures. SkyCiv has users from across 160 countries, with a great number of them coming from Europe. We are committed to delivering the design codes that our users need, so it was no surprise that Eurocode 3 was next on the list.
As with our other modules, SkyCiv will release a free standalone version of Eurocode 3, along with its paid integrated version!
While both versions allow the user to produce professional PDF reports of the design checks, the integrated version allows you to build your model and run the design check for multiple load combinations within the one workflow. This is available for free (for a limited time) under the Professional plan. The design modules are both in beta (which promotes user feedback and further development) but the design module has undergone an internal verification process. You can review our Eurocode Verification results.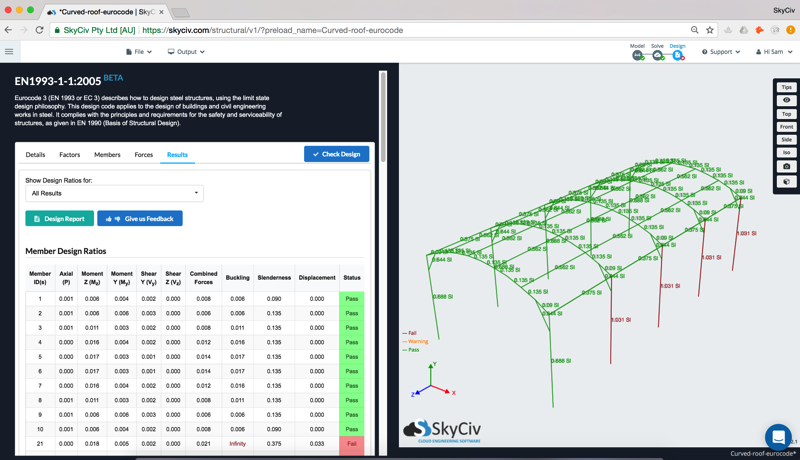 The Integrated Eurocode 3 Design Software in action
What will it calculate?
The Eurocode 3 Design Software calculates the Ultimate Limit State and Serviceability checks based on section classes 1-4. This includes design resistance checks for tension, compression, shear, bending and combined forces. The software will also run checks on buckling for both compression and lateral-torsion. The results can be viewed in PDF for both standalone and integrated as well as a graphical representation (integrated only). Finally, the integrated software is capable of importing and applying multiple load combinations from EC0 and EC1. A full list of the results that are calculated by the design check software can be found on our Eurocode Verification page.
What makes SkyCiv's design modules different?
Well for starters, our standalone version is FREE - simply create an account and visit our "Design" tools to get started. Secondly, as we are cloud based, you can access the software directly via your web browser - so there's nothing to download or install. This also means it is completely functional on Macs, PC, tablets and smartphones! Finally, the software is automatically kept up to date and verified from our end, so you never have to worry about changes to the design code.
What Codes are next?
In terms of steel, we have had a high demand for Australian and Canadian design codes, so they look to be next on our list. We are committed to delivering the design modules our users need, so if you have any design code recommendations please email us at support@skyciv.com.
Sam Carigliano, PEng
CEO and Co-Founder of SkyCiv
BEng (Civil), BCom
LinkedIn