It's finally here! SkyCiv's Base Plate design module, which has been in high demand from users since SkyCiv's initial launch in 2015! We're glad to offer this software as a Free Tool and a Premium version for our SkyCiv Professional users in both desktop and mobile versions!
What does it do?
The SkyCiv Base Plate Design module combines powerful functionality with an easy-to-use and attractive interface. The graphics have been upgraded to show a clear 3D model of the base plate design so you can easily understand the inputs and your design. In short, the baseplate design will perform the following checks for US, Australian and European Design Standards:
Anchor Checks
Weld Checks
Biaxial Base plate Checks (Paid Feature only)
Concrete Checks (Paid Feature only)
Supports HSS, I beam and Hollow Circular Sections
United States, Australian and European Design Standards
We're also looking to add more features and design codes, so if you have any feedback or features you'd like to see added, feel free to let us know!
Benefits
The software comes with a lot of features and benefits which make it different to a lot of base plate design software. For one, it supports a number of different design codes, including AS4100, AISC 360 and Eurocode 3, with more to come! The interface has also been streamlined, so input is easy and output is even easier. This has all been combined with real-time 3D graphics to help the user interact and review their designs in 3D space.
Much like our other software, the design software also includes detailed calculation reports – showing the step-by-step calculations, references and results. This helps remove the black box of structural software, providing the information and clarity that engineers need when performing design.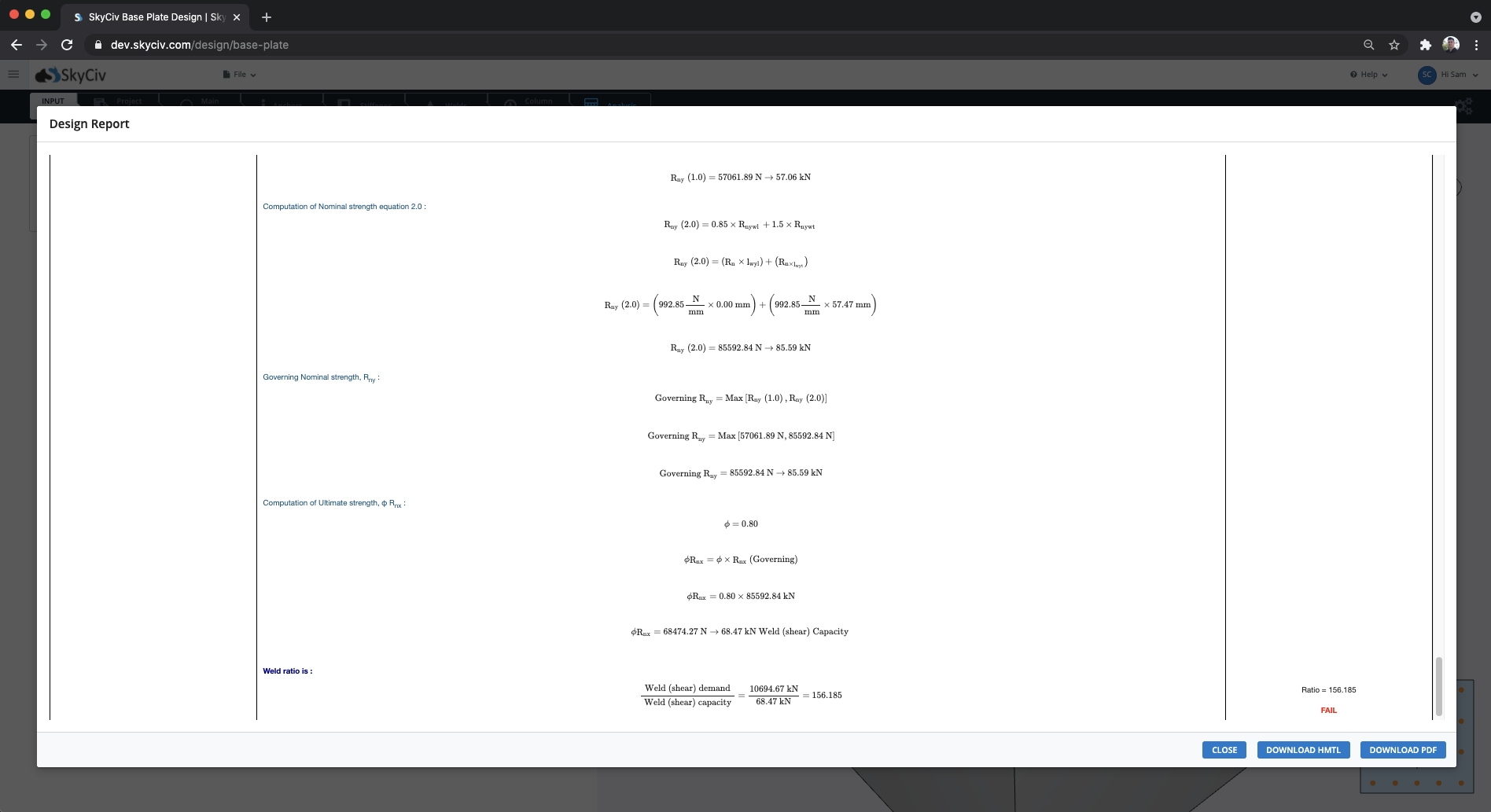 Finally, the SkyCiv Base Plate software is 100% cloud-based and available on Mobile! Continuing our commitment to giving engineers access to powerful structural software anytime, from anywhere!
Mobile Access
The Base Plate Design Software has also been included on our Structural Engineering Mobile App! This joins our long list of useful tools including our Beam Calculator, Section Database Search and Model Viewer – giving you all your powerful structural tools at your fingertips.
Where to Start
There are a number of ways you can get access to SkyCiv Base Plate Design:
Don't have a SkyCiv Account? Try the free version: Free Steel Base Plate Calculator
Want to design from Mobile? Visit the above link, or get access from the SkyCiv Mobile App on iOS and Android
Already a SkyCiv User? Simply login and launch the Base Plate Design Software from the dashboard!
Sam Carigliano
CEO and Co-Founder of SkyCiv
BEng (Civil), BCom
LinkedIn