In structural engineering, the power of Excel, especially in conjunction with macros, is renowned for its accessibility, flexibility, and computing power. The new SkyCiv for Excel Plugin breaks new ground in engineering software integration by providing users with a full suite of structural analysis and design tools, all from within Microsoft Excel.
This isn't just another fancy spreadsheet or a Visual Basic Macro, it is essentially an entire app that extends Excel! After installing, you'll have a new SkyCiv tab on the ribbon equipped with a range of powerful functionality:

What does SkyCiv for Excel do?
Build Structural Analysis Models
SkyCiv for Excel takes a standard Workbook and supercharges it. Firstly, it offers two-way data migration between Structural 3D and Excel. Not only can you start a model from scratch – you can open a model that you've been working on in SkyCiv's Structural 3D, make some changes in excel and then save it back to the platform. It has the power to automatically build models from Excel and visualize on-the-fly with SkyCiv's inbuilt renderer: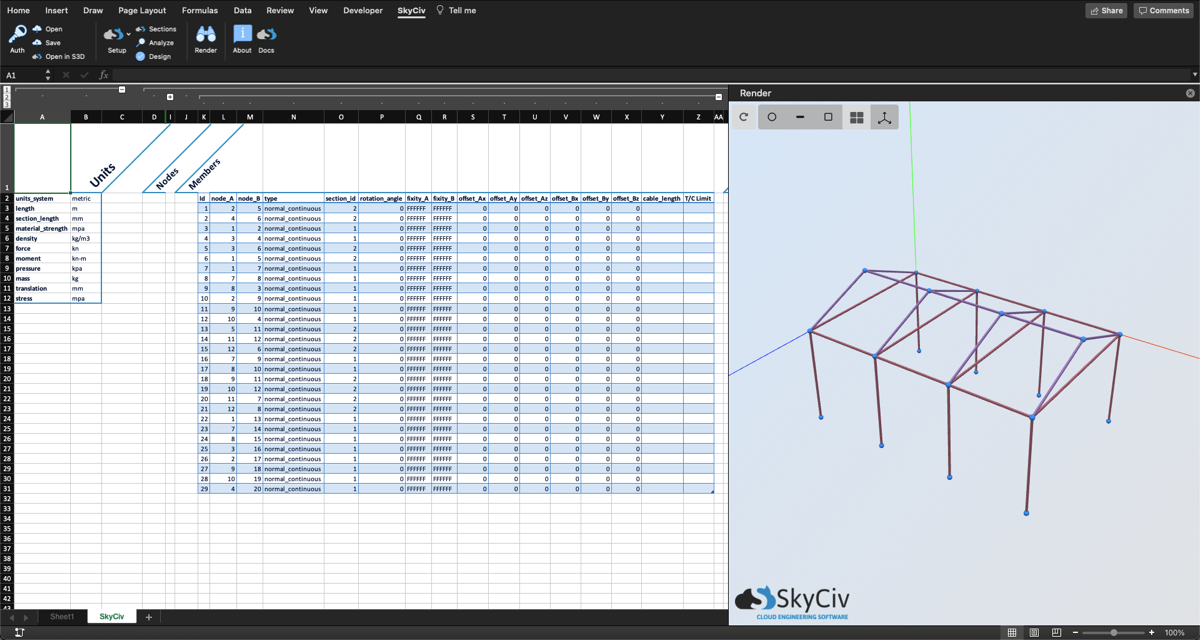 Perform powerful FEA, directly from your Excel Sheets
Users can run structural analysis and receive both simplified and detailed results. By entering your nodes, members, supports, and loads into the Excel sheet, you can then go on to perform a structural analysis. The plugin will display some simple pass/fail criteria and high-level results on the right pane. It will also open up a tab for your more detailed results; so you can further review or use these results!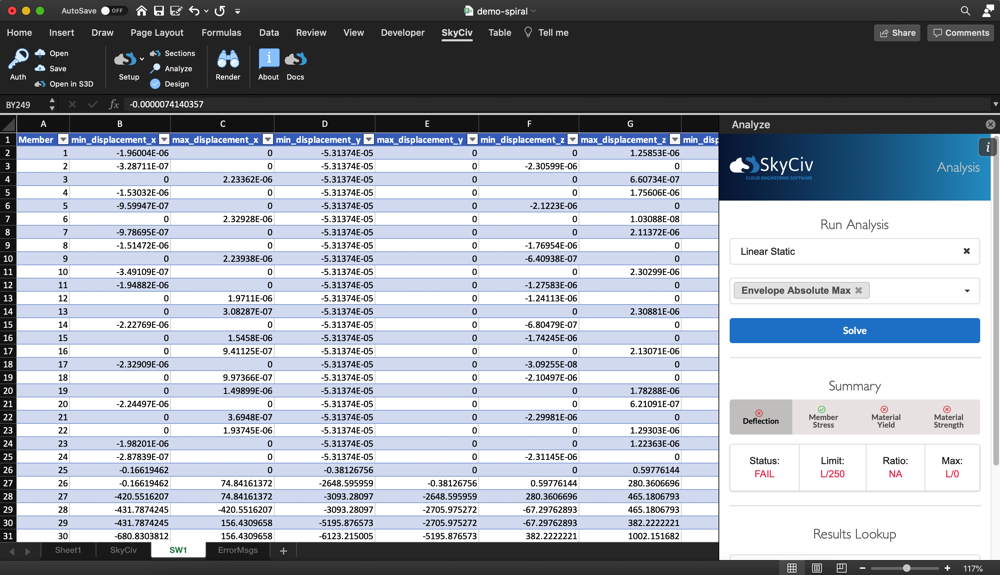 Example of the FEA results generated using the Excel Plugin
Run Design Checks
Run design checks from a range of design codes from America, Australia, the UK, Europe, Canada, and much more. Utility ratios, design reports, and capacities are some of the results that are returned in a clean and easy format. This allows engineers to perform quick and accurate checks on members to ensure their feasibility. You can even review our detailed calculation reports, to see exactly how the software is calculating these results.
Much more…
See these models update live in the renderer as you build it
Save/Load models to and from cloud storage
Pull specific profiles from the SkyCiv Section Library (with more than 10,000 sections)
Get Structural Analysis and comprehensive design check PDF reports
Instantly launch your Excel model to SkyCiv's S3D web platform
This add-in has been built entirely on the SkyCiv API. So if you have other ideas for integrations, or want to build on top of this functionality, it's entirely possible!
How users benefit from using SkyCiv for Excel?
This is the exciting part! I think we can all agree that just about every Engineer is extremely competent with Microsoft Excel. Just about every analysis or design we are involved in finds a good use for spreadsheets as they let us solve a problem parametrically, saving hours or even days of work. Hold onto those spreadsheets that you've poured your heart and soul into because now you can extend them lightyears ahead.
Engineers are always looking to improve their workflows and speed up their designs. The Excel for SkyCiv plugin lets users speed up this modeling process and reduce the amount of data transfer required.
Once you've set up a template, you can simply reference your existing data from the SkyCiv worksheet (or even populate it using a macro if you're that way inclined). Now your model is ready for FEA and design with the click of a button! But hang on… why stop there? You've got analysis results sheets for multiple load cases and combinations, and design results (from US, Australian, Canadian, British and European codes). So feed it back to your sheet for some post-processing and adjustments, save it to S3D, export it to Revit from S3D, flick it to the drafty, let them make their adjustments, import it back in, open it in Excel… the sky is the limit.
How do I get started?
It's simple! Simply install the plugin directly from Excel by visiting the Microsoft AppSource (their app store). You can also check out this quick-start guide we made to help you get moving.
If you're an existing SkyCiv user, you'll already have API credits and authentication information. If not, you can sign up for a Free 30 Day Trial to the SkyCiv API Account and you can start experimenting with the API right away!
Interested in building your own solutions on the SkyCiv API? Have a read of this recent article on the recent release of our API, or get in contact – we'd love to help you get moving!
Steve Richardson
API Manager - Australia/NZ
BEng (Civil)
LinkedIn