Since our founding, SkyCiv has always been dedicated to making it easier for students to learn structural engineering principles. SkyCiv was first created by students for students and we continue our support for education by sponsoring the Science Olympiad and AISC Steel Bridge design teams. Our software lets students collaborate quickly and easily, making it perfect for team design projects and competitions. Thousands of students from around the world have been using SkyCiv because of our focus on some core educational benefits:
1. Access Anywhere, on any device.
SkyCiv works in your web browser. There are no large program for students to have to download or install so it can be used to teach in the classroom and everyone can use their own personal devices. A large number of students are now using Macs, and seeing as engineering software is not really offered on this platform, it often means these students have difficulty getting access or miss out completely. SkyCiv works on both a Mac, PC and tablets - so you don't need to book a lab and there's no IT Department requirements.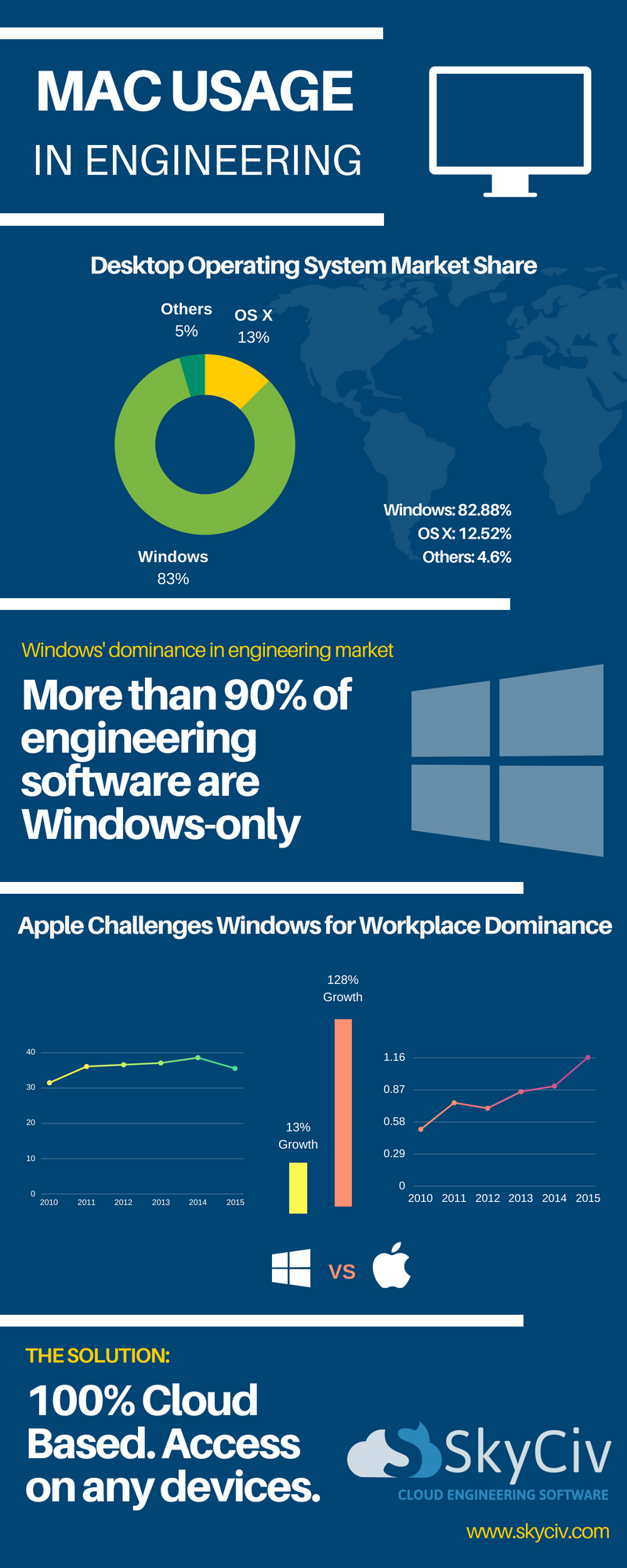 2. Instant Access to all your Students
We've tried to make it as easy as possible for the instructor to give instant access to all their students with a simple click of a button. We understand instructors are often the first point of contact for students trying to get access to software. Dealing with licence keys, version issues and IT departments is never fun, so we bypassed all that.
Our Education Portal makes it easy to add a class of students in seconds and makes it easy for students to share their designs and collaborate in real-time. Simply upload a CSV of your students, and they will all receive an email with their login details. Since there is nothing for them to download or install, they can literally be working on their first design within a minute of receiving their registration email!
3. Easy to Use
SkyCiv was designed to be simple and easy to use for first year engineering students and professional engineers alike. We made it a priority to design an intuitive user interface that is easy to navigate. We have a great set of online documentation including video tutorials and step-by-step guides - check out our documentation on how. as well as informative pop up bubbles and videos to guide students and make sure they can find the help they need quickly. See how easy it is to get started with SkyCiv and build your first model in minutes by clicking here.
Here are 5 things that Stanford University Students had to say about SkyCiv in comparison to a competitor product:
Easier user interface
Much faster and easier to create nodes/elements
Offers 'help' bubbles for each part to help you understand what values you need and where to put them
Accessible with internet connection and an account (no need for download etc).
Tutorial at beginning was helpful in learning how each tool worked
4. From Start to Finish
SkyCiv Student Accounts include a suite of programs including simplified software to solve Beams, Trusses, Cross Sections and shafts - all the way up to our fully featured powerful structural analysis software: Structural 3D. These programs perfectly compliment the curriculum from 2nd year students up to final year students. We've got a great article on courses that are currently uing SkyCiv.
SkyCiv is fully integrated with design check software including AISC 360 and Eurocode 3. The software includes multiple solver types such as Linear, P-Delta, Buckling Analysis and Plate Analysis. Students can use SkyCiv to compliment traditional CAD/FEA analysis and have the ability to import multiple load combinations. Many schools have started using SkyCiv to quickly double check the results of other programs such as SAP, MASTAN2, Etabs.
5. Step by Step Hand Calculations
SkyCiv always provides students with a complete set of hand calculations for every analysis to show students exactly how the software arrived at the results. It makes for a quick check to see if your own calculations matches the software's solution. All of the latest design codes are incorporated into the software including AISC 260, Eurocode 3 and ACI.
Sam Carigliano
CEO and Co-Founder of SkyCiv
BEng (Civil), BCom
LinkedIn