Events, Conferences, and Conventions all have a common intention: to foster and grow a community of peers with like-wise interests and goals. The field of structural and civil engineering benefits greatly from yearly meetups of engineers and peers alike because of a variety of reasons.
Thanks to changes in technology in construction and engineering software, as well as building product advancements, engineers can learn about what is coming next that will help their jobs and the industry as a whole. They are also a great way for engineers to engage and network with others that have different expertise than them. Younger engineers get to engage in mentoring opportunities from distinguished members of the structural and civil fields. Also, yearly events are a great place to talk about relevant changes to governing codes that are released periodically, specifically from ASCE, AISC, ACI, and NDS.
This article will highlight a few events around the world that you and your engineering team members should consider attending going forward.
| Event | Time of Year (may change) | Location |
| --- | --- | --- |
| NASCC: The Steel Conference | March 23-25, 2022 | Denver, CO |
| NCSEA Structural Engineering Summit | February 14-17 2022 | New York, NY |
| SEI/ASCE Structures Congress | April 20, 2022 | Atlanta, GA |
| Autodesk University | TBA | TBA |
| ASCE Convention | October 23-26, 2022 | Anaheim, CA |
Check out the list of Structural Engineering Conferences around the world here
NASCC: The Steel Conference
NASCC stands for North American Steel Construction Conference and is hosting each year by the American Institute of Steel Construction, also known as AISC. As probably implied by the title and the host, NASCC is all about the structural steel industry. Every party that comes in contact with structural steel throughout its life-cycle is usually present at this conference: fabricators, welders, structural engineers, software developers, erectors and detailers, to name a few.
It centers on educating its attendants and facilitating networking events throughout its duration. One can expect to learn more about subjects that encompass distinct structural steel topics that they have never been exposed to, as well as broader topics that touch on the industry trends as a whole.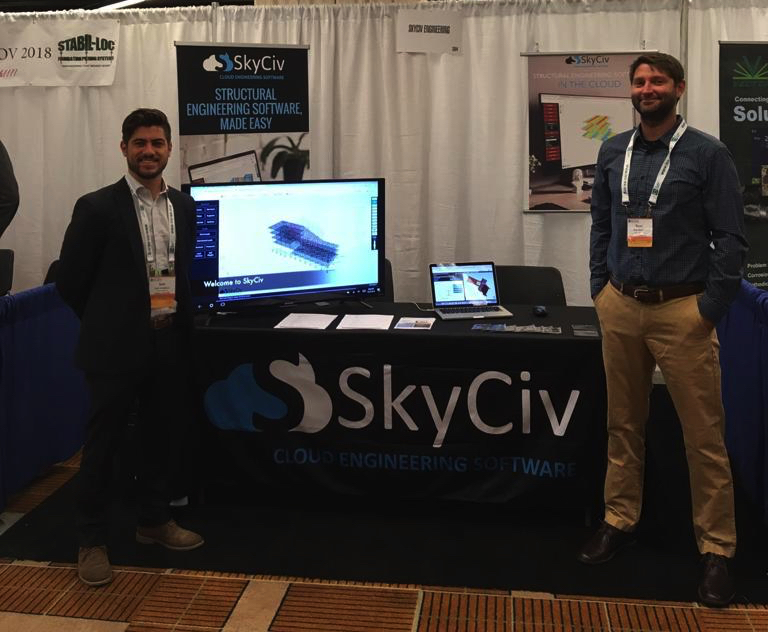 SkyCiv @ NASCC 2019 in Baltimore, Maryland
For more information, make sure to check out the AISC Events Page.
NCSEA Structural Engineering Summit
One of the most esteemed organizations involved with the field of structural engineering is the National Council of Structural Engineers Associations, own NCSEA. Each state has their own SEA, but NCSEA is the national body. The Structural Engineering Summit is a yearly conference that involves a variety of activities and is ever-evolving. Geared towards structural engineers specifically, this event encourages learning and open discussion. Young engineers are encouraged to come as there is are ample opportunities for mentorship and networking specifically for that experience group.
Each attendee can select one of multiple learning "tracks", putting them on a preset path of talks and presentations suited for them. Each track entails different topics of Structural Engineering ranging from ethics to technology, code discussion to economics of the industry, and is covered over a 3 day period. Alongside these classes is two days of the trade show, where vendors, organizations, and other companies invested in the field of structural engineering and construction can open their doors to curious engineers. The trade show is a great way to learn about new and upcoming technology in the field or to stay current with evolving topics.
Attending NCSEA? SkyCiv exhibit and demonstrate at this conference each year. Come say hi and visit our booth or watch a live product demo on Friday morning!
NSCEA Summit 2017, Source: STRUCTURE Magazine
For more information, make sure to check out the NCSEA Events Page.
Dubbed "The Premier Event in Structural Engineering", the Structures Congress held by SEI/ASCE is a staple event in the structural engineering landscape. It focuses on technical discussion and presentations, offering attendees a whopping 13 PDH units over the course of the event. Aside from the technical meetings and conversations, volunteering and networking opportunities are sprinkled in to make the event well rounded in its purpose. Young engineers will want to attend the "Meet the Leaders" event at the beginning of the Structures Congress, as it gives them a great opportunity to learn about career growth and leadership from young leaders in the industry; gain invaluable career insights from like-minded Professional engineers. Another great event is the reception of the Women in Structural Engineering (WiSE) organization, a national group of leaders trying to engage and advocate for more women in structural engineering. The variety in non-technical events in addition to the learning units accumulation make the Structures Congress a very popular option.
SEI Structures Congress 2019, Source: SEI on Twitter
For more information, make sure to check out the SEI Structures Congress page.
Autodesk University
As the name suggests, Autodesk University is held by Autodesk, and is one of the biggest events on Building Information Modeling (BIM) in the world. Hosted every year in multiple countries, Autodesk University provides a meeting place for professionals from construction, manufacturing, architecture, engineering, and even media creation. This event is not just for structural engineers, as it involves every person that touches a project throughout its lifespan. As stated by Autodesk, "join your colleagues for...learning, networking, and knowledge sharing. Autodesk University is a great event to broaden the horizons of not only structural engineers, but every party involved in a engineering project.
There are three themes at Autodesk University: Learn, Connect, and Explore. The week long event facilitates unrelated networking activities to grow you network and learn from somehow outside your realm of practice. Learn about new technologies so that you can help expand your business and increase your working efficiency. Channel your inner child and let your mind run and explore new technologies that are on the brink of changing the BIM world. This conference is a great resource for structural engineers who are trying to get a broader glimpse of the entire industry as a whole while learning about what makes 3D modeling possible.
Autodesk University Las Vegas - 2019, Source: Autodesk University
For more information, make sure to check out the Autodesk University page.
ASCE Convention
While the SEI/ASCE Structures Congress focuses on just the field of structural engineering, the ASCE convention is the umbrella that encompasses not only structural engineering, but the field of civil engineering as a whole. Similar to the Structures Congress, there are a variety of technical sessions, giving attendees an opportunity to learn more about specific topics, but there is a larger range to pick from. An interesting opportunity at the ASCE Convention is the presence and ability of attendees to go on site tours around the local area. With multiple tour locations to choose from, all engineers under the civil engineering umbrella have something relative to observe and learn about, while getting PDH credits.
The ASCE convention has an overarching theme about the civil engineering field as a whole, with common topics that usually provoke a similar question: "Where does the industry go next". Usually the string of keynote speakers present on topics that relate to a single theme. For example, for the 2019 ASCE Convention, the theme was "Future World Vision", so speakers focused their presentations using a similar sentiment.
For more information, make sure to check out the ASCE Convention page.
Trevor Solie
Structural Engineer
BEng (Civil)
LinkedIn
Resources
American Society of Civil Engineers. "ASCE Convention 2019." Home | ASCE Convention, www.asceconvention.org/.
American Society of Civil Engineers. "Structures Congress 2020." Home | SEI Structures Congress, www.structurescongress.org/.
"Autodesk University - Las Vegas." Autodesk University, 22 Oct. 2019, www.autodesk.com/autodesk-university/conference/las-vegas/overview.
"NASCC: The Steel Conference." AISC, www.aisc.org/nascc/.
"NCSEA." 2019 NCSEA Structural Engineering Summit, www.ncsea.com/events/annualconference/.