ACI 318 14 Reinforced Concrete Design Software
SkyCiv supports a number of American Design Standards, including ACI 318 14 - Building Code Requirements for Structural Concrete. The software is completely Free as a standalone version (enter loads, spans and load combinations manually), or users can upgrade to our fully integrated version: built into SkyCiv Structural 3D, which allows you to check the results of beam and column design checks quickly and easily, all within a single model.
Design Concrete using SkyCiv:
 Concrete Beams: Comprehensive checks for Rectangular and T shapes concrete sections, including:

Minimum allowable reinforcement
Detailing and concrete cover checks
Concrete Flexure checks
Crack width checks
Shear Design Checks including Stirrups
Detailed Calculations Report: ACI 318 2 Reinforced Concrete Design Example (Concrete Beam Design)

Concrete Columns: Comprehensive checks for Rectangular and Circular concrete sections, including:

Detailing (Concrete Cover Requirement) checks
Combined Axial Checks
Strength Checks
Detailed Calculation Report: ACI 318 PDF Worked Example Report (Concrete Column Design)

 Summary table results and full calculation Report
 Import and Apply Multiple Load Combinations (Integrated Version) from ASCE 7-10 and ACI 318 Load Requirements
 Fully verified with third party results
Discover key features of SkyCiv Steel Structural Design
A full-featured online structural analysis software, including beams, plates and cables
Standalone Version: Free, Fast & Reliable
SkyCiv's standalone ACI 318 14 concrete design software allows users to manually input members, loads, materials and sections to produce a clean, professional PDF report. It is free to use and also comes with a number of other free structural analysis software to help you get the job done.
Built into SkyCiv Structural 3D Analysis Software
SkyCiv's ACI 318 Design Software is fully built into the SkyCiv Structural 3D program - allowing you to model, analyse and perform ACI 318 2014 concrete calculations all within the same model. No need to transfer data between software, the program can do it all within the one location.
Want to run a standalone check without any analysis? This is possible as well. Simply enter in your forces to perform a check on any concrete beam or column.
Full Calculation Reporting
See all the calculations with SkyCiv's clear step-by-step PDF reporting. No more guessing what the software is doing, have all the ACI 318 14 calculations, assumptions and design criteria clearly labeled so that you have full transparency in what you're designing.
Easy Input, Easy Output
SkyCiv's free ACI 318 14 Software is part of our Reinforced Concrete software that allows you to enter a cross section, reinforcement and loads (including ACI Load Combinations). Run ACI standard checks in a matter of minutes by adding a beam, applying loads, add longitude/stirrup rebar and running design checks in a single click of the mouse. Optional controls for input such as concrete strength class and concrete age.
The ACI design software will automatically calculate your concrete cover requirements, flexure checks, shear checks plus much more, in minutes. Your results will display as a summary table with traffic light (green/yellow/red) results as well as a full calculation report, so you can verify the results, references and design criteria of the software.
More benefits from SkyCiv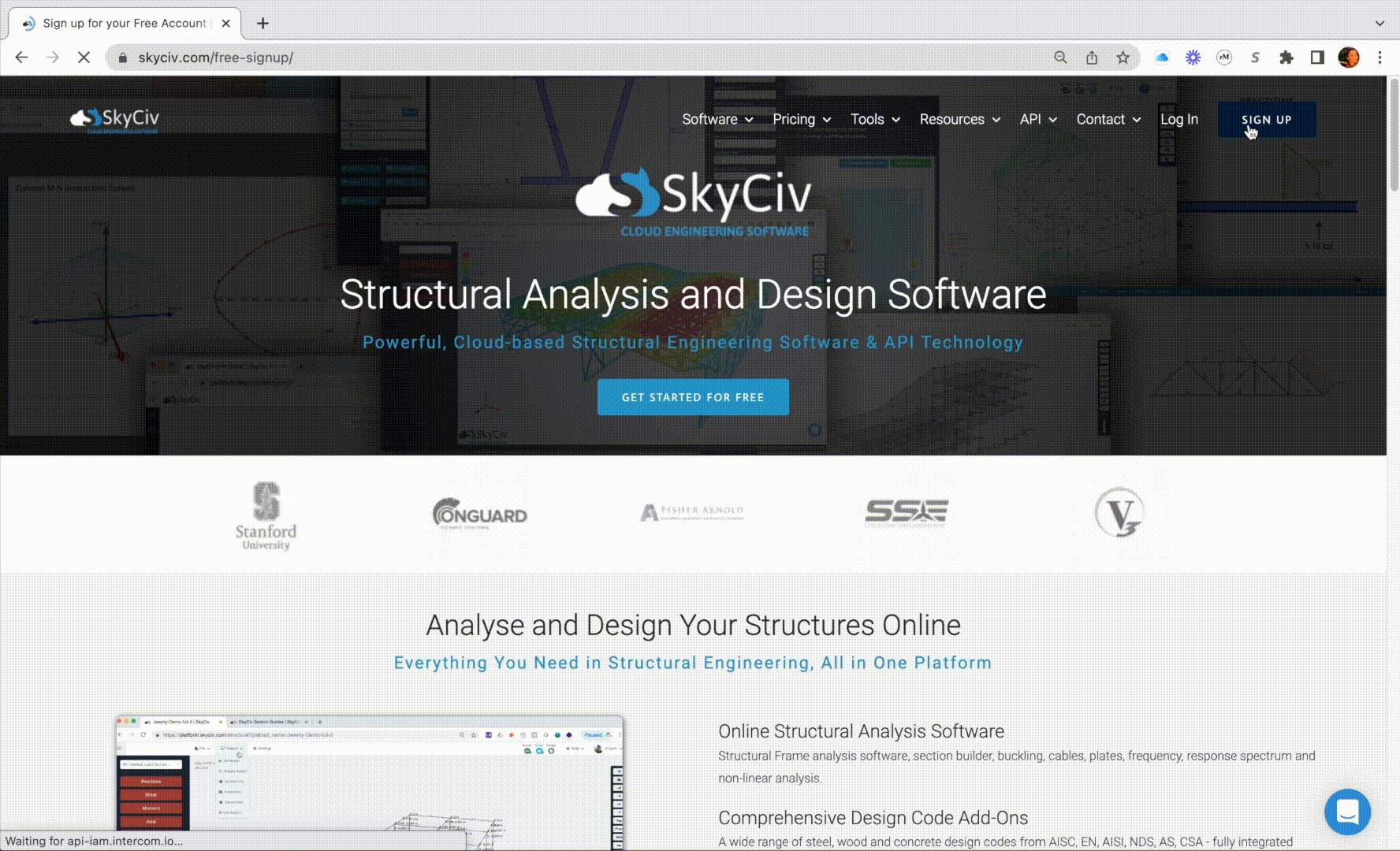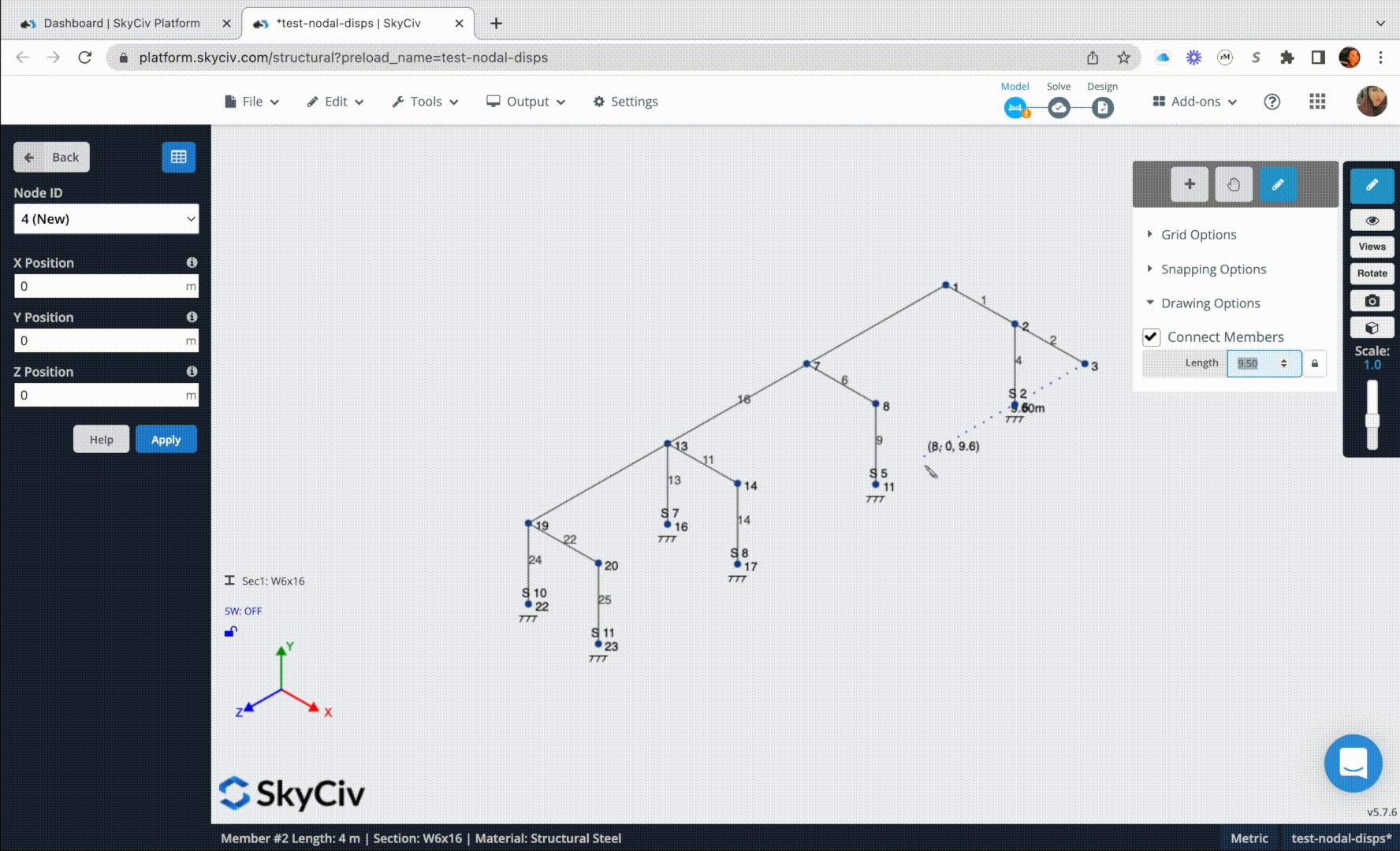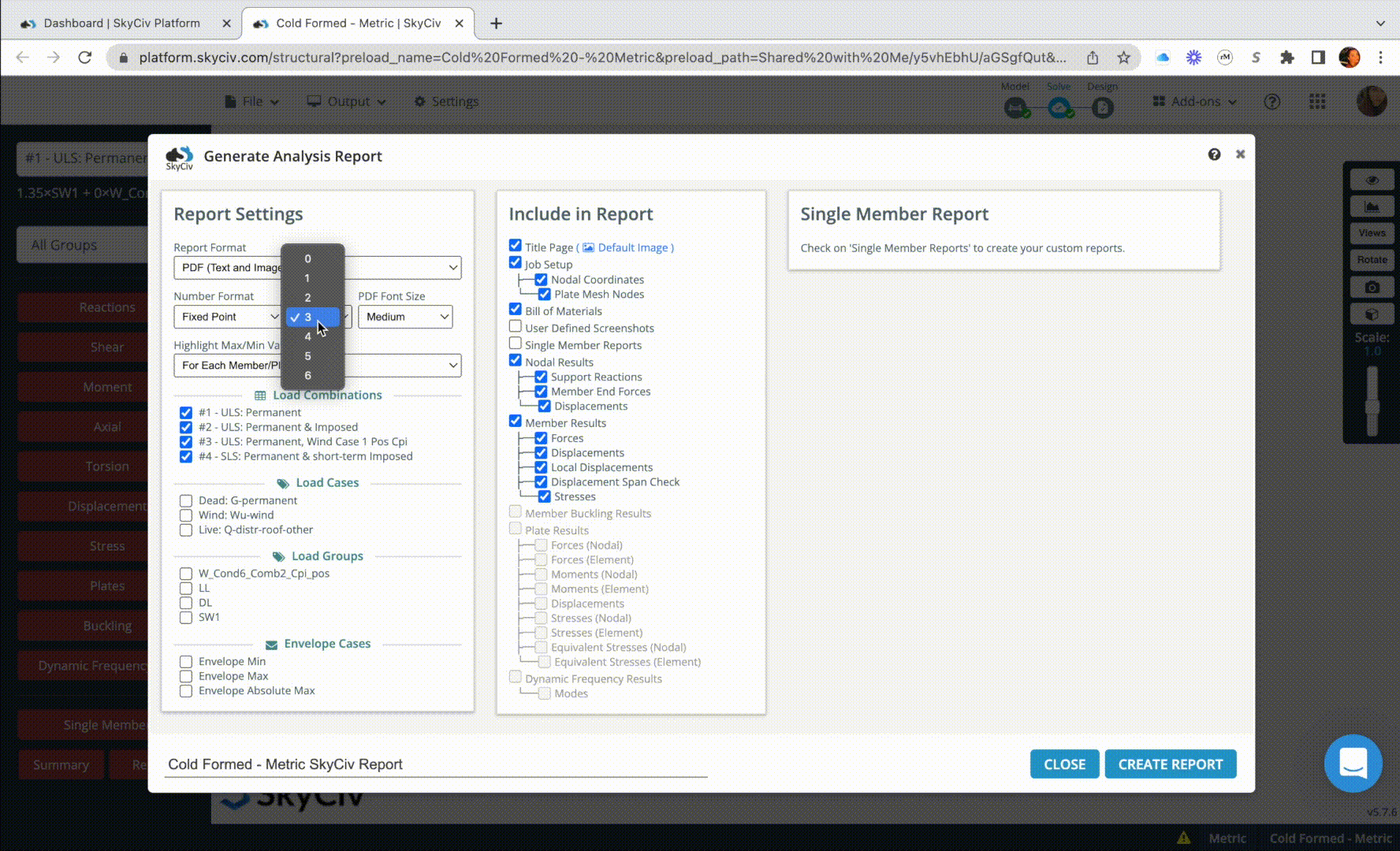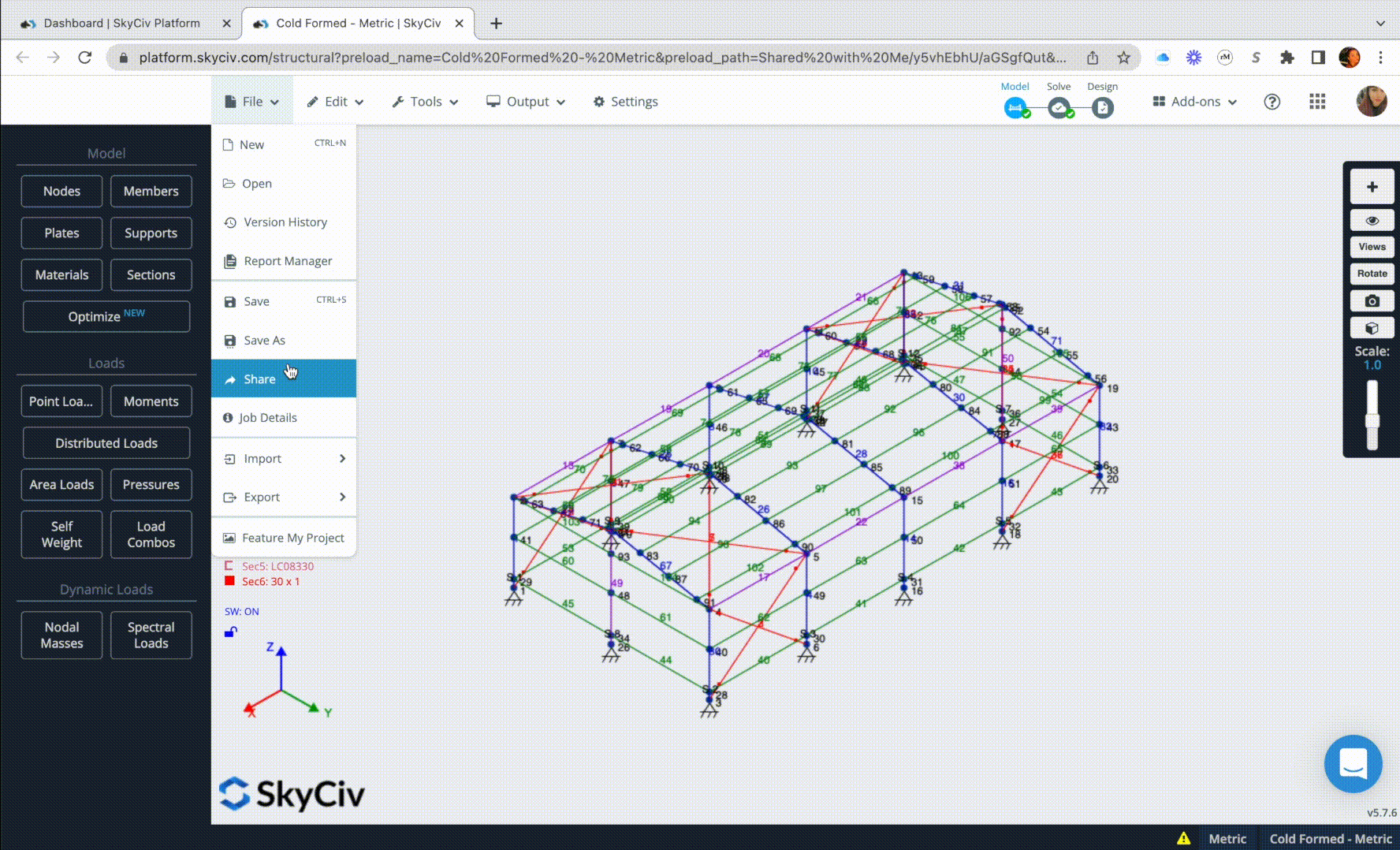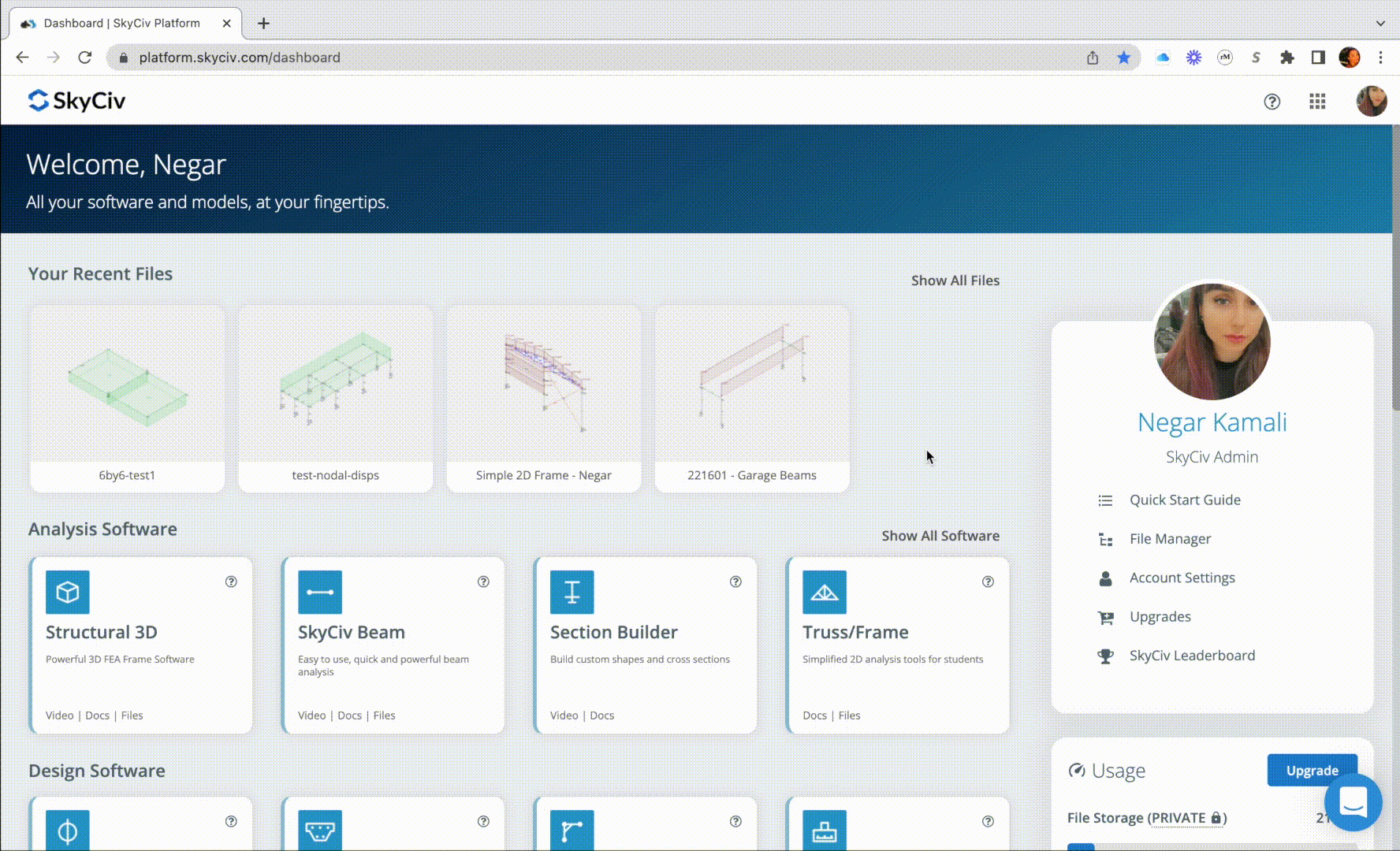 SkyCiv structural design software is 100% cloud, giving you instant access through your web browsers. Simply log into your SkyCiv account and visit the software directly. You can now access your files from anywhere and at any time.
---
SkyCiv software is built with a number of great modeling, editing, and reviewing features that help you achieve a much faster modeling workflow. These range from the pen tool, bulk editing, camera roll, and more.
Learn about SkyCiv modeling features →
---
Clear step by step calculation reports help the engineer understand exactly what the software is doing - no more blackboxes!
Learn about reporting →
---
Share and collaborate in real-time with your team using our file sharing and permission control functionalities. They also allow the SkyCiv Support team to view your models so support can never be easier.
Learn about file sharing →
---
---
Full Calculation Reports!
SkyCiv believes in full transparency. SkyCiv offers full ACI 318 14 pdf reports, so you can view the ACI worked solutions. Just clear, professional and powerful output. Click here for a ACI 318 PDF
Included in Structural 3D