Detailed Comments App
Keep a clear track of project changes to your model, for better team collaboration. Add comments, screenshots and issue tracking for a more detailed project history.
What's Possible with the Detailed Comments App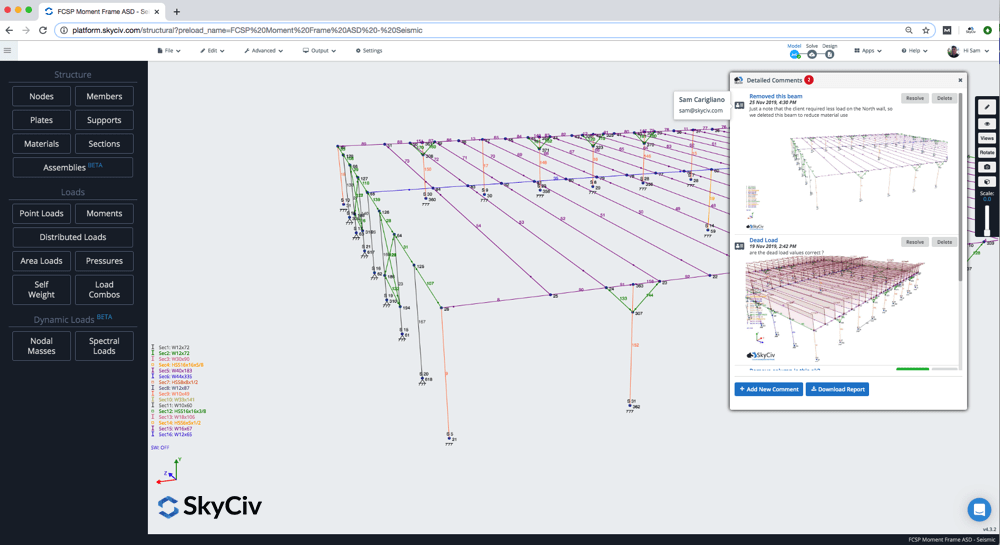 Keep a clear history of changes, updates and issues with your model with the SkyCiv Detailed Comments Add-on.
SkyCiv models are built for easier collaboration. The new SkyCiv Detailed Comments add-on allows engineers to comment on the project for their team to see. With this add-on, teams can:
Add comments or issues to models
Include screenshots and comments with each new issue
Tag an element that the comment applies to
Mark comments as resolved/unresolved to keep track of issues that need attention
Generate PDF report of project history and user interactions
Integrates with Slack and other communication apps to keep teams updated
Comments will also appear in your Skyciv - Microsoft Teams App
Powerful reporting for Project Managers, with a clear report of comments from users
Collaboration and project management has been built into the SkyCiv platform, all the way from management to end users.
Single Click Setup
SkyCiv Addons and Integrations are designed to be installed easily. The SkyCiv QR Code App can be installed with a single click in your account settings: