The original SkyCiv Beam has just had a complete rebuild, with a new and improved user interface along with some great new features and enhancements! SkyCiv Beam was first released in 2015 and was built out of the need to have powerful yet easy-to-use beam analysis software. It was the first product we ever built, so we have a lot of nostalgia and love for this great tool, which has helped tens of thousands of users worldwide!
But one of our core product values is to always improve and deliver more value to our users. So it was decided to rebuild SkyCiv Beam from the ground up, with some new and exciting features to match!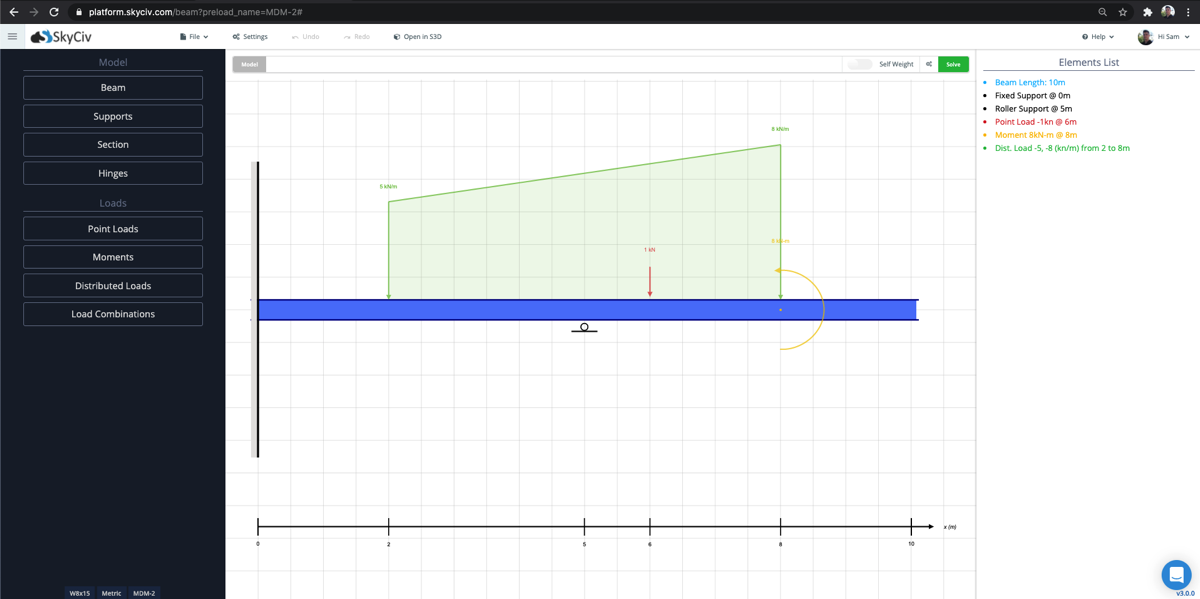 The new interface makes better use of your screen, with gridlines to drag + snap forces and supports
New Features
Without taking any features away from SkyCiv Beam, it now has a number of new features, including:
Modeling
Load Combinations – Import or add custom load combinations to be used in the analysis and design checks
Spring Supports – Add spring supports with custom stiffness
Drag and Drop – Drag and move loads and supports for faster model edits. Also includes grid and snap capabilities
Export to S3D – Can't complete the Design? You can now export your model from Beam into S3D to add members, sections or any other of the advanced capabilities of S3D
Analysis
Quick Summary of Results – Get quick ratios (L/span, material yield, material strength, custom stress) to see whether the beam is passing or failing
Verified Results – SkyCiv Beam automatically checks the analysis results with our hand calculation module – a completely independent calculation
Points of Interest – Add custom points of interest along the beam, with custom limits
Quick Graph Copy – Copy graphs to your clipboard with a single click
Improved Reporting – Reports are generated faster, and in a more Professional format (Click here for Sample Report)
Export to CSV – Export Results of analysis to CSV (Click here for a Sample of CSV Reports)
Analysis Results and Quick Summary
Design/Optimization
Simplified Integrated UI – Design checks can now be run quickly and easily without opening up design modules
More Optimization Controls –  Pick the most optimal section, based on height, width and other criteria
Note: The original SkyCiv Beam is still available, so if you prefer that interface you can always access that from https://platform.skyciv.com/beam/v2 – we will also prompt and offer you to redirect to v2.
SkyCiv Mobile Update
The SkyCiv Mobile Beam App has also been improved, with new features added to give you more functionality and control while on the run!
You can now access more powerful features, including – self-weight, hinges, angled point loads and spring supports. On top of this, we've also integrated design checks with the mobile app, so you can now perform design checks and optimizations using AISC, AS, EN, BS and many more design codes.
We hope you enjoy the new features that SkyCiv Mobile (+ the App) has to offer. Feel free to let us know your feedback or suggestions on how we can improve SkyCiv Beam even more!
Free Beam Calculator
Get a taste of SkyCiv beam software with our newly updated Free Beam Calculator, now with enhanced UI and additional features! Try it out today for beam deflection calculator, bending moment calculator, shear force diagram calculator, and much more!