As one of our most popular products, SkyCiv is dedicated to ensuring we continue to improve and streamline our user experience in our SkyCiv Beam software. Since launching the rebuilt SkyCiv Beam v3 in early 2021, our developers have introduced many new and powerful features. These features are driven by feedback provided by our users as we strive to deliver the best experience possible. This article will highlight the best-advanced features in SkyCiv Beam that will benefit both students and professional users alike.
Model Your Beam Quickly with Drag Functionality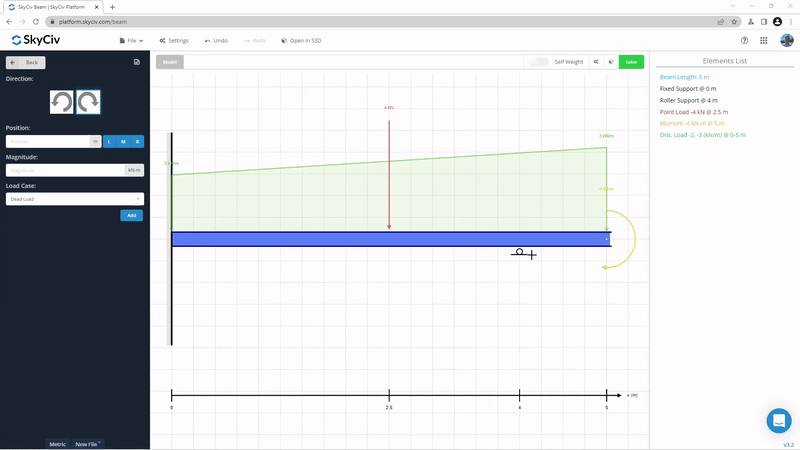 SkyCiv Beam v3.0 introduced drag functionality to the modeling stage to allow you to quickly make changes to your beam. By clicking and dragging on loads or supports you can easily rearrange your beam model without having to go back and edit each element manually.
Comma Separated Input, Shortcuts, and Math Expressions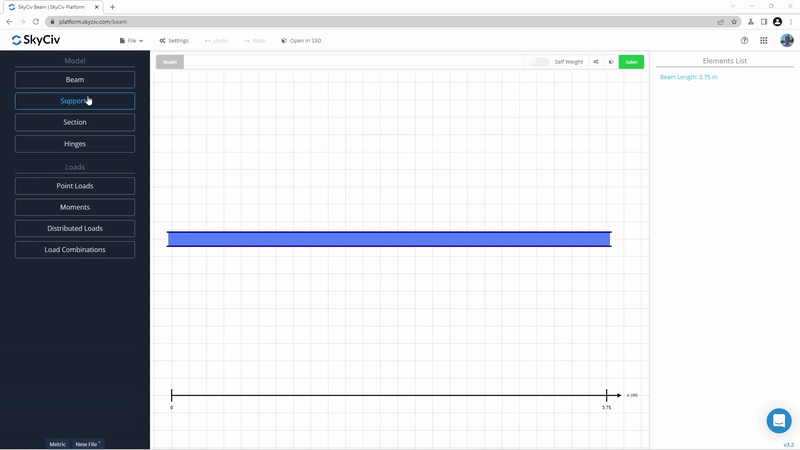 SkyCiv Beam v3.1 introduced the ability to use both comma-separated input and Mathematical Expressions when modeling your beam. With comma-separated input you can add supports or loads in multiple positions with only one click. For example, if you want to add supports at 1,2 and 3 meters along your beam simply enter 1,2,3 in the input field. You can also use mathematical expressions and input to define positions or load values. For instance, say you need to put a support a third of the way along your beam, simply type L/3 (L = Beam Length) and the program will calculate the position for you.
Hint: You can view the full capabilities of the mathematical expressions "Beam Shortcuts and Tips" panel found under the help menu at the top right of the software.
Simplify Reporting with the New Single Page Analysis Report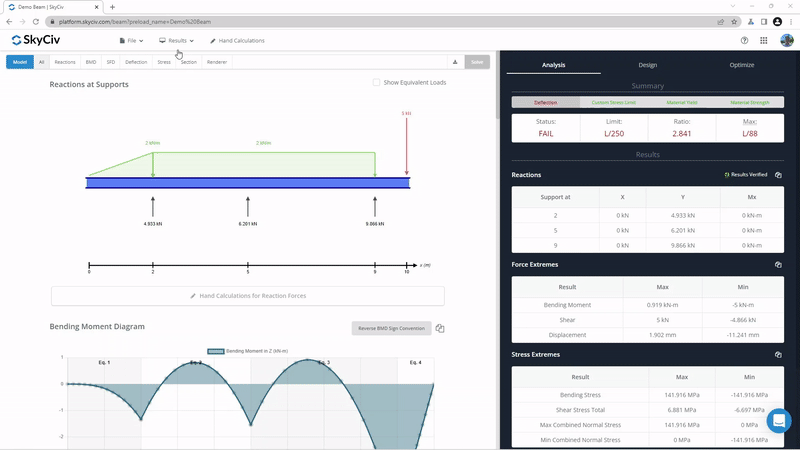 In the latest version of SkyCiv Beam v3.2, we have introduced a simplified single-page analysis report to allow users to quickly compare key results when dealing with multiple beams or load cases. Download a single sheet including the results summary, reaction, force extremes, and stress extremes. This report is available from the "Results" dropdown in the menu bar.
Don't Forget Anything with the Notes Functionality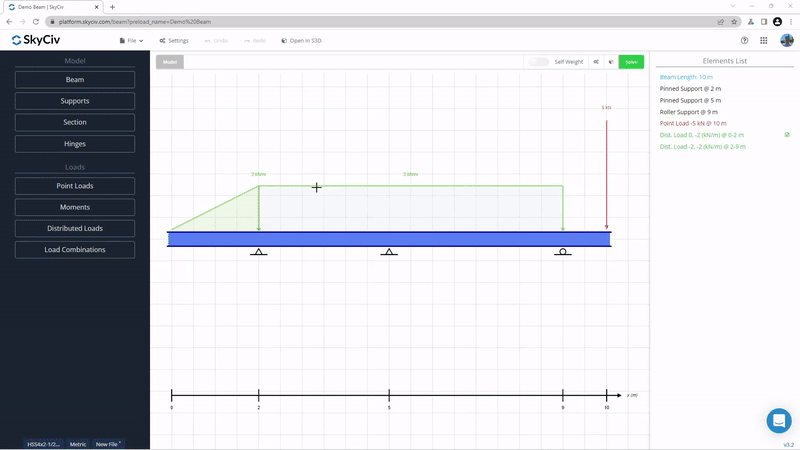 Can't remember why you added a particular load to that beam you modeled last year? That is why we introduced the notes functionality back into Beam v3.1. With this functionality, you can add notes to your beam, supports, hinges, or loads to refer back to in the future. Simply click the note button in the top right when editing the element, add your note, and remember to save your file.
View Hand Calculations for Load Combinations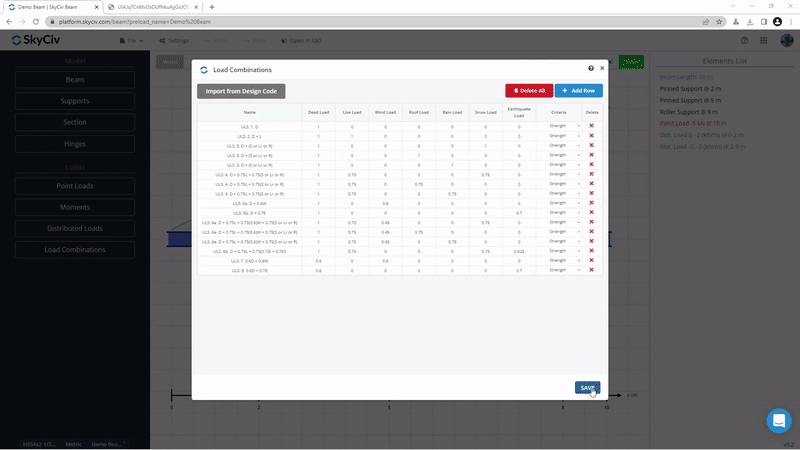 SkyCiv's powerful Hand Calculation functionality allows you to cross-check our FEA results with the full working out of its solution. Due to the popularity of this feature, we are always trying to add to improve it. This includes adding support for
statically indeterminate beams using the moment distribution method
and now adding support for Hand Calculations for all user-defined load combinations in your model. To learn more about hand calculations check out our
documentation here
.
Save Default Settings to Your Browser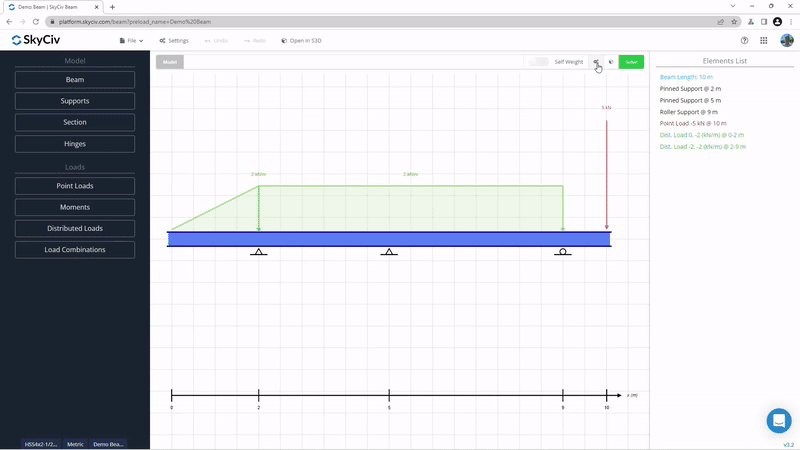 We understand how annoying it can be to have to redo your settings every time you start a new beam. That is why we added the ability to define default settings for your browser. Using this option allows you to save your Unit, View, and Output settings as default so that these are loaded every time you start a new model and start a new model. To set your default settings, simply check on the "Save as Default" options at the bottom right of the settings input and click the OK button.
Model Faster with Keyboard Shortcuts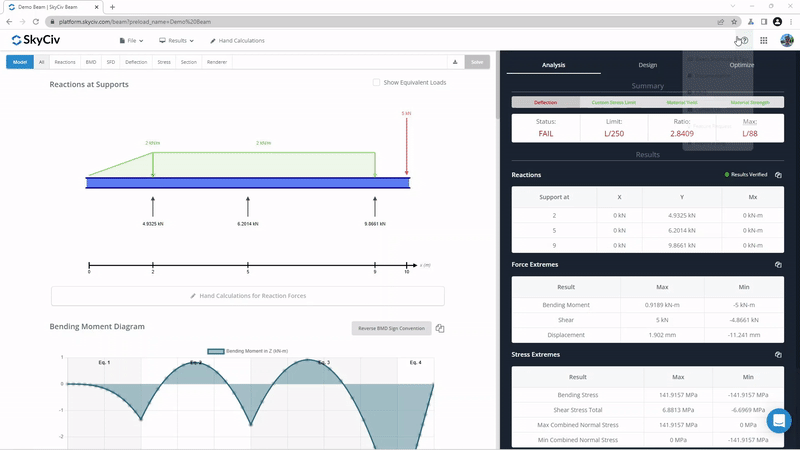 If you spend a lot of time modeling beams, you might want to get familiar with the available keyboard shortcuts. These are a great way to navigate your way around the program and save yourself some time and clicks. These shortcuts include:
Modeling Shortcuts
General Shortcuts

Beam Length -> B
Supports -> U
Sections -> S
Hinges -> H

Point Loads -> P

M

oments -> M

Distributed Loads -> D

L

oad Combos -> L

Undo -> Ctrl/Cmd Z

Redo -> Ctrl/Cmd Y

Save -> Ctrl/Cmd S
To view the full list of shortcuts, visit the "Shortcuts and Tips" panel found under the top right help menu.
Access Old Reports with the SkyCiv Report Manager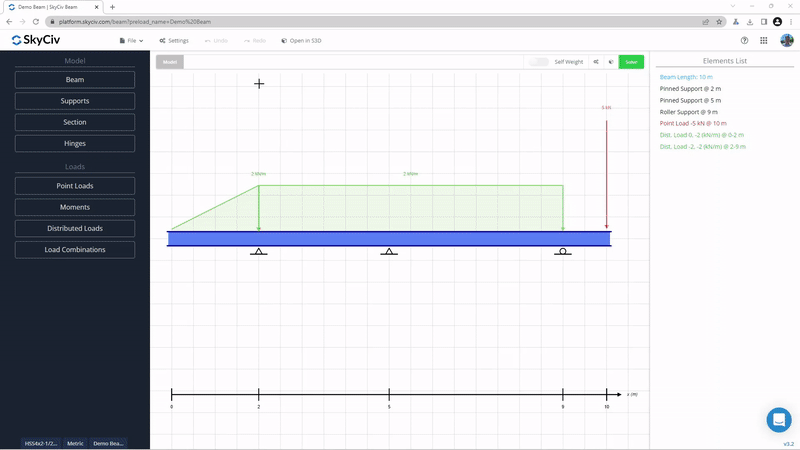 Although technically this feature is not exclusive to the SkyCiv Beam module if you are not yet aware of the SkyCiv Report Manager you could be missing out. Every time you download a report in the software it is saved to your cloud storage alongside your model. For SkyCiv Beam this includes the latest copies of your analysis and design reports. To check what reports are saved with your model visit
File -> Report Manager.
Free Beam Calculator
Get a taste of SkyCiv Beam Software with our Free Beam Calculator. Now with a better UI and more functions that reflect our latest software updates, this tool is the perfect way to test the waters. From
beam stress calculator to bending moment calculator and beam deflection calculator, our free tool has everything you need to get started!
Have a Feature Suggestion?
We are always looking for ways to improve our software and the best way to do that is by listening to the feedback from you, our users. To get involved and help us improve our software for you:
Jake Roeleven
Product Developer
BEng (Software), Undergrad
LinkedIn