All-in-one Structural Software
An alternative to traditional software such as Microstran, RISA 3D, STAAD PRO, Enercalc and Multiframe - powerful, easy-to-use, and flexible subscriptions.
SkyCiv is currently used in over 160 countries and supports the vast majority of functionality required by structural engineers. Whether this is flexible 3D modeling and analysis, steel or concrete member design, foundation design, steel connection design, or wind and snow load generation, SkyCiv has the muscle for your projects. With the future in mind, SkyCiv is developed to meet the everyday needs of structural engineers.
Cloud Based - nothing to install, works on Mac, automatic updates

Easy to use, easy to learn

Flexible monthly and annual pricing

Mobile App with powerful analysis and design capabilities

Quick and Responsive Live Chat Customer Support

API Technology that supports design automation
What's included?
A full-featured online structural analysis software including beams, plates and cables
Structural Analysis
Beam Analysis - quick and easy beam analysis software via SkyCiv Beam
Frame Analysis - powerful frame analysis via Structural 3D
Section Builder - Calculate values from custom, library, composite shapes
Powerful Analysis - Linear, Non-Linear, P-Delta, Buckling, Plates, Cables, Frequency, Response Spectrum
Modelling - Powerful modelling capabilities
Graphics - Powerful 3D and wireframe graphics with interactive mouse interactions
API - Easy to use API for custom integrations and solutions
Mobile App - Beam Calculator, Section Database, Design Modules from your fingertips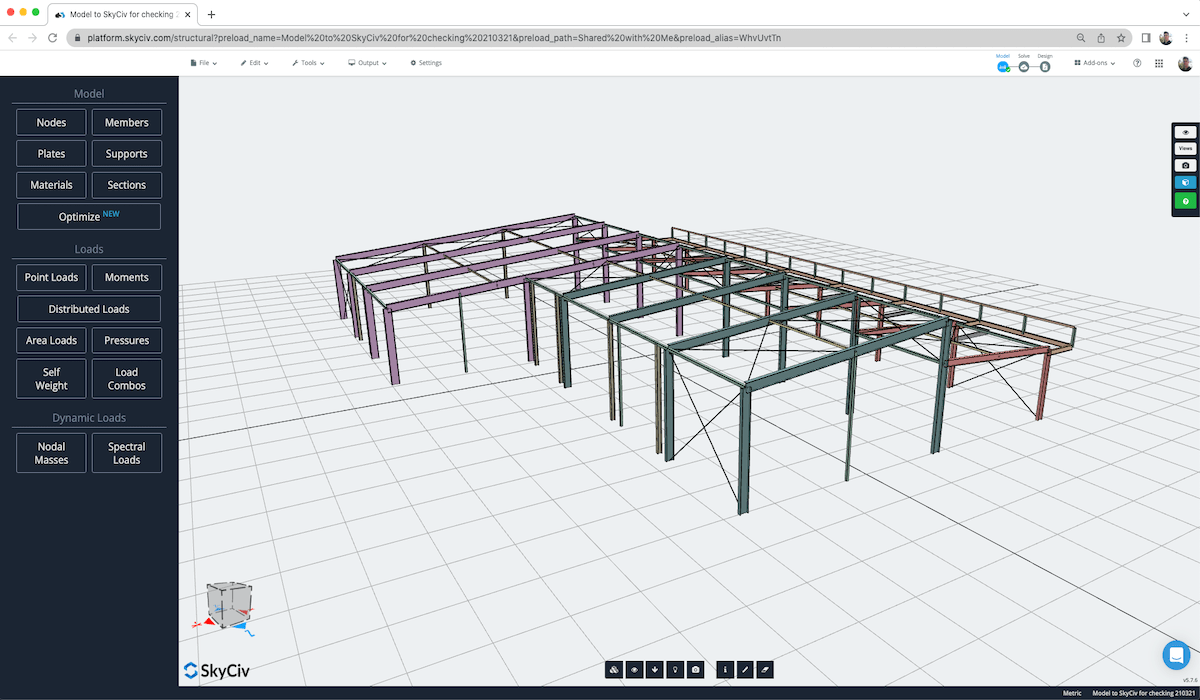 SkyCiv Design Modules
Member Design -

Steel Design: AISC 360, Eurocode 3, AS 4100, SCA S-16, BS 5950, IS-800, NZS3404
Cold Formed: AISI S1-00, AS4600
Timber Design: NDS, AS 1720
Composite Design: AS 2327, EN, ACI (coming soon)

RC Design - ACI 318, AS 3600, Eurocode 2, CSA A23, BS 8110
Wind/Snow Load - ASCE 7-16, AS/NZ 1170, NBCC 2015, EN 1991, IS 875, NSCP 2015, CTE
Base Plate/Connection Design - AISC, AS 4100, Eurocode 3
Foundation Design - ACI 318, AS 3600
Retaining Wall - Stability Analysis
More benefits from SkyCiv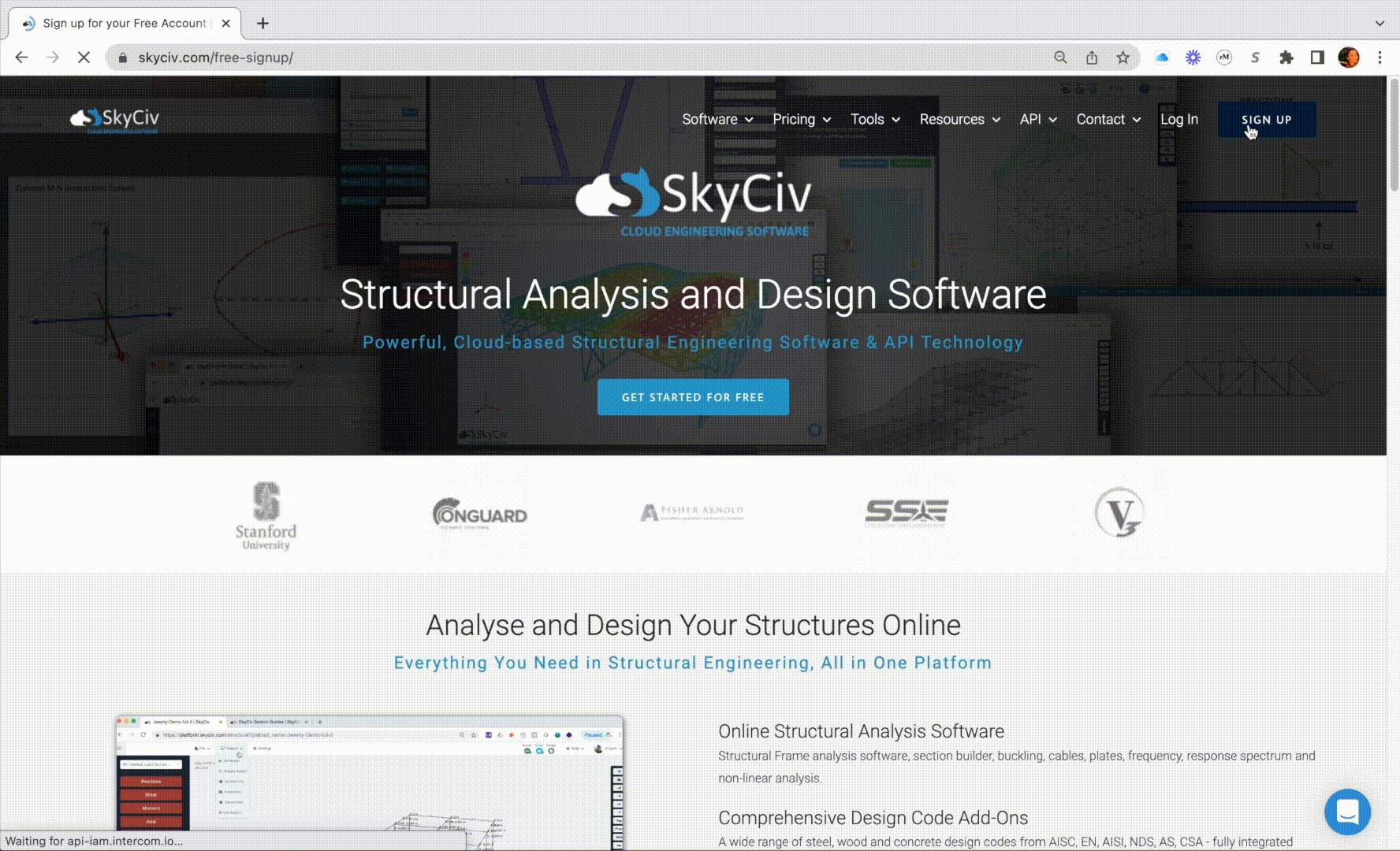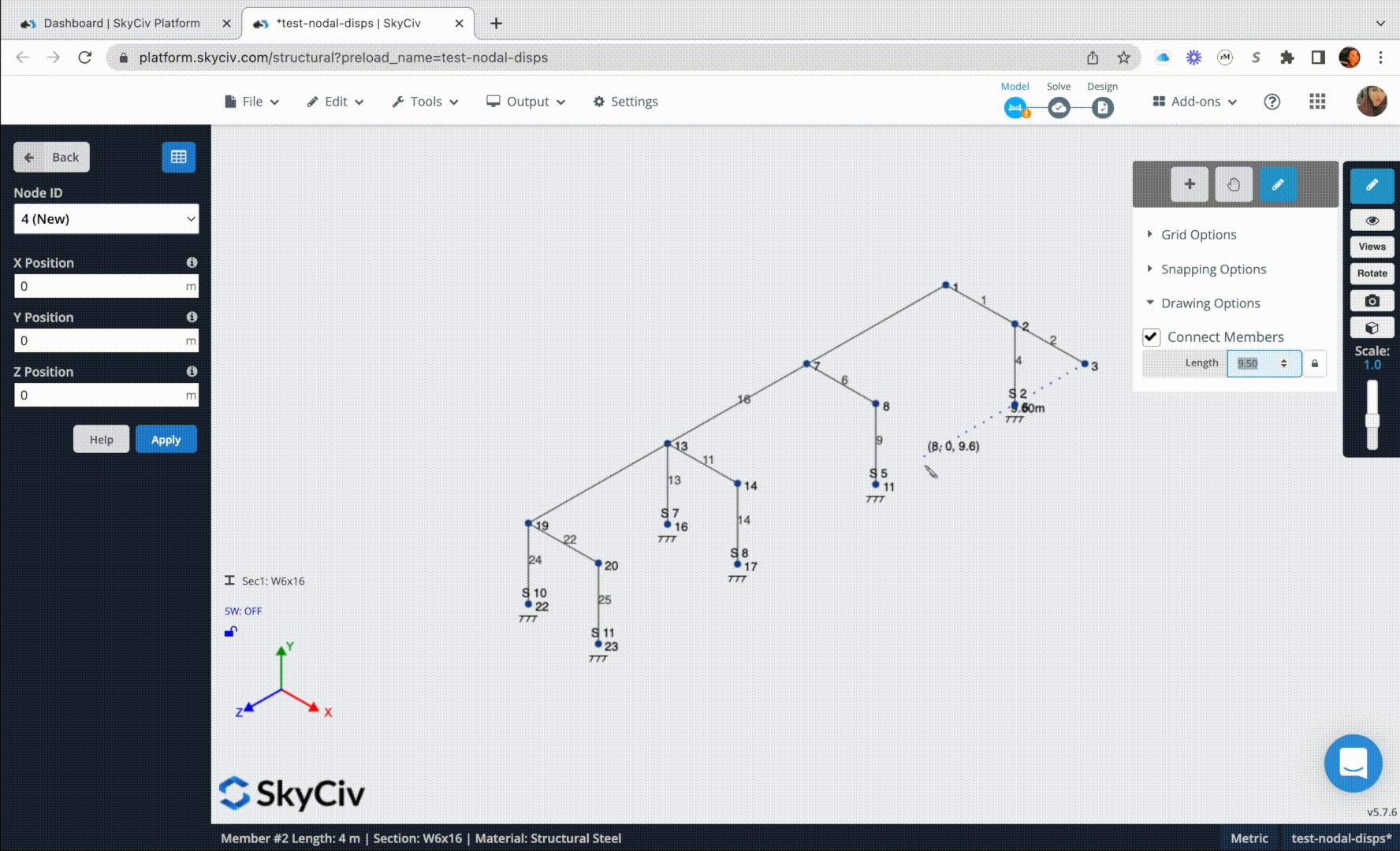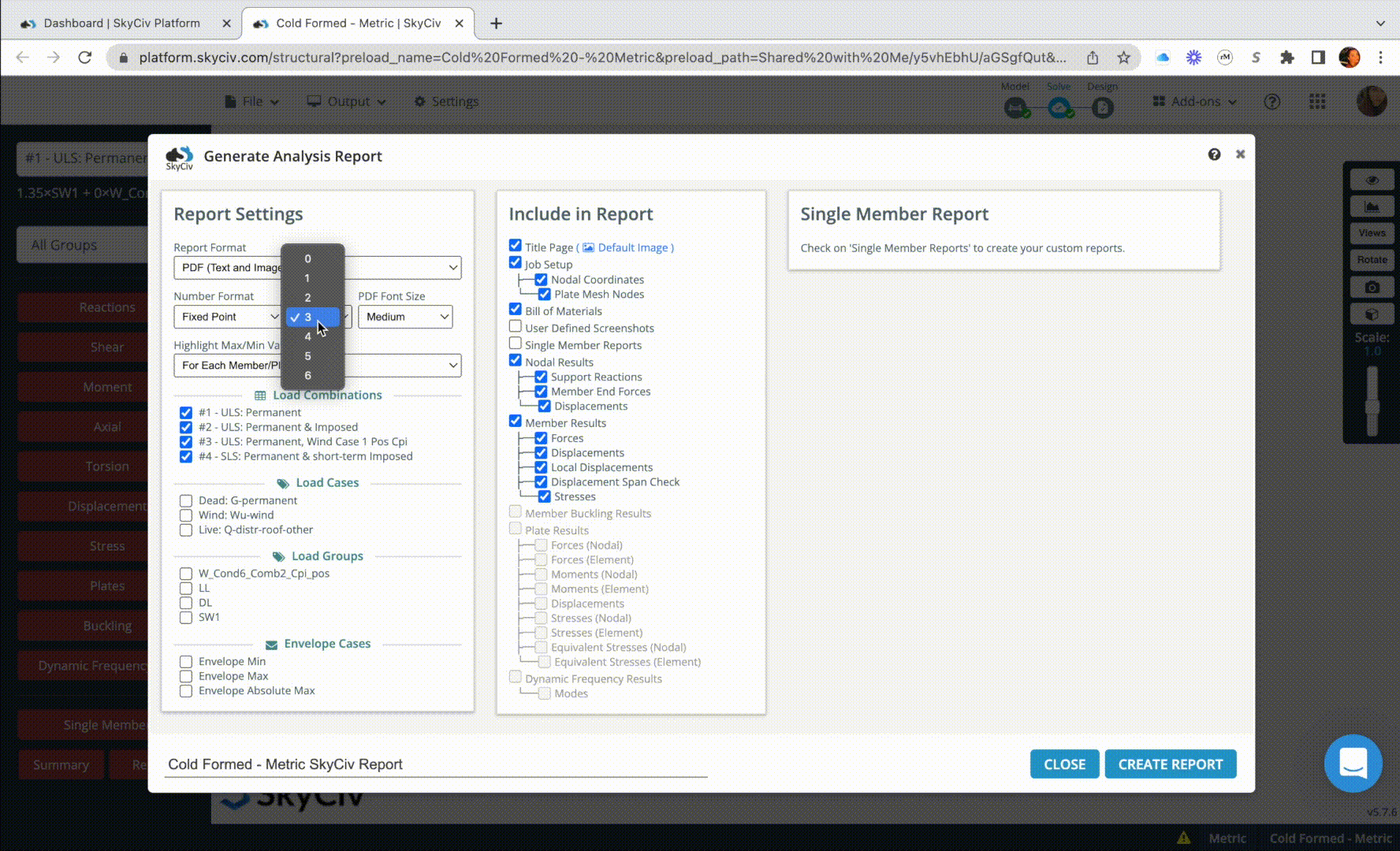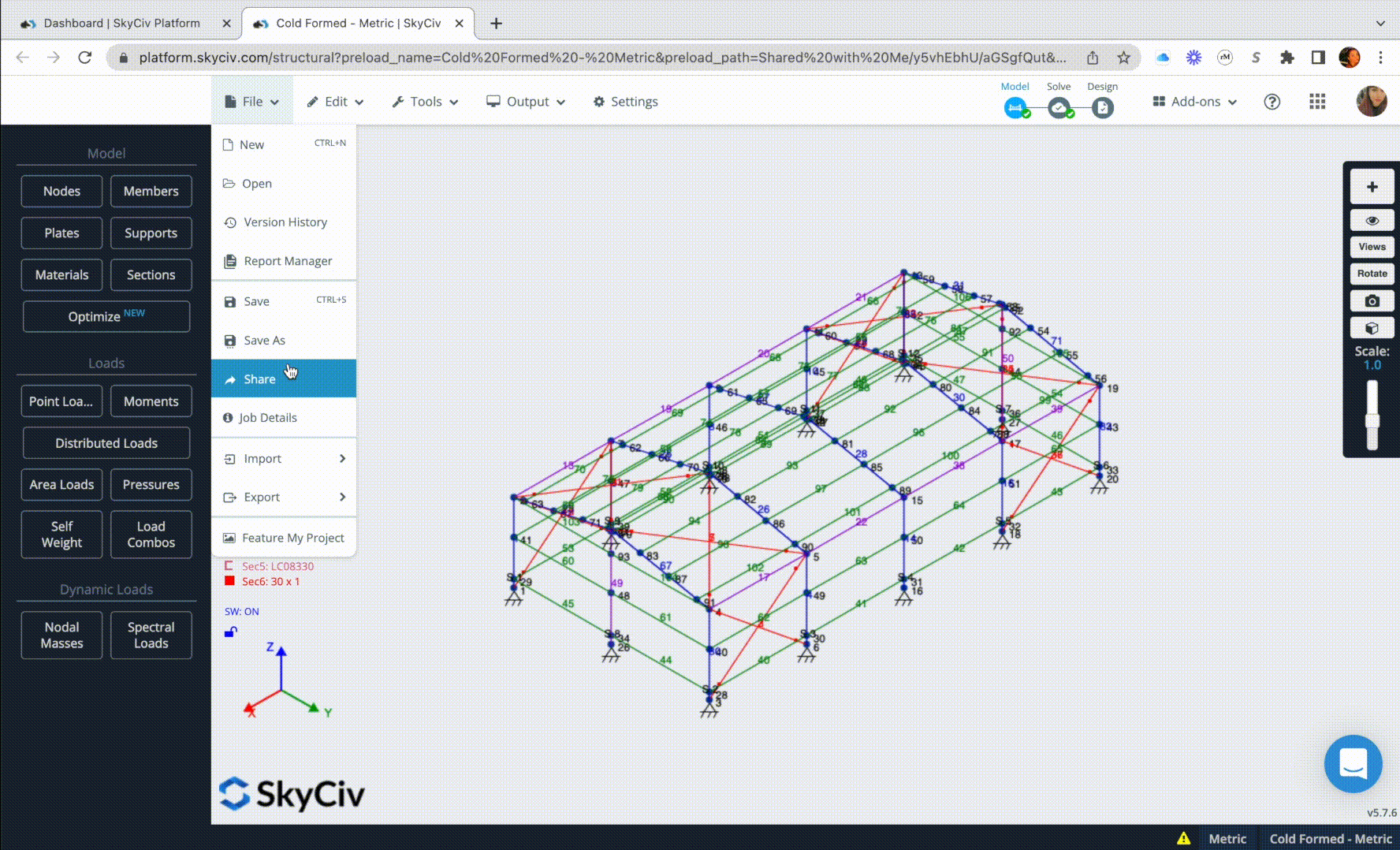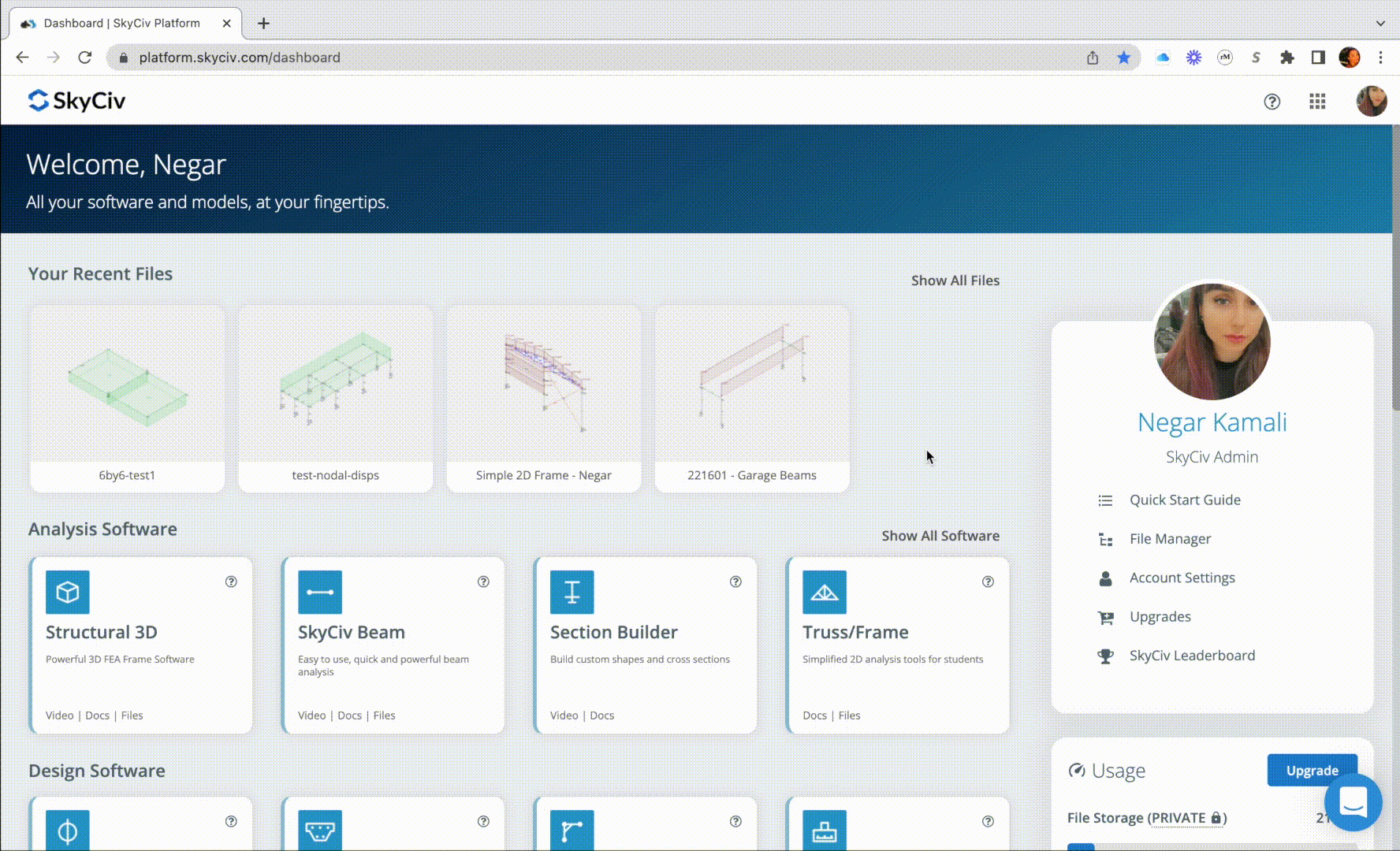 SkyCiv structural design software is 100% cloud, giving you instant access through your web browsers. Simply log into your SkyCiv account and visit the software directly. You can now access your files from anywhere and at any time.
---
SkyCiv software is built with a number of great modeling, editing, and reviewing features that help you achieve a much faster modeling workflow. These range from the pen tool, bulk editing, camera roll, and more.
Learn about SkyCiv modeling features →
---
Clear step by step calculation reports help the engineer understand exactly what the software is doing - no more blackboxes!
Learn about reporting →
---
Share and collaborate in real-time with your team using our file sharing and permission control functionalities. They also allow the SkyCiv Support team to view your models so support can never be easier.
Learn about file sharing →
---
---
Same functionality, better value.
Get your project done with ease


SkyCiv Structural 3D
Traditional Software
No Download/Installation

✓

Clear User Interface

✓

Monthly Subscriptions

✓

Live Chat Support

✓

Detailed Design Reporting

✓

Fully Integrated with SkyCiv Design Modules

✓

 
Modelling
Easy Pen Tool Modelling

✓

Assemblies and Templates

✓

✓

Datasheet Input

✓

✓

Revit Link

✓

✓

Tekla Link

✓

DXF Import

 

✓

✓

DWG Import

 

 

✓

Analysis
Catenary Cable Analysis

✓

Plate Analysis

✓

✓

Meshing Capabilities

✓

✓

Buckling Analysis

✓

✓

Non-Linear P-Delta Analysis

✓

✓

Non-Linear P-Delta Analysis

✓

✓

Dynamic Frequency Analysis

✓

✓

Response Spectrum Analysis

✓

✓

Loading
Static Loads

✓

✓

Auto Wind Loading

✓

Moving Loads

✓

Temperature Loading

✓

✓

Strain + Displacement Loading

✓

Pre-Stress Loading

✓

Response Spectrum Loading

✓

✓

Open Structure Loading

✓

✓

Design
AISC 360 Steel Member Design

✓

✓

AISC 360 Connection Design

✓

✓

ACI 318 Concrete Design

✓

✓

AISI Cold Formed

✓

✓

NDS Wood Design

✓

✓

Masonry Design

✓

Aluminium Design

✓

ASCE 7-16 Wind Loading

✓
So, how does SkyCiv compare?
Reasons why SkyCiv stands out.
Enercalc Alternative
Enercalc offers a range of design modules for specific calculations. This collection of calculations provides a mix of analysis/design calculations.
The software is install-download and mostly based on spreadsheets. Enercalc has more specific design calculations, but the user experience leaves a lot to be desired. Good for component design, but not as strong in analysis, modeling, and graphics.
SkyCiv offers the core design requirements of Enercalc, with a faster, easier, and online interface. All of the SkyCiv products are fully integrated, so going from analysis to design is a seamless process
SkyCiv Strengths
Monthly Subscriptions

Live Chat Software Support

Powerful FEA with Clean Interface and Graphics

Easier to Learn and Use

No Download/Installation Necessary

Integrated Design Modules
Microstran Alternative
Multiframe is a Bentley-owned product that has been in the market for over 30 years. It's a frame analysis software with design capabilities (mainly focused on AS and US). It has similar graphics, modeling, and design capabilities to an older desktop interface.
The product has a slower development cycle, with the last update in May 2020. SkyCiv's software is updated on a weekly basis, with new features, bug fixes, and products being actively released based on user feedback.
SkyCiv also has active and responsive customer support. Via our live chat, customer questions are usually addressed and resolved in a couple of hours (if not minutes!). This helps engineers move forward on projects without software-related delays.
SkyCiv Strengths
Nothing to Download

Cleaner and Easier User Interface

No Download/Installation Necessary

Simple Monthly Subscription Licensing
Spacegass Alternative
Spacegass is a predominately Australian product that offers frame analysis and design capabilities. It also has similar graphics, modeling, and design capabilities to an older desktop interface. SkyCiv's analysis and design capabilities go beyond Spacegass and are being actively developed and improved on a weekly basis.
SkyCiv also offers flexible, monthly pricing and is a lot more affordable with no large upfront cost associated with the product.
SkyCiv Strengths
Foundation & Retaining Wall Design

Wind and Snow Loading

Nothing to Download

Cleaner and Easier User Interface

No Download/Installation Necessary

Simple Monthly Subscription Licensing
Tried and Tested by Real Engineers around the World