Quick Analysis

Custom Reporting

Cost Effective
Perfect for Structural Engineers
Developed by engineers. For engineers. Does it feel like your voice goes unheard? Users of the SkyCiv suite drive the majority of changes and additions to the platform. SkyCiv software developers all come from a structural engineering background, with the majority being previously consulting structural engineers.
Get started in 5 minutes, with no downloads. Thanks to operating from the cloud, SkyCiv releases updates almost bi-weekly, so no waiting for that spot on the calendar each year to get the latest and greatest. Grow accustomed to new features as they are released, rather than getting overwhelmed by a whole year of changes at once.
Discover What's Possible with SkyCiv
Features that will accelerate your concrete structure's design
Fully Customizable and Integrated Section Properties
Whether it's a database shape from one of the various country databases or a custom-built shape using a variety of preset shapes. The Section Builder will use a full FEA analysis to obtain the section properties of a single material or composite section. Have a section drawn as a DXF? Directly import that shape into Section Builder to analyze. All shapes used in the Section Builder are directly integrated with the SkyCiv analysis modules.
Full Featured Modeling Tools and FEA Analysis
Take advantage of the various modeling tools that make generating any type of structural concrete model a breeze.
With SkyCiv's FEA solver, run your structural model using the following analysis methods: Linear Static, Buckling Analysis, P-Delta Analysis, Dynamic Frequency, and Response Spectrum.
Integrated Reinforced Concrete Design Module with Exportable and Detailed Design Reports
When your concrete structural model is complete, import it and the analytical results directly into the Member Design module to run full design checks in accordance with a variety of building codes including ACI 318-14, Eurocode 2 (ENV 1992-1-1 :1991), BS 8110-1997, AS 3600-2018, CSA A23.3-14.
Enforcing the same "ease-of-use" methodology, the Reinforced Concrete Design module allows you to customize member design characteristics, view forces and checkpoints, and boasts an easy rebar layout tool. The design results are succinctly shown to the user. To further investigate any member, look at the individual member's design report containing all of the hand calculations and other pertinent information, then export it as a PDF or HTML document. Use these reports as deliverables in your structural calc packages.
Finish your Reinforced Concrete Project with Foundations
Continue the design process of your concrete building or structure with the SkyCiv Foundation Design Module. Whether your project isolated footings, combined footings, or piles, SkyCiv has you covered. Follow the linear input style found in other SkyCiv modules to streamline the process and save time. SkyCiv Foundation Design supports the following building codes: AISC 318-14, AS3600-2009, AS2159-2009.
View the extensive hand calculations of the design to verify your inputs and abolish the blackbox. Each calculation references the pertaining code item, making it easy to backcheck your results. Export the detailed calculation report to be used as a deliverable or in a calculation package.
3rd-Party File Import Support
Get a headstart on your structural steel model using the various supported 3rd-party file types such as Revit (.RVT), .DWG, .DXF, .CSV, and others in development!
With correctly formatted 3rd-party files, the majority of the modeling of your 3D steel structure can be completed, including material properties and section properties.
More benefits from SkyCiv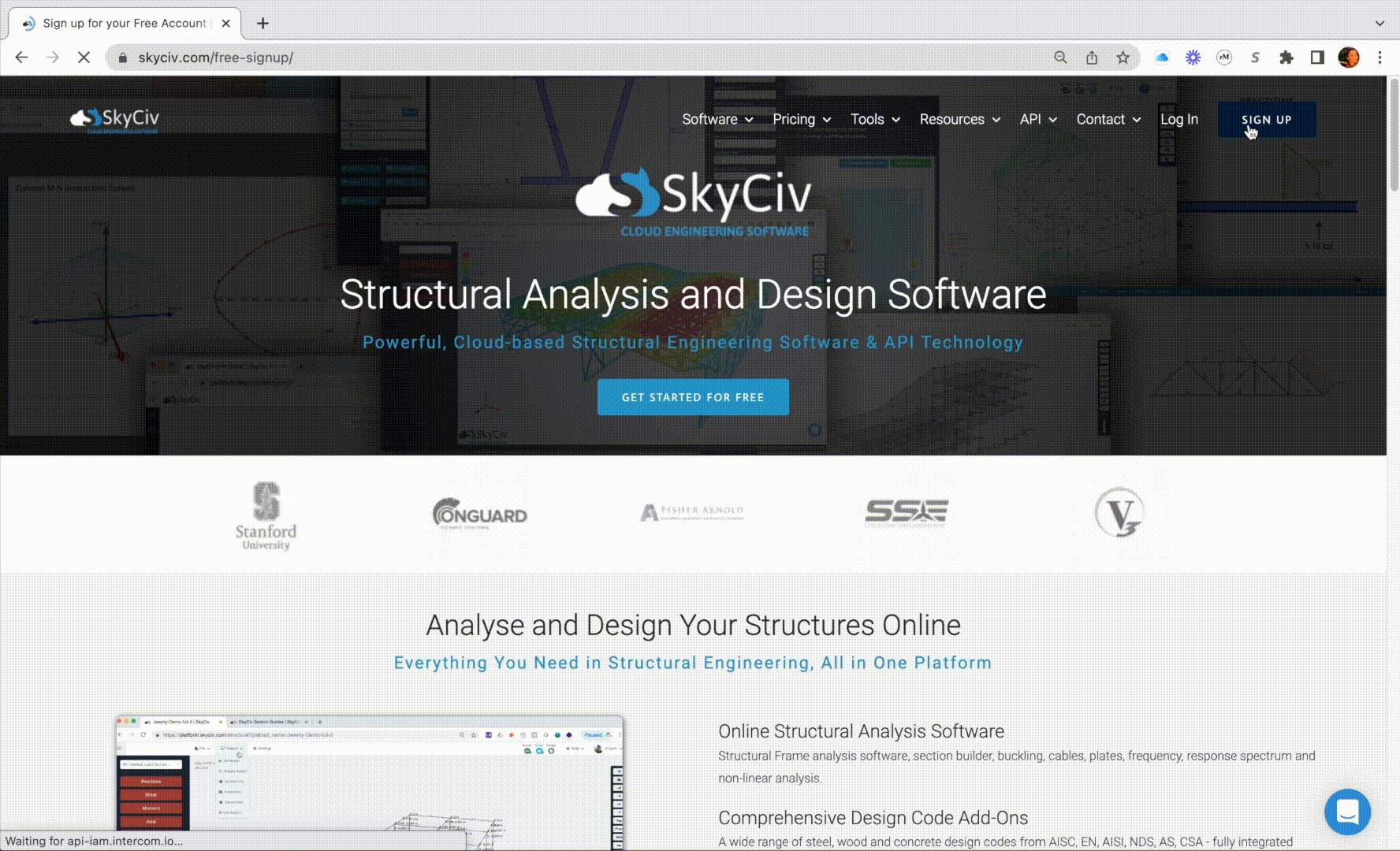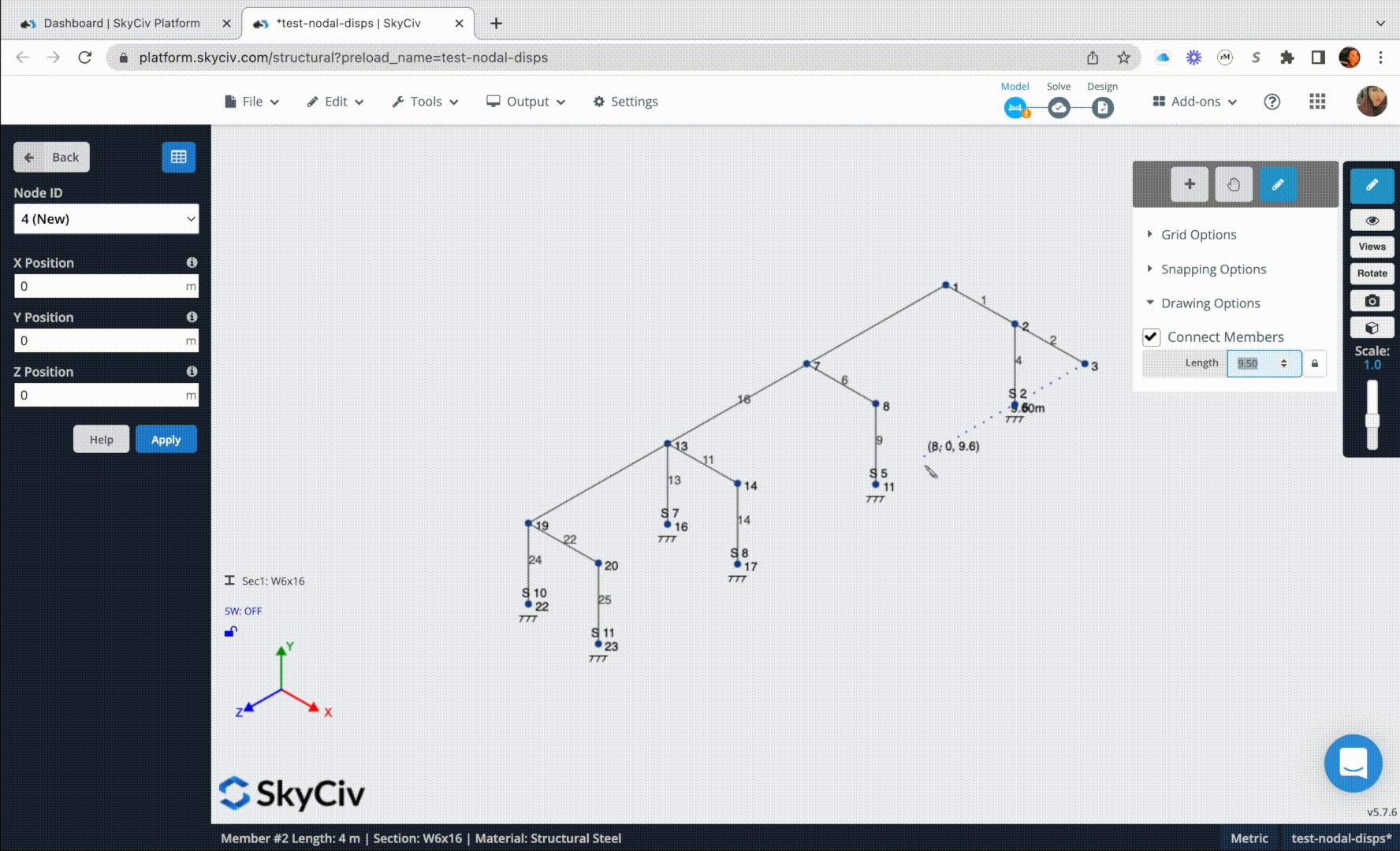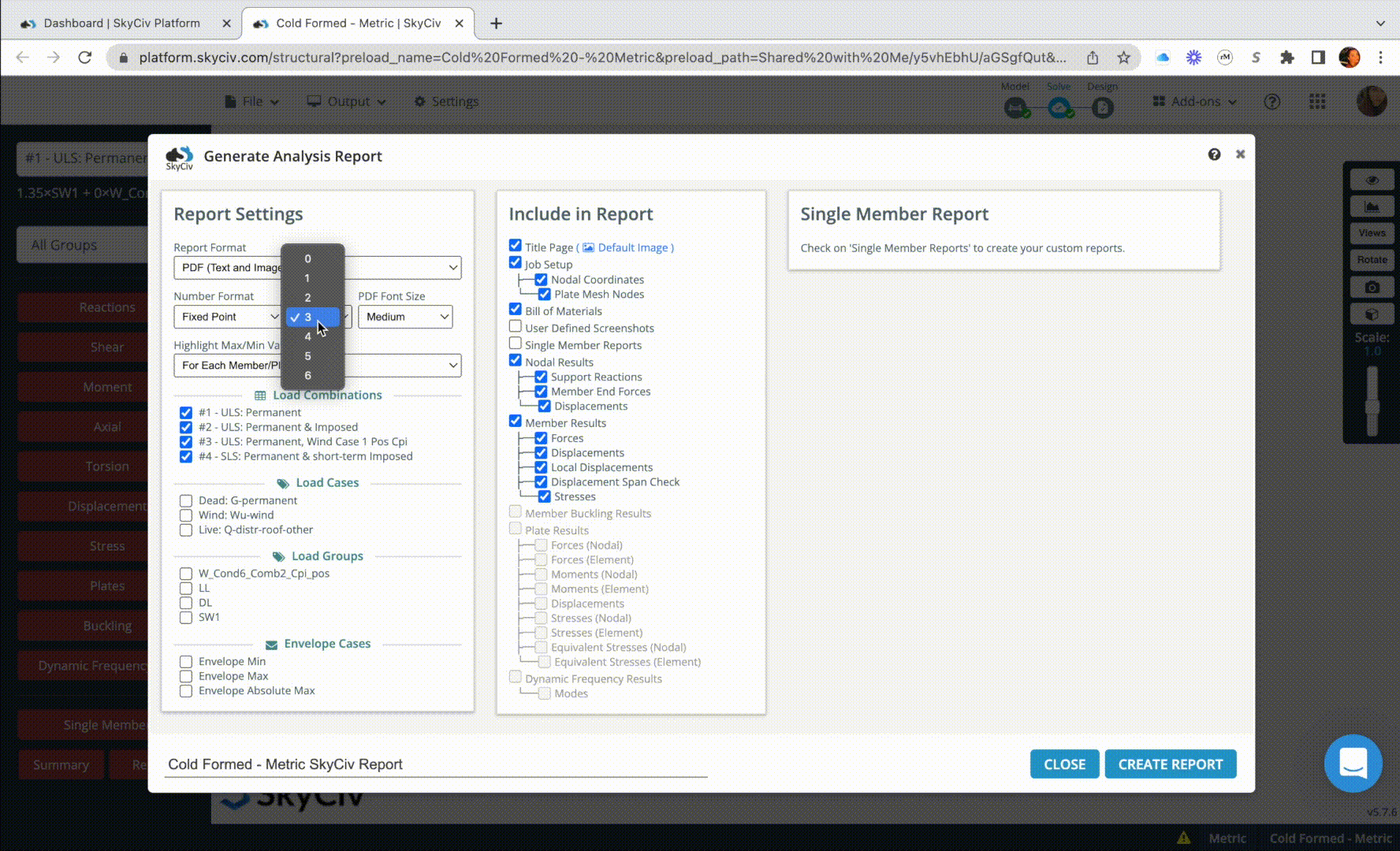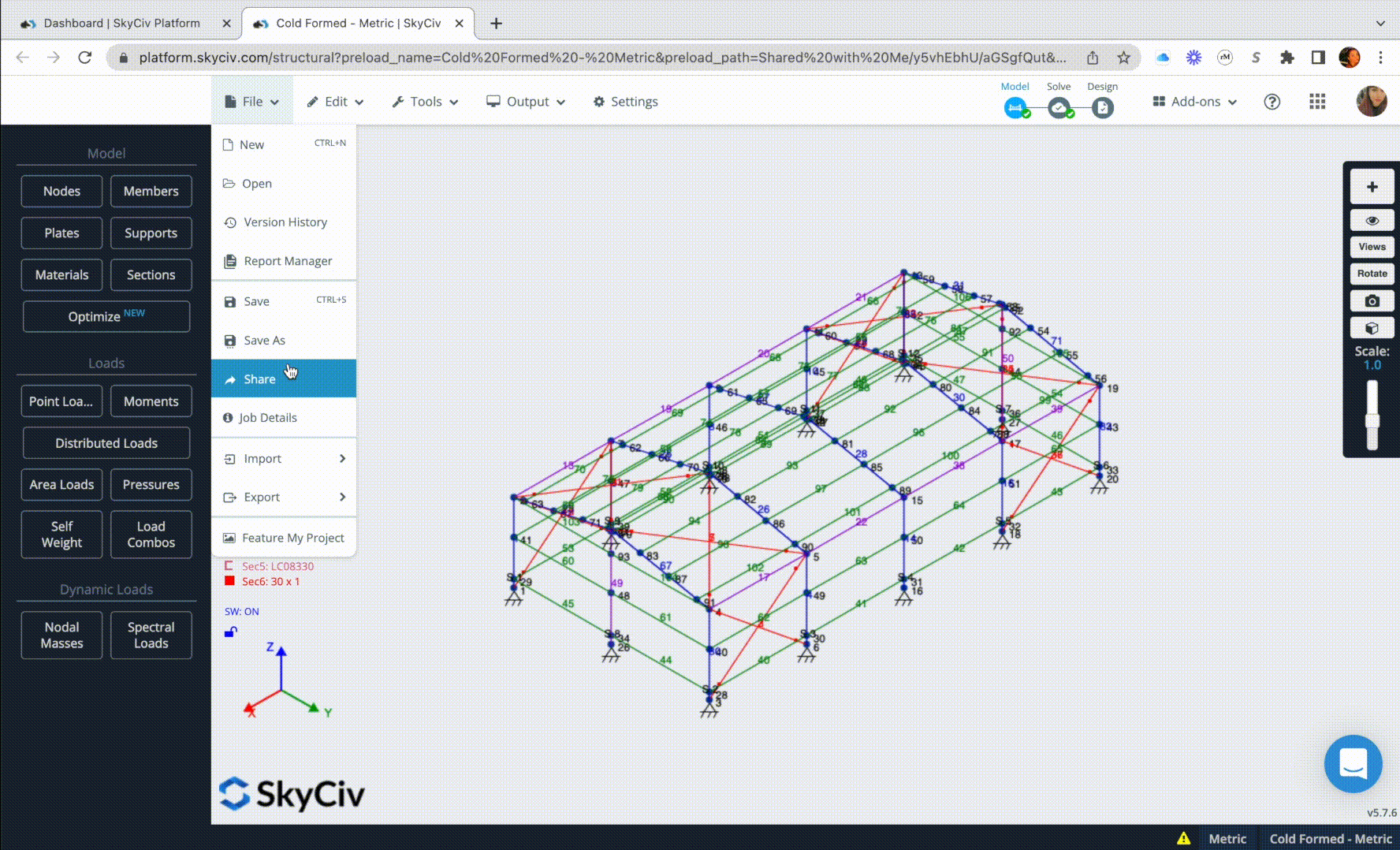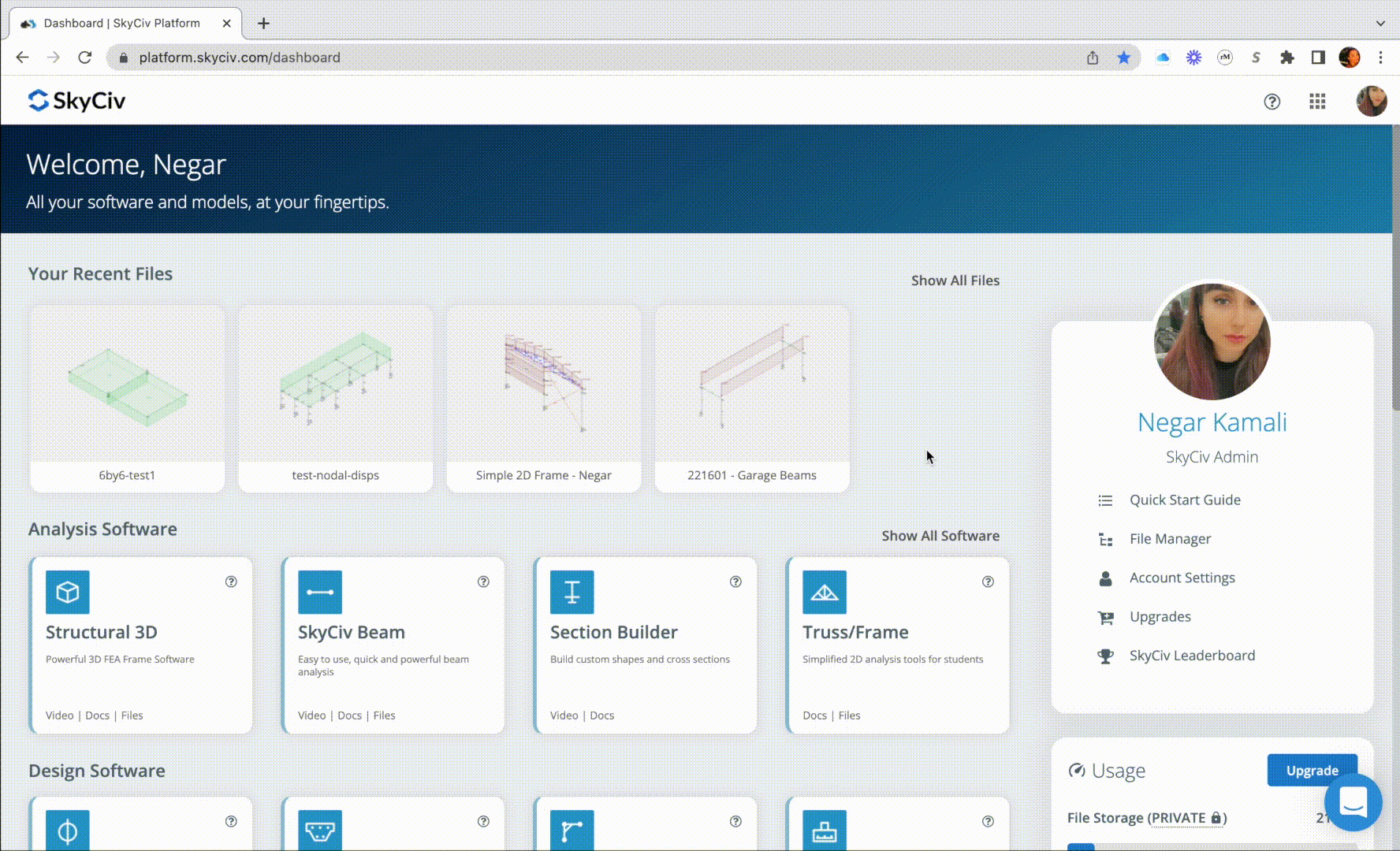 SkyCiv structural design software is 100% cloud, giving you instant access through your web browsers. Simply log into your SkyCiv account and visit the software directly. You can now access your files from anywhere and at any time.
---
SkyCiv software is built with a number of great modeling, editing, and reviewing features that help you achieve a much faster modeling workflow. These range from the pen tool, bulk editing, camera roll, and more.
Learn about SkyCiv modeling features →
---
Clear step by step calculation reports help the engineer understand exactly what the software is doing - no more blackboxes!
Learn about reporting →
---
Share and collaborate in real-time with your team using our file sharing and permission control functionalities. They also allow the SkyCiv Support team to view your models so support can never be easier.
Learn about file sharing →
---
---
Join 10,000+ Professional Engineers Worldwide!
Fast, Easy and All-in-One.