Grasshopper + SkyCiv
Stretch your imagination with the SkyCiv - Grasshopper Plugin
What's Possible with the Grasshopper SkyCiv App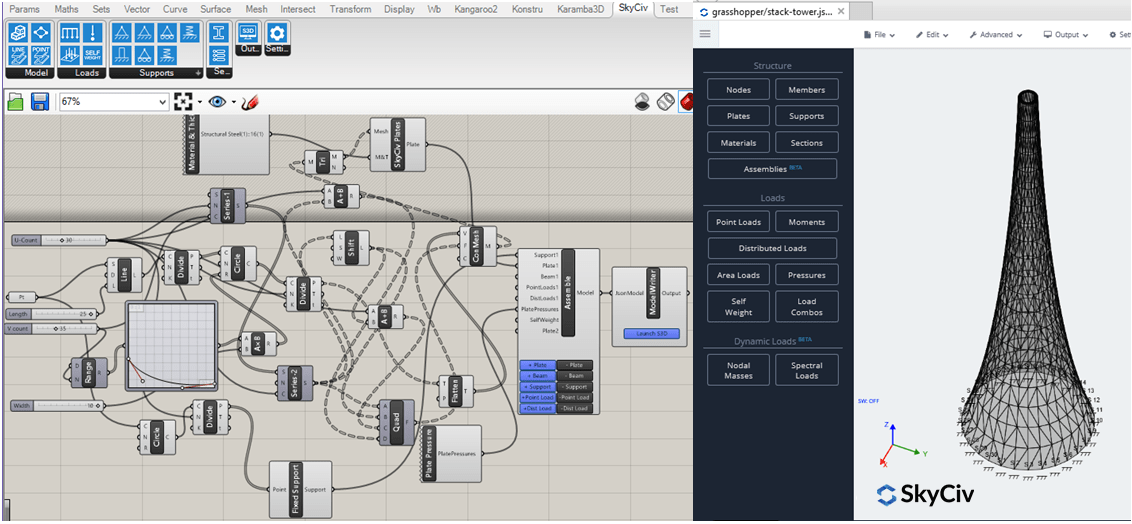 Turn your Parametric Designs instantly into structural models
The SkyCiv-Grasshopper plugin allows users to connect their Grasshopper model directly to SkyCiv Structural 3D. Link your existing Grasshopper model to Structural 3D by using the following components:
Line2Beam - turn existing GH lines to Beams
Plates - turn existing GH plates to structural plates
Assemble - compile all the different beams and elements to a structural model
Section Library - pull from a library of shapes from common libraries
Apply node loads, distributed loads and pressures
Export a file or link directly to SkyCiv Structural 3D
Powerful and reliable commercial analysis and design
Our software is completely verified and supported by a number of quality assurance systems and procedures to ensure the quality and accuracy of our results. This means the results from our analysis and design checks can be used with confidence. Use SkyCiv's accurate solver and member design checks (AISC, Eurocode, AS, CSA and many more) during the whole process from preliminary design up to final design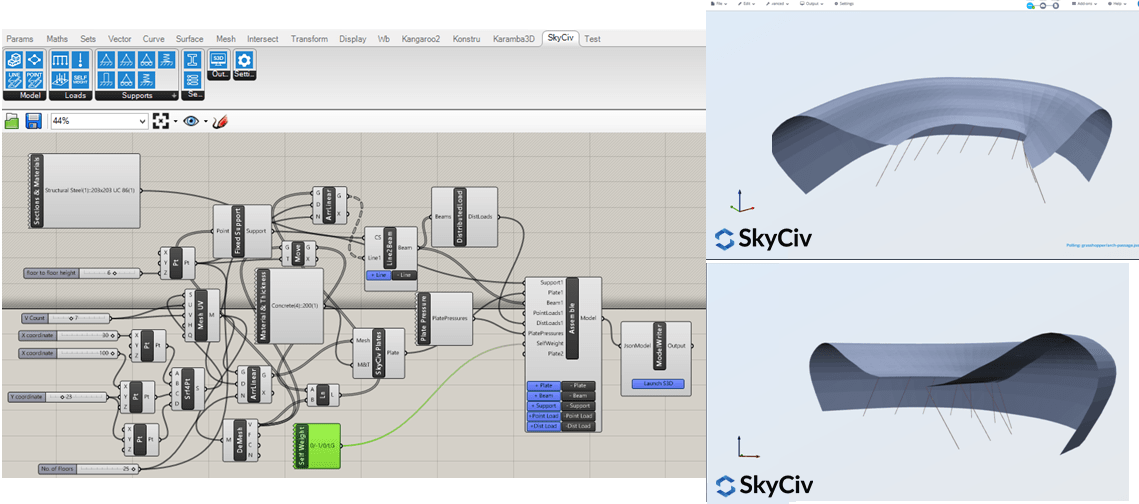 Empowering your team to design differently.
The role of structural engineers is always evolving. As designs become more complex, the structural engineer can add value by provide more complex solutions and efficient designs. To deliver this level of service, engineers also need to update and learn new software.
Grasshopper allows engineers to quickly and easily modify designs to find the most aesthetically pleasing or cost-efficient designs. Engineers are now empowered to come up with creative new designs using parametric modelling.