Microsoft Excel + SkyCiv
Run structural analysis, design checks, reporting and model generation directly from your existing Spreadsheets.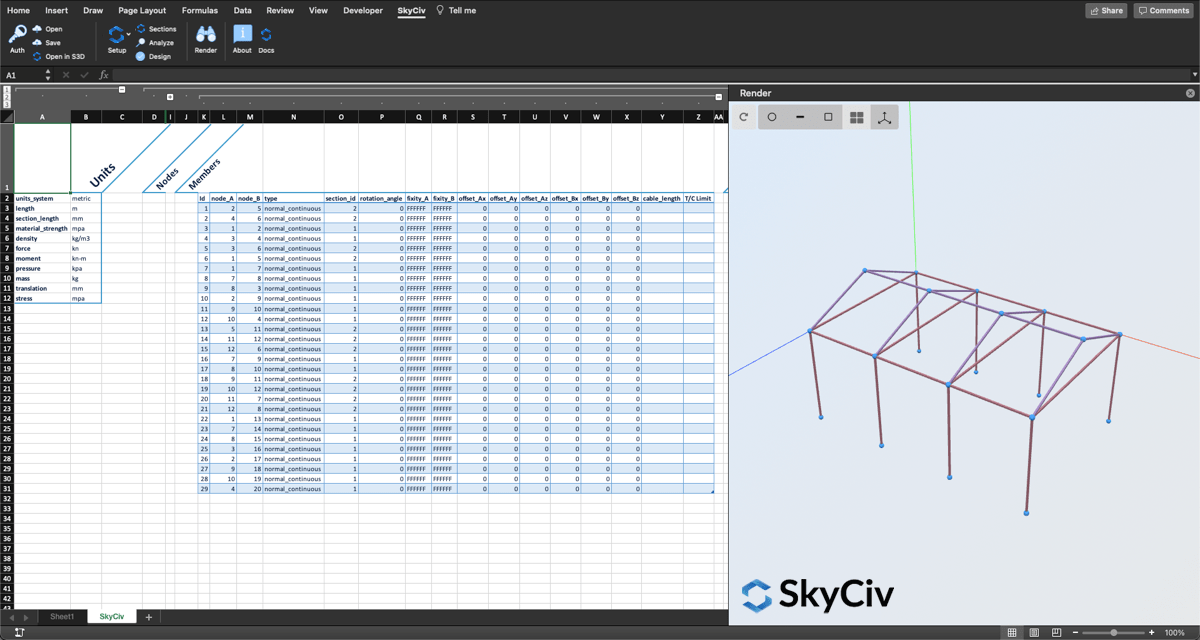 What's Possible with the Microsoft Excel + SkyCiv Plugin
Power up your spreadsheets. Finite element analysis in all your Excel spreadsheets.
Simply pass in nodes, members, supports and loads into the sample template. With a single click, users can have a quick pass/fail check performed using powerful, commercially-built Finite Element Analysis. The spreadsheet will also have a tab added with the full analysis results, so you can review the results of the FEA.
The functionality doesn't end there, you can also do the following directly in Excel:
Perform Finite Element structural analysis (static, non-linear, buckling, frequency) and get full and summary results
Run design checks (AISC, NDS, AISI, Eurocode, Australian Standards, British Standards, CSA and more...)
Generate model and launch it in SkyCiv Structural 3D
Open analysis reports, design summary reports and detailed member design reports in PDF format
Take screenshots of the model to verify model generation
There's nothing complicated to get started. Simply install the Excel Add-in directly from within Excel, or from the Microsoft AppSource. The Plugin is completely in-built and built natively on top of the Excel platform - no Macros, no VBA - just a clean and easy plugin to work with.
SkyCiv has made it easy to use this integration and works right out of the box! This plugin is completely built on top of our Structural Engineering API, which is available to all our users. Re-imagine your work flow with custom API solutions. Click here to learn more about our API.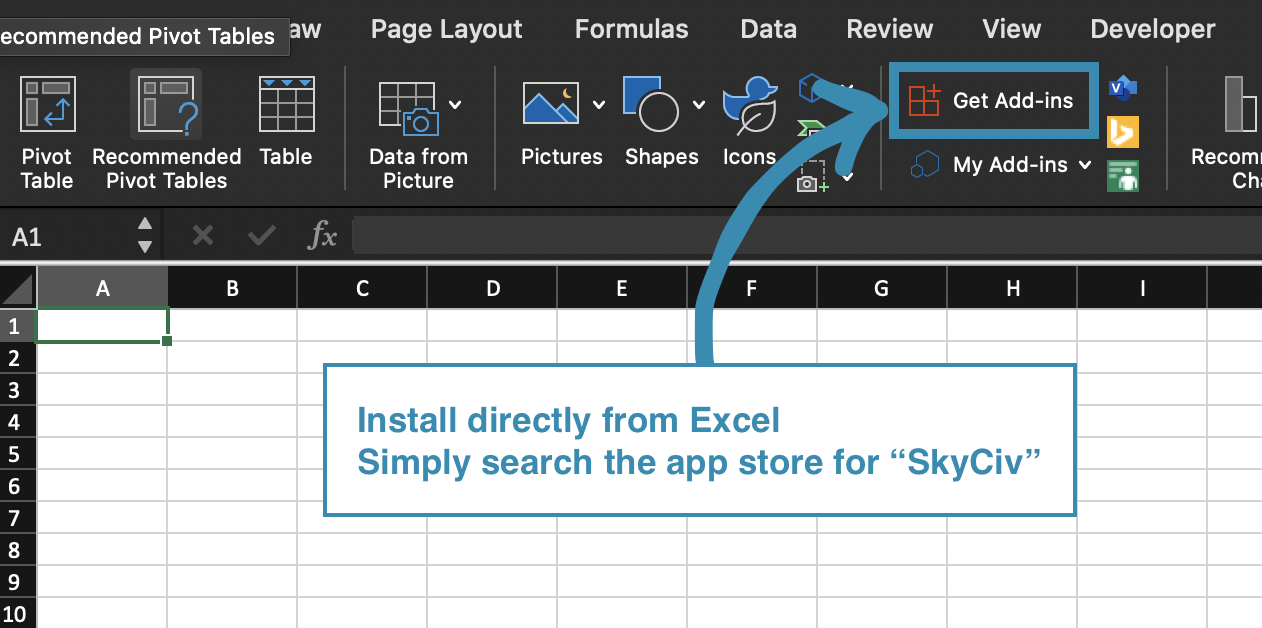 Auto Generate your Models - for a faster work flow
The Excel Plugin can build structural models directly from the Excel interface. Simply add the nodes, members and section data into cells of the spreadsheet and you can automatically export the model into SkyCiv Structural 3D! No more manually transferring data from Excel to your structural analysis software - integrate them for a seamless workflow.
The model will save to your cloud storage and open up a link for you to review your model. You can then use the full power of SkyCiv Structural 3D to finalize your model, review the structure, download PDF reports and complete your designs.
Spend less time modelling and more time delivering a better service to your customers.
Empowering your team to work faster, with more efficient designs.
The current workflow of structural engineers can be a slow and manual one. Structural engineers use analysis software, then transfer loads and model manually into their custom spreadsheets. But what if you could do it all in one place? The SkyCiv Excel Integration gives engineers the freedom to sync these systems into one perfect solution, without clunky third party software.
The plugin also allows engineers to gain efficiencies in their designs. With the ability to run accurate structural analysis from their existing spreadsheets, they are able to make better design decisions and reduce cost for the client. Gain an edge with more accurate and streamlined workflows and designs.
So whether you need design checks or structural analysis excel in a spreadsheet, SkyCiv can help. Install the SkyCiv Excel Plugin and start designing easier.