The Single/Double Angle connection is one of the most commonly used shear connections in structures. It is used commonly for its relatively low cost to strength ratio. This connection also has relatively low cost and low risk to be erected compared to other connections. Typically, these connections are used to connect a HSS column to a W-beam. Much like the Single Angle, the Double Angle is able to provide more rigidity by adding another L-bracket on the other side of the connection.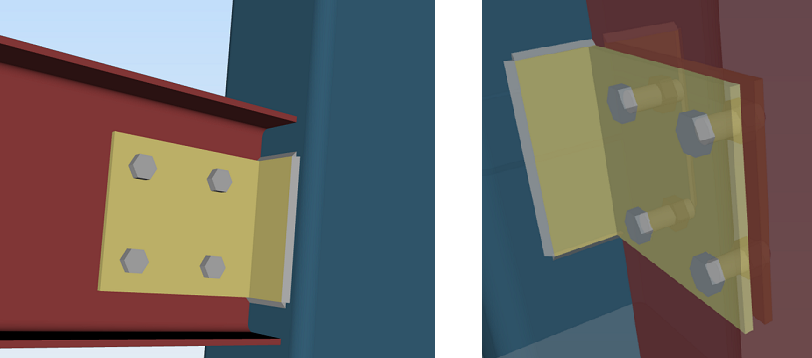 Design
This type of connection can either be bolted or welded on the parent or the child side of the connection. The most common configuration used is the all bolted single angle connection as the holes can be drilled before erecting the connection on site. It is normal to minimize the time for connection erection as labour time on site is more costly than time in the workshop. When designing single angle connections, there are certain good practices to follow.
Best Practices
The flange on the HSS column shouldn't be wider than half of the width of the HSS column
If the parent side is welded, it should be noted that extensive material damage to the HSS column would be done if the welds are made stronger
Bolted sides of this connection can suffer from bolt shear tear out, and is recommended to choose a edge distance that the AISC recommends
It is recommended to increase the number of bolted rows instead of columns on the child member side, as increase the number of columns will induce a large moment on the inner bolt
It is important to not design the connection to be too stiff as it is not designed to take moment loads
The Double Angle configuration is able to withstand a higher moment load.